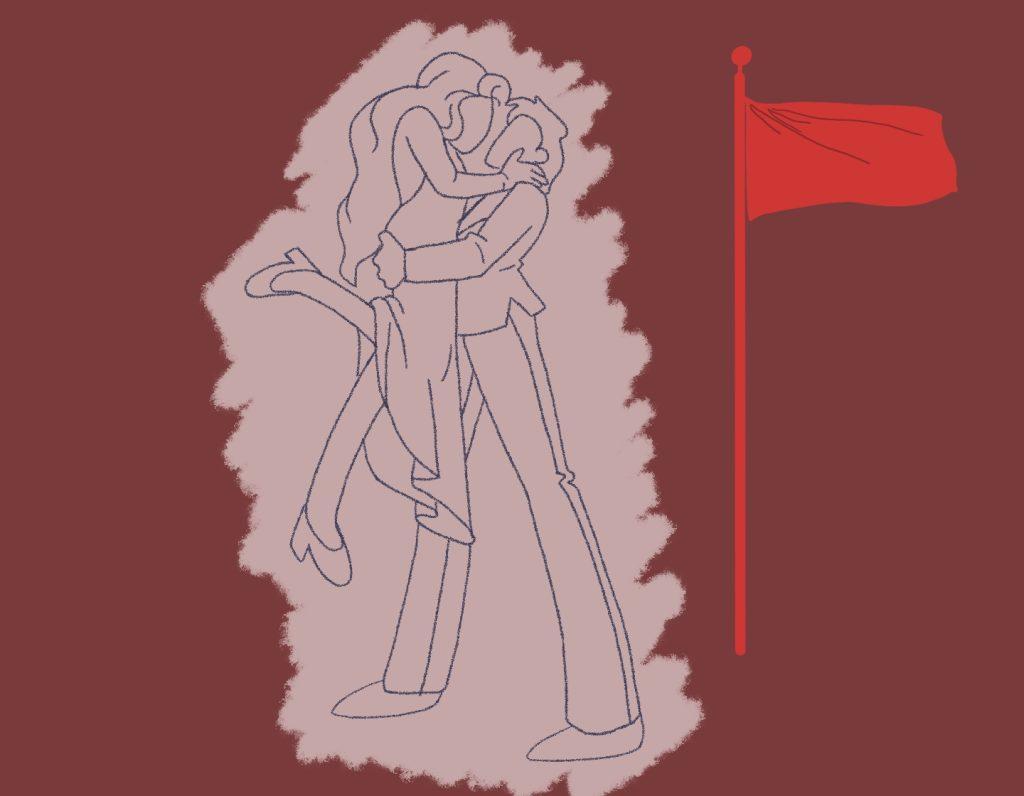 Art by Vivian Hsia

Transparency Item: The Perspectives section of the Graphic is comprised of articles based on opinion. This is the opinion and perspective of the writer. Spoilers for "Dynasty" and "Fate: The Winx Saga" are mentioned in this article.
We're all familiar with the typical fiery romance that is so often portrayed on the big screen. Intense, longing stares. Flirtatious, maybe even cheesy one-liners. The impossibly attractive love interest — who also turns out to be a walking red flag. But hey, whatever makes it exciting, right?
True, stories can be far more interesting when reality is dramatized. And while I understand the enticement and plain enjoyment of televised romance, sometimes we bypass the underlying problematic messages.
Unfortunately, much of popular media tends to endorse and romanticize toxic behaviors, especially through tropes.
"The word 'trope' has to do with a repeated theme, pattern, or figure of speech," according to Filmmaking Lifestyle.
An example of this is popular romance tropes in cinema and literature include enemies to lovers, love triangles, opposites attract, etc.
A broad, but particularly harmful, trope is the trauma trope. It may be present within already existing tropes and is oftentimes used to raise emotional stakes between love interests.
"Dynasty" is an American drama that aired in 2017 as a reboot of the 1980s primetime soap. It revolves around the lives of two very wealthy families, the Carringtons and the Colbys.
Female protagonist Fallon Carrington is a young, ambitious businesswoman who seems impenetrable despite numerous traumatic experiences, including being held for ransom, stalked and even nearly dying from a gunshot wound.
All the while, Fallon wrestles with relationship issues with her significant other, Liam Ridley. In season five, the couple's relationship tips toward a divorce, but it is put to a halt when Fallon is shot, hospitalized and later falls into a coma.
During this time, Liam forgives Fallon and simply wants her to return. When she does, the season finale wraps up and the couple has a happy ending.
Though the resolution to their relationship's difficulties could have been worse, the writers chose to double it as a cliché, sentimental Christmas episode, which was not the ideal way to go about it. It felt like a somewhat careless, picture-perfect wrap up.
On top of Fallon's already existing traumas, the consequences of both Fallon and Liam's mistakes toward each other were not fully addressed either; sensitive topics were not given as much attention as they deserved.
Fallon's traumatic experiences primarily served as mere plot points and thus became romanticized for the sake of a wild, passionate love life.
In reality, relationships will have difficulties in the long run if problems are not adequately addressed. A person's past and current circumstances do not excuse them from the harm they have inflicted on someone else.
Another famous romantic trope — and belief — is "my other half." On the surface, this may be portrayed as two characters being soulmates, but at the core, it constitutes the idea that a person is made "whole" by their significant other.
This trope is particularly emphasized in "Fate: The Winx Saga," which is a fantasy teen drama set at a magical boarding school for fairies called "Alfea."
Bloom is a fire fairy who was raised by humans and learns to adjust to life in the Otherworld. She quickly falls in love with Sky, another Alfea student.
In a conversation with Sky, Bloom said that he doesn't voice his worries, "the one benefit of him never talking about [his] problems."
Sky solemnly responds, "You know the reason why I don't talk about all my problems with you, Bloom? It's 'cause you're the solution."
This interaction is a waving red flag that ultimately rejects the need for proper communication in a relationship. It endorses the idea that through a romantic partner, one's personal problems will be solved and, therefore, discussing important concerns is unnecessary.
Relying solely on someone else benefits no one and only damages one's self-worth. Not only does it bring disappointment, but it also unfairly causes a person to feel responsible for their partner's happiness.
Tropes like these provide unrealistic expectations as well as unhealthy solutions for dealing with relationships and people's personal lives.
The desire to be happy becomes associated with having a significant other, and it can cause frustration and desperation. These emotions may consequently bleed into their self-worth, and in turn, sabotage their love life.
Though being in a relationship has its benefits, it is not meant to be a tool dedicated to fixing personal problems.
People do require comfort and compassion from others, but ultimately they will not be healed by romantic relationships alone. There are other better, healthier ways to improve as an individual.
Make time for yourself. Talk to a friend. Go to therapy.
_________________
Follow the Graphic on Twitter: @PeppGraphic
Email Faith Oh: faith.oh@pepperdine.edu