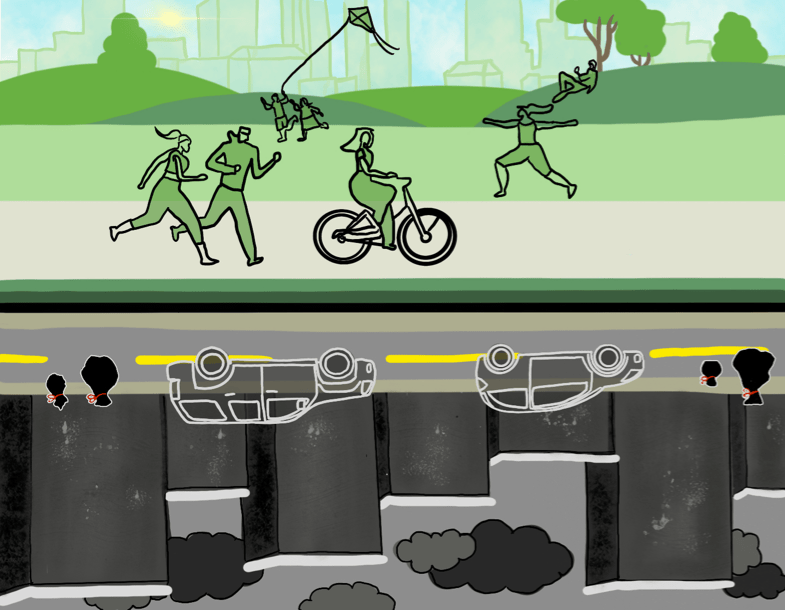 Art by Sarah Rietz
Transparency Item: The Perspectives section of the Graphic is comprised of articles based on opinion. This is the opinion and perspective of the writer.
In recent years, Oman has been gaining attention for having some of the cleanest cities in the world, according to Oman Consulate General in Australia. In comparison, major cities in the United States are struggling with environmental problems such as littering, air pollution and water pollution, according to the American Lung Association.
This raises the question of why Oman has cleaner cities than major U.S. cities and what the United States can learn from Oman's success.
Oman is often viewed as a lesser-known country, but its cities are known for their cleanliness, according to Culture Trip.
This is a stark contrast to many major cities in the United States. This disparity is not due to a lack of resources or economic power in the United States, but rather a difference in priorities and approaches to urban management.
​​The government has implemented various programs to educate the public on the importance of keeping the environment clean, according to the EPA. This has led to a culture where people take pride in keeping their cities clean and are more conscious of their actions.
In comparison, the United States has a much more relaxed approach to environmental regulations and enforcement. While there are laws in place to prevent littering, they are often not enforced, and the penalties are not severe enough to deter people from littering, according to the NCSL.
One key factor in Oman's clean cities is its strong government enforcement of regulations and laws regarding waste disposal and littering. Fines for littering are steep and strictly enforced, with violators facing significant consequences, according to Times of Oman.
While I was in Oman, I learned that they have created a culture of responsibility and accountability among the Omani people in maintaining the cleanliness of their cities.
Some United States citizens may feel the types of fines and regulations are exaggerated, but that just shows the distinct difference between priorities.
In Oman, a person can be fined for littering, driving around their dusty, dirty or damaged vehicle and forgetting to repaint their buildings every five years.
In Muscat, Oman's capital, "A fine of OMR 100 will be imposed on anyone who disposes of waste in public places," according to Times of Oman.
Also in Muscat, The Royal Oman Police (ROP) has warned motorists in the Sultanate to keep their cars clean or risk facing fines, according to the Times of Oman.
"The lack of cleanliness of a vehicle or its license plate is a serious traffic violation and is unacceptable behavior. Motorists who fail to do so could incur a fine of OMR10," an online ROP said in a statement for the Times of Oman.
In addition to enforcement, the country has modern waste management systems in place, which include a network of waste collection and disposal sites.
The Omani government has invested heavily in infrastructure to support proper waste management. This includes a network of well-maintained trash bins, as well as a sophisticated system for collecting and disposing of waste in an environmentally-friendly manner.
In comparison, major cities in the United States often struggle with outdated waste management systems, which can lead to waste being dumped in landfills or being burned, releasing harmful pollutants into the air.
Oman also places a strong emphasis on sustainability and renewable energy, according to the International Trade Administration. The country has a goal to reduce its carbon footprint and has invested in renewable energy sources such as wind and solar power, according to the International Trade Administration.
In comparison, the United States is still heavily reliant on fossil fuels, which are a major source of air pollution. The lack of investment in renewable energy sources is a significant contributor to the air pollution problem in major U.S. cities, according to the EIA.
Another key factor is the cultural attitude toward cleanliness in Oman. Cleanliness is valued and viewed as an important part of daily life, and it is not uncommon for citizens to take personal responsibility for keeping their cities clean.
This is evident in the way people dispose of their waste, with many using the trash bins provided and taking care to ensure that litter does not end up on the streets. Oman's cultural and religious values also play a role in its clean cities.
Islam, the dominant religion in Oman, places a strong emphasis on cleanliness and respect for the environment. This cultural value is reflected in the way people behave and take care of their cities.
In comparison, the United States is a culturally diverse country, and environmental concerns are not as prominent in the national consciousness. This can lead to a lack of motivation to keep cities clean and to take action to protect the environment.
There is a lack of enforcement of littering laws in the United States and a lack of investment in waste management infrastructure. This has resulted in a culture of apathy and neglect towards cleanliness, with litter frequently seen on the streets and in public spaces.
When I visited Oman recently, I saw with my own eyes the pride the Omani people, of all ages, have in their cities and country. It was a beautiful thing to witness, the thought that not honoring one's surroundings is viewed as disrespectful.
I learned of these cleanliness laws from my tour guide, Yahya, and he described a feeling of peace I felt as well because of the clean environment. I visited the gulf, the mountains, the desert and the city — each one more beautiful than the next — and I was able to appreciate the architecture and the nature without it being disturbed by waste.
I wish I could say the same about the United States. When I landed back at JFK airport, on my drive home, it was devastating to instantly see the stark contrast of cleanliness and pride in one's environment.
Some Americans might say "we have different priorities" or "our money should be spent on more important things," but having pride in where one lives, what one surrounds themself with and how one treats their environment is an essential part of humanity.
Fines are implemented in the United States and should be a priority to be enforced. Perhaps higher fines or a higher penalty will deter people from damaging the city due to the highly enforced consequences.
Cleanliness is not just an aesthetic. It is rooted in showing how much you care about something, just like hygiene. This clearly shows the lack of importance Americans and the government take in the "hygiene of their cities."
The United States can learn from Oman's success by implementing stricter environmental regulations and enforcing them, investing in modern waste management systems and renewable energy and promoting a culture of environmental awareness. By doing so, the United States can help to create cleaner, more sustainable cities for future generations.
__________________________________________________________________
Follow the Graphic on Twitter: @PeppGraphic
Contact Victoria La Ferla via email:
Victoria.laferla@pepperdine.edu or by instagram @vlf_insider