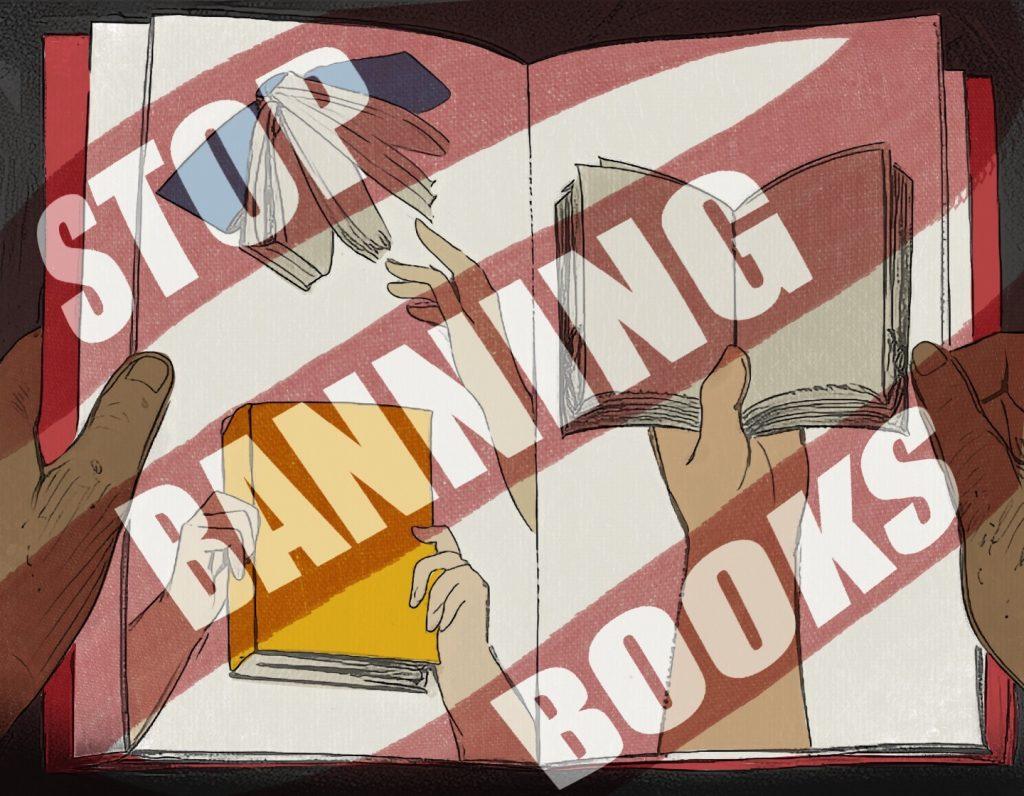 Art by Vivian Hsia
Transparency Item: The Perspectives section of the Graphic is comprised of articles based on opinion. This is the opinion and perspective of the writer.
Banning books must stop. It's that simple of an idea.
Banning books has a history in America. The earliest known book ban in 1627 banned the "New English Canaan" in Quincy, Massachusetts, according to Harvard University.
Since then, establishments, administrators and people of authority have banned thousands of books, and the American Library Association estimates 2,571 books were subject to banishment in 2022 alone.
Literature is a form of art and expression. It is the foundation of creativity and soul-growing experiences, so what does this mean for the future of freedom to create? Freedom to write? Altogether, what does this mean for the subject of freedom of expression?
Banning books is a damning phenomena. It suppresses creativity and suffocates consumers of art and literature. Book banning stunts literary growth and cuts off parts of artistic history that need to be shared.
"Those advocating a ban complain typically that the book in question contains graphic violence, expresses disrespect for parents and family, is sexually explicit, exalts evil, lacks literary merit, is unsuitable for a particular age group, or includes offensive language," according to The First Amendment Encyclopedia.
While the intentions behind book banning are for protection and doing what is supposedly right, there is a line of censorship that gets crossed when a book is banned that smothers art for what it is — a human right to express.
Literature is a snapshot of history; it's a window into a different time.
Literature is racy and scandalous; it's heart warming and breaking.
Literature is every part of good and bad; targeting books based on criteria that makes up entertainment and art is today is wrong.
The most notable books that are banned are probably ones that you've read, your kids read or you've heard about at least 10 times in your life.
"The Perks of Being a Wallflower" is the No. 27 on CBS' banned book list. It was targeted for how it "portrayed sexuality, drug use, and suicidal content." It appeared eight times on the 2021-2022 banned books list.
It was also turned into a film in 2012; it has an 85% on Rotten Tomatoes and is beloved by many young adults today.
The banning of this book is wrong. It is a raw story about so much more than sex, drugs and suicide, and the people calling for the banning of this book should be able to appreciate darker stories for what they are — an honest telling of life experiences.
"Beloved" by Toni Morrison is No. 17 book; this is a classic 1987 American novel by one of the most revered writers in history. The book tells the story of a person fleeing slavery in Kentucky in the 1850s and is inspired by a tragic real-life story. It is graphic, violent and truthful in its account of how life was for African Americans trying to flee the terrors of slavery.
Despite this honest snapshot into real, dark history and prejudices, CBS reported the book ended up on 11 book bans in schools in 2022. Teachers, administrators and parents at these schools — not mentioned — are sheltering their children from real events, real history.
Another story that is among the CBS banned books is "All Boys Aren't Blue" by George M. Johnson; it chronicles Johnson's life growing up as a queer, Black man on the East Coast. The book can serve as a great guide for young men or anyone struggling with their sexuality and/or race.
The book has been banned in over 29 school districts because "of its LGBTQ content and for being sexually explicit," according to NPR. Both reasons, I believe, are not good enough. LGBTQ+ content and sexual content are aspects of literature that should be celebrated as art. While I don't think middle school students should be reading graphic sex scenes, there is no reason why someone should not have access to this book if they choose to read it.
There are heavy themes that are explored within Johnson's story. It covers topics students and young adults encounter on a daily basis; it is not necessary to ban a literary retelling of someone's life because the people in charge are uncomfortable.
A bold opinion, I believe, is the people who ban books don't do it for protection. It is because they are uncomfortable with themes, they are afraid of tough conversations and they don't like pushback and confrontation about things they believe are correct.
As a Journalism major and creative writer, I hate the idea of censorship. I dislike the notion of being controlled over what I write about and I absolutely despise banning books.
The dictatorial ways of those in charge of banning books needs to stop. Literary art needs to not be stifled any longer. It starts with books and then what's next?
Creativity and freedom of speech are at jeopardy if people, school districts, teachers, administrators and students continue to allow books to be banned. There are great resources people can utilize to help.
Book banning needs to end — literature needs to be free.
____________________
Follow the Graphic on Twitter: @PeppGraphic
Email Emily Chase: emily.chase@pepperdine.edu