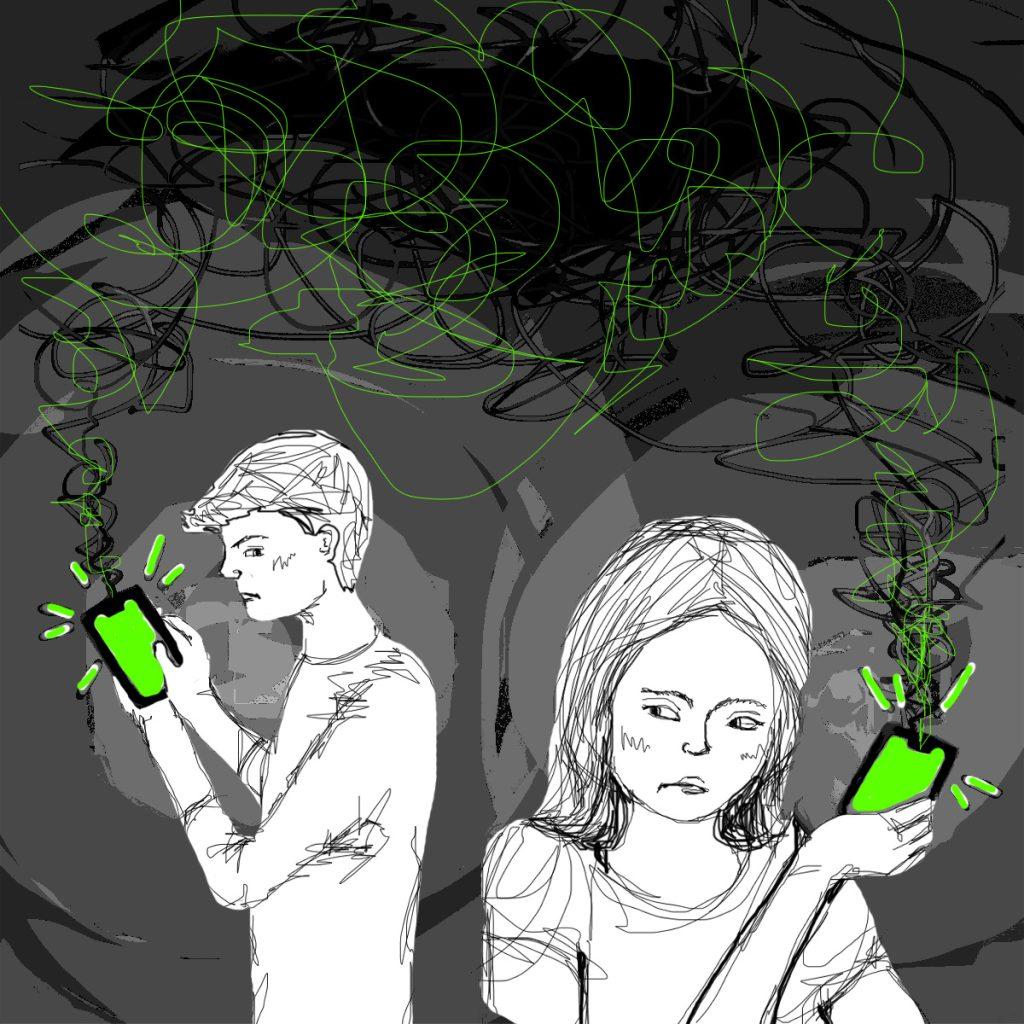 Transparency Item: The Perspectives section of the Graphic is comprised of articles based on opinion. This is the opinion and perspective of the writer.
Oh no! You opened Snapchat and saw that all of your friends were at a party that you hadn't heard about. Yikes! Your partner liked another person's scandalous Instagrampost.
These are just a couple of the complicated ways social media and relationships intersect. There used to be a time when it was only possible to know what someone did or thought through word of mouth.
Now, Gen Z lives in an age when it's possible to stumble upon a partner seemingly publicly lusting over someone else or experience FOMO — fear of missing out — about friends hanging out. These are things that would not have come to light if people did not post everything they do on social media apps like Instagram and Snapchat.
Gen Z is the first generation to be born into a time when social media already existed, according to Voice of America. Because Gen Z came of age alongside apps like Instagram and Snapchat, this generation found it necessary to learn to navigate social experiences with the addition of social media.
As a generation, Gen Z puts a lot of stock in what other people think about the way a person presents themself online and quickly forms opinions about others based on their social media presence, according to data found in an article in Cosmopolitan. How many likes did I get? Who liked my post? Who commented? Whose posts are my friends or significant others liking and commenting on?
I don't think people are naturally born to think what other people post online is significant. Older peers and friends pass down the idea that what a romantic partner or friend does on social media indicates how they feel about a person.
This mindset is a vicious cycle of projecting insecurity from person to person to try to feel better. The most harmful element of this is it puts confidence and validation in a fleeting form — and even worse — it iscontingent on the opinions of others.
There are a multitude of ways to feel upset with these made-up metrics created on social media that do not have meaning in any other context, according to Kimberly Panganiban, a licensed marriage and family therapist.
I don't think there is necessarily one simple answer to how to keep posts online from causing hurt feelings, but the easiest place to start is internally. That could be in the form of a social media hiatus or intentionally steering the conversation away from social media when with friends.
Over-sharing has become so easy with the increased accessibility to social media platforms that all the challenges associated with the complicated nature of navigating social media have become normal.
Some examples of this are the hurt feelings that occur when social media reveals friends leaving you out of plans or seeing partners being active on social media while you are still waiting on a response from them — all without knowing the circumstances. Social media undoubtedly affects peoples' emotions, according to a New Yorker article about Facebook usage.
What I have found to be true most often when dealing with social media is that everything lacks context. Despite how transparent posts may seem, they are almost always curated with the purpose of making an individual feel cool, relevant or interesting, according to an article on "Social Media and the Curation of Identity: Taking a Closer look at Influencers".
So, even if you agree that posting is more about the person whose account it is than anyone else,it is still understandable to feel hurt or upset by what you see online. You can express these feelings to a partner when their behavior has hurt your feelings and set boundaries as necessary.
Friends can clue into how it felt seeing them hanging out without receiving an invitation. I don't think people are trying to hurt each other's feelings — at least most of the time — so, sometimes, vulnerability in this situation goes a long way.
Communicating feelings can offer a perspective that friends or partners had not considered before and save a lot more hurt in the long run. If they are not receptive to the conversation, it might be a friendship or relationship worth re-examining.
_______________________
Follow the Graphic on Twitter: @PeppGraphic
Contact Fiona Creadon via email: fiona.creadon@pepperdine.edu or on Instagram: @Fiocreao