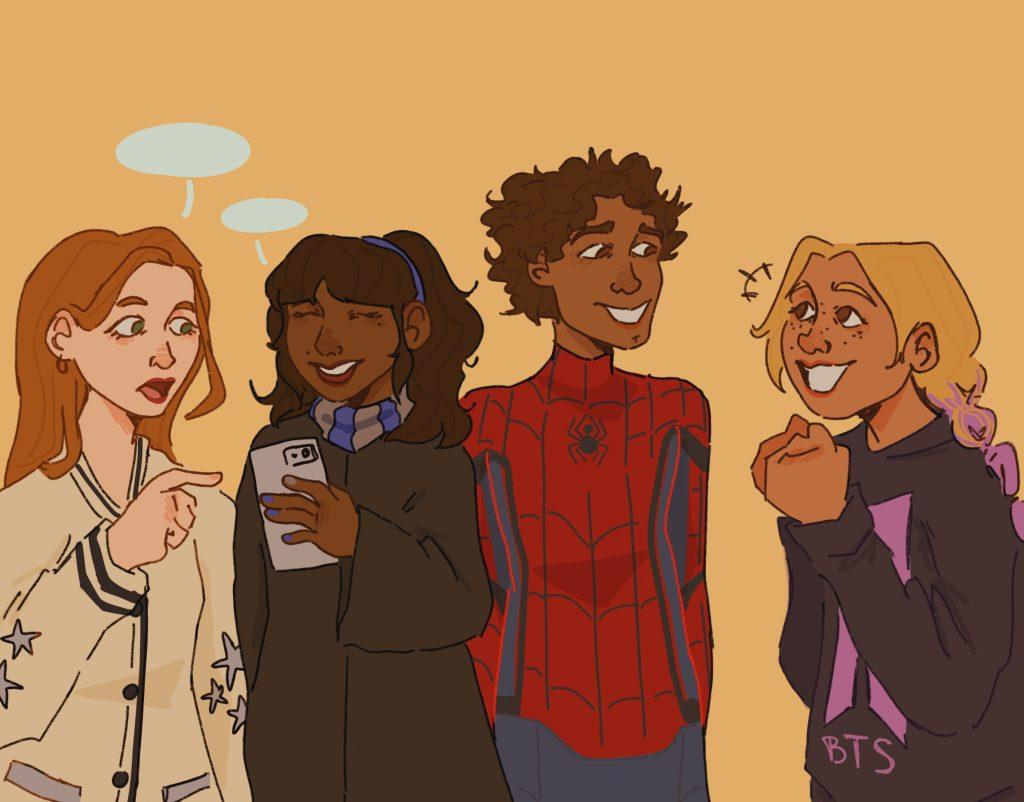 Transparency item:The Perspectives section of the Graphic is comprised of articles based on opinion. This is the opinion and perspective of the writer.
Entertainment media adds spice to life, with the constant releases of new movies, television shows, books, music, video games and more. The world feels less lonely when relating to the lyrics of a song or stirs feelings of delight when finding a new fictional character from a book to obsess over.
This summer made my head spin with all the content that was provided for us —from the Eras Tour to the long-awaited release of "Barbenheimer."
It feels great to find a piece of media that speaks to one's heart and soul, and that brings immense joy to life. But it's an even better feeling to find a group of people who share the same amount of love for that source of entertainment.
I recall the first time I logged onto Tumblr, scrolling through content for a movie I had just seen. Excitement pumped through my heart knowing there were others who shared the same enthusiasm as me — I felt seen.
This group of people is what's known as a fandom — short for fanatic domain. A fandom is"the fans of a particular person, team, fictional series, etc. regarded collectively as a community or subculture," according to Google.
Participating in fandom culture creates relationships with others and increases self-acceptance, according to Science News Explores. People form strong connections with one another because of similar interests.
With that sense of belonging and interaction, there's an increase in a person's well-being. Fandom also promotes creativity; people make all sorts of fanart, fanfiction andcosplays.
Joining new fandoms feels like a jolt of electricity every time. There's new content to fall in love with, new information to learn, and of course, there are tons of people to meet —from newcomers to old timers — and bond with over similar interests. I like to say my life is just me jumping from one obsession to the next.
With such intense enthusiasm and passion found in a fandom, things quickly start to escalate. The top three situations that tend to occur in fans are possessiveness, entitlement and feelings of superiority, according to ReelRundown. This ends up creating a heavily toxic environment for everybody.
Toxicity in a fandom is a problem that's been addressed many times, but it doesn't seem to be improving. Fans harass and belittle each other for their choices in favorite characters and ships, and for not having been educated on every single piece of information there is to know. A user on Tumblr reported her experience at a convention, where a person acted very rudely toward her based on the character she chose to dress as.
Fiction Horizon ranked some of the most toxic fandoms and included DC, Rick and Morty and League of Legends.
I've had my fair share of toxicity from the Marvel fandom coming from close friends. They'd tell me I wasn't a "true fan" for only having seen a small handful of the 32 films, not even mentioning the television shows and short series that exist as well. They'd shut down my interest in a particular ship or character as I wasn't allowed to have favorites if I hadn't seen it all.
It's hard to continue participating in a fandom when people are not giving others the respect they deserve. As the golden rule says, "Treat others the way you want to be treated." Forcefully shoving opinions down people's throats only frustrates and turns them away.
The point of fandom culture is that there's no right answer to anything; everyone's opinion is a valid one — unless it's morally incorrect, which is a discussion for another time. People can hold different opinions and just learn to coexist with one another.
Respect is something that needs to be prioritized in communities, and fandoms are no exception. When holding respect for one another, people are able to hold open discussions with one another. They are told that they are seen and valid in their preferences. Communities become more welcoming to everyone —the long-term fans and the newbies. There just needs to be awareness of this diversity in a fandom.
Let this be a reminder that people are valid for loving their interests, but they shouldn't invalidate others for loving theirs. Keep coexisting.
____________________________
Follow the Graphic on Twitter: @PeppGraphic
Contact Adri Sahakian via email:
adri.sahakian@pepperdine.edu or by Instagram @mouseratstan