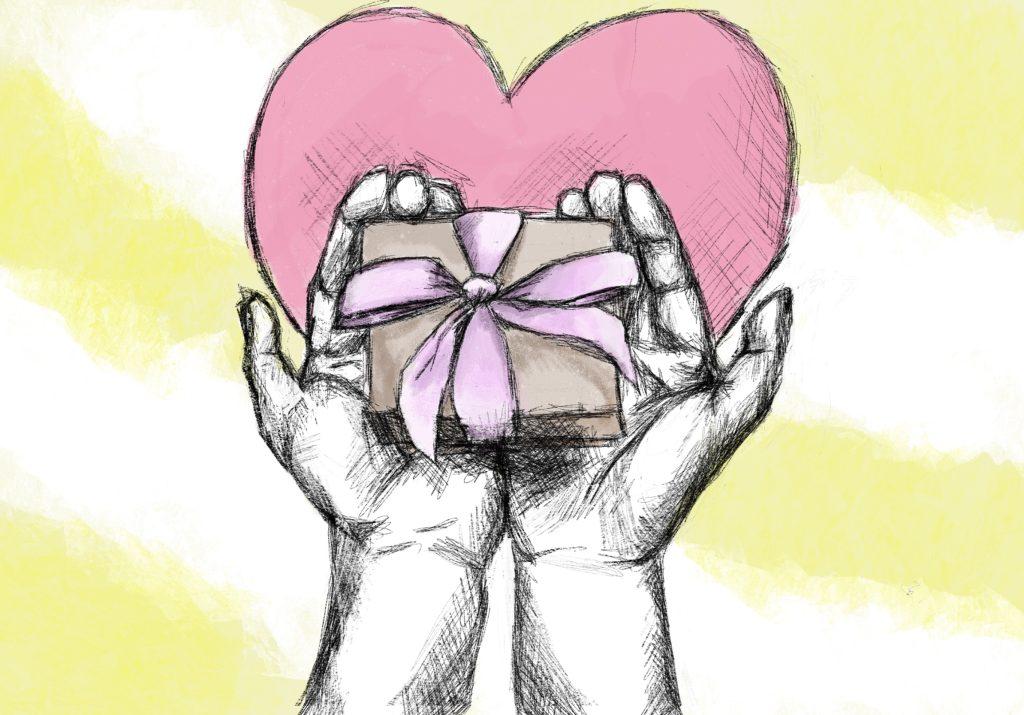 Art by Jackie Lopez
Transparency Item: The Perspectives section of the Graphic is comprised of articles based on opinion. This is the opinion and perspective of the writer.
From a young age, my parents taught me giving is important and generosity is praiseworthy. Even a phrase as simple as "share with your brother" implied an element of giving — giving up keeping a toy entirely to myself.
Giving is an action that can come at a cost to oneself. By nature, it's self-sacrificial. Why on earth would parents encourage young children to give things up?
If building wealth and success is a person's goal, it seems counterintuitive to give their hard-earned cash to someone else.
Yet, this is exactly what the Bible exhorts followers of Christ to do.
In 2 Corinthians 9:6 the Bible reads, "Remember this: Whoever sows sparingly will also reap sparingly, and whoever sows generously will also reap generously."
Paul analogizes the act of giving to planting seeds. When someone gives, they are sowing seeds of love in another person's heart.
When these seeds mature, the receiver is inspired to give back to others. In this way, a single act of generosity is multiplied among a community.
Some people argue giving still results in a loss to the giver. However, this is not the case. Generosity can be a two way street, and mutual giving creates a community network that supports one another.
European countries in the 16th to 18th centuries practiced mercantilism and believed wealth is fixed, according to Britannica. This theory argues the gain of one person means the loss of another, leading people to hold their possessions in a tight fist. However, this idea is proven to be flawed.
Economists today argue trade can be mutually beneficial because people can focus on specializing in what they do best, according to the Economist.
Instead of feeling like they have to take on the world and do everything by themselves, people can rely on the generosity of their community.
Scientific studies even show practicing generosity makes one happier, according to Medical News Today.
Even after establishing generosity is a beneficial practice, there is debate about how much and in what way one should give.
Two prominent categories of giving are money and service, both of which are rooted in devotion to others.
In the Old Testament book of Leviticus, Moses told the Israelites to give a tithe, or a tenth, of their possessions to the Lord.
After Christ fulfilled the law, Christians are no longer bound to the old law or the tithe, but are still encouraged to practice giving up their possessions. Giving monetary donations also frees the giver from the chains of materialism.
While monetary giving may be seen as more valuable, service-based giving holds just as much merit. Service can range from volunteering at a local food pantry to providing a safe space for a friend to speak.
"Each of you should give what you have decided in your heart to give, not reluctantly or under compulsion, for God loves a cheerful giver," 2 Corinthians 9:7 states.
There are many ways to give, but the heart of generosity remains the same. Neither monetary donations or service is more valuable — the worth of a gift is weighed by a giver's intention and seen by God.
Most importantly, give freely and voluntarily. This practice of unrestrained giving resonates with Pepperdine's motto: "Freely ye received, freely give," Matthew 10:8. says.
Generosity is a way to show love and dedication to one's community. With each small act of sacrifice, giving allows us to emulate Christ.
People in my life have shown me kindness and abundant generosity, especially in the form of relationships, mentorships and scholarships. For this reason, I am inspired to share my gifts with others.
Contrary to the idea that one must hoard their wealth to be happy, giving to others will set one free. While human nature is innately selfish, people and communities can grow through practicing generosity.
____________________
Follow the Graphic on Twitter: @PeppGraphic
Email Madison Luc: madison.luc@pepperdine.edu