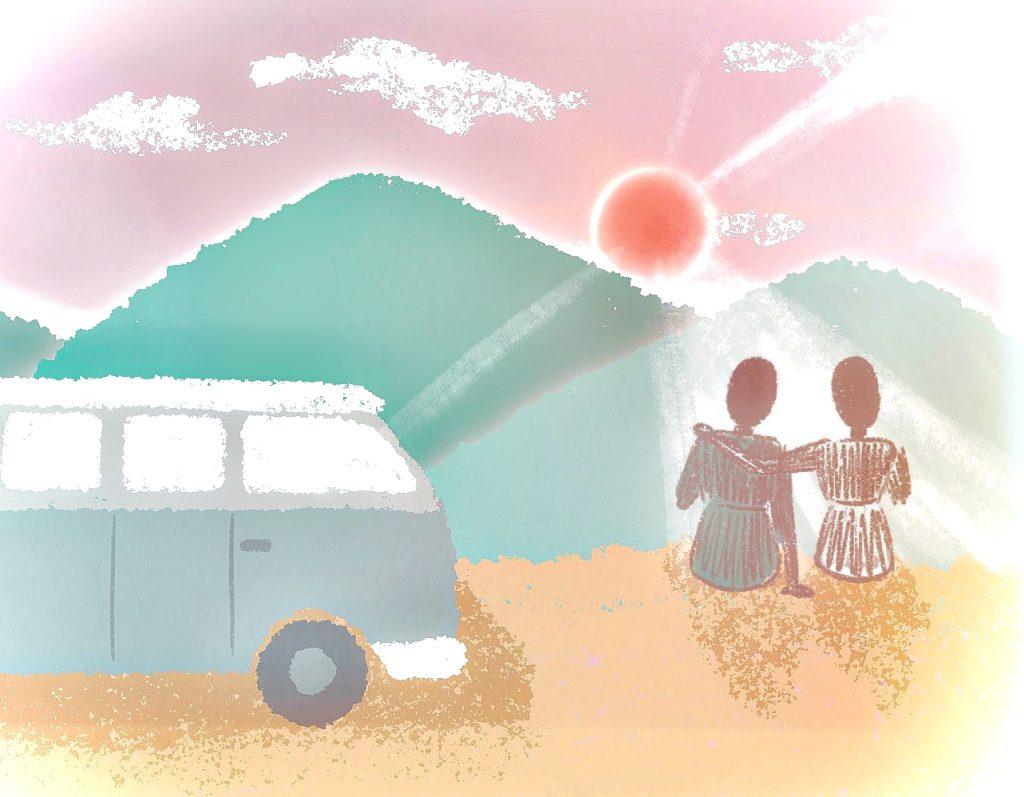 Art by Vivian Hsia
Transparency Item: The Perspectives section of the Graphic is comprised of articles based on opinion. This is the opinion and perspective of the writer.
Every single person has countless necessities in life. Out of those necessities, having one best friend is of utmost importance.
It might be your significant other or even one friend who you've created deep personal bonds with since childhood.
But what exactly is the importance behind having only one best friend? Traditionally, isn't it better to have multiple best friends?
It seems problematically paradoxical to even have multiple best friends. The word "best" indicates the highest degree in a positive manner. Therefore, it is contradictory to have multiple friends classified as your best friend, because then all your friends would hold the same status on your hierarchy of friendships.
This is only one of the many technical issues that rise from having multiple best friends.
There is also the close-tied relational aspect of having one specific best friend opposed to having multiple.
In the unfortunate case where one is to get into a life-threatening situation — perhaps a car crash — there may be confusion on who to call for help.
If this particular individual has one specific close companion, they can easily make the decision to call one friend for help. In contrast, when you happen to have multiple best friends, it may become extremely difficult to pick and choose.
Even if this particular person chooses one friend, knowing the social pettiness that derives from human envy, the other best friends would get offended they weren't the one chosen to help during this dire time of need.
However, this doesn't specifically apply to life threatening situations. Consider relational vulnerability and the amount one decides to share about their personal lives.
If the multitude of friends find out that you have chosen one specific person to share certain things with in your life, they would undoubtedly be offended.
Yet, if you were to have one dear friend you could trust, you can choose to pour out everything you'd like to share without having to worry about the envious environment that ensues from having multiple best friends.
Another example is when you plan to get married. You will eventually have to choose who your best man or maid of honor will be. Surely, that will be a tough decision when you have more than one option to choose from.
Even if you do end up choosing one specific person, the other close friends who attend the wedding ought to be hurt knowing that they weren't special enough to be chosen.
Or what about the self-evident fact that each and every human being is unique in their own way?
In order to fit the dynamic of certain close friends, you would need to put on a different persona. With one best friend, you are free to be who you really are.
The matter behind having a multitude of friends over one very intimate friend seems to be more philosophical than one might assume.
"It is quality rather than quantity that matters" a statement from Stoic philosopher Lucius Annaeus Seneca, has become applicable to friendships.
Some may argue having only one dear friend creates limitations for allowing oneself to experience different opportunities. The argument seems to be because everyone comes from a different background. Having multiple best friends enables them to bring unique experiences to you.
It may seem reasonable to believe having numerous close friends is more beneficial than having only one friend that knows everything about you. This is simply not the case.
Having only one friend that you consider as someone closer than blood related relatives does not limit your ability to experience new things. This close relationship does not even stop you from creating new friendships with other people.
Metaphorically, a best friend is like the idea of being at home. Comfort, safety and security are all aspects that you can find within your best friend.
However, this does not mean you are strictly restricted to being tied down to this home. You are free to venture out, experience new things, discover new lands and meet new people.
You can journey far from the comforts of this one friend. And when you find yourself in an uncomfortable atmosphere, finding it impossible to linger around, you always know that you can return to who you deem as home.
If you have specified one best friend, you know who they are. They are the one person you'd do anything for.
They are the reason you are able to smile. Declare who your best friend is.
___________________
Follow the Graphic on Twitter: @PeppGraphic
Contact Christopher Shon-Andrews via email: chris.andrews@pepperdine.edu