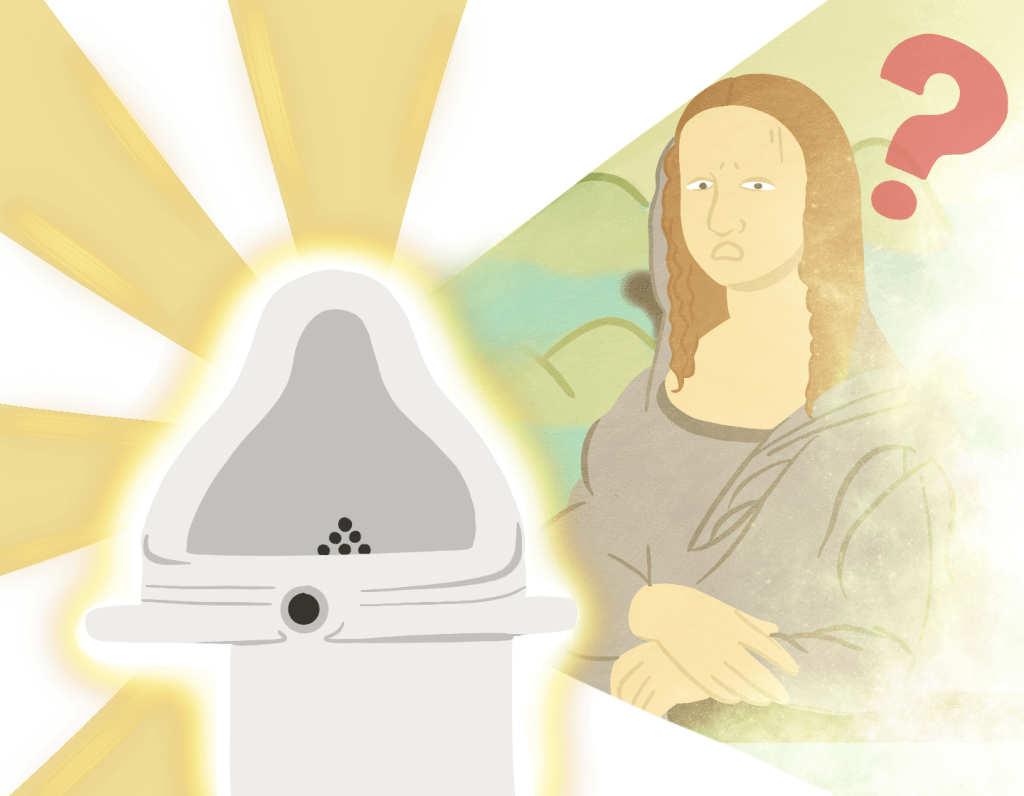 Art by Vivian Hsia
Transparency Item: The Perspectives section of the Graphic is comprised of articles based on opinion. This is the opinion and perspective of the writer.
In 1917, artist Marcel Duchamp grabbed a porcelain urinal, turned it upside down, called it a ready-made and titled it "Fountain." The authorised replicas of Duchamp's original are worth as much as $3.6 million each, according to American author Michael Ellsberg.
Because it was lost, we'll never know the exact financial value of the original. Ellsberg argues it could have been worth over $100 million.
Art has gone from hand-carved free-standing Greek marble nude sculptures to a 100 million-dollar urinal. Fine art is dead, and we killed it.
Pablo Picasso averaged two pieces daily, but Leonardo Da Vinci took 16 years to complete "Mona Lisa." The rise of modern art and Abstract Expressionism has helped discredit the industry.
Thanks to the effect of Duchamp's "Fountain" redefining contemporary art, in modern museums, you now see pieces that would not have been labeled as artistic in the past.
The National Association of Youth Theatres has seen a clear decline in young people's interest in art. The rising movement of abstract art partially discredited the industry. It could be argued younger people are less interested in learning about art due to the negative connotations surrounding it as an artificial industry filled with nonsense interpretations and intellectual snobs.
These stereotypes associated with modern art are not only false but a reflection of the continuous decay of culture in society. One of the primary factors behind the discredit of the industry is how it has been labeled inaccessible in the eyes of younger generations.
Due to the modern rat race in a capitalist society, people turn away from art because it is not perceived as profitable for the average individual. However, our generation needs to remember the untapped potential in the art industry that previous generations benefited immensely from. Even though art and finance seem like opposite sectors, in the past, art has proven to be one of the most valuable investments for affluent individuals.
People forget Sotheby's, one of the world's largest auction houses and brokers of arts, bills over 8 billion dollars annually. Art is one of the few investments that are not reliant on the ups and downs of the stock market, which is why celebrities such as Leonardo Di Caprio, Oprah Winfrey, Madonna and Gianni Versace have diversified their portfolios by investing in art.
Recently, British guitarist Eric Clapton had a net-worth of 200 million before he unloaded several paintings from his personal art collection at an auction. He walked away $30 million richer.
Additionally, in the United States, tax regulations favor you if you profit from frequent art purchases and sales. Most people are unaware of the tax deductions that go hand in hand with investing in art.
Some people know the money behind the art but do not even consider investing in the industry, as it seems exclusive and closed. This stereotype is not even false; it is just outdated.
Great Paris salons were cliquey in the 1800s, but thanks to NFTs, investing and learning about art are just a click away.
An NFT is a non-fungible token through which an art piece is tokenized in the blockchain. That means the original of a simple virtual image that could be replicated millions of times is verified and collected like fine art. NFT ownership allows owners to control how museums and other institutions display their collections.
Additionally, artists can receive royalties for the number of times the NFT copies are sold and commissioned on secondary sales. The highest-priced NFT was sold for $91.8 million, and the business has only been around since 2012, while the highest-selling art piece in history, Da Vinci's "Salvador Mundi" sold for $450 million — not a insufficient margin for such a new section in the industry.
More than 43 million NFTs have been sold since 2017. Traditional art auction houses such as Christie's and Sotheby's are starting to operate in the NFT world. Gaining entry to NFTs and other forms of Crypto Art is accessible and just a click away. Art should not have to be only a hobby for the ultra-rich but for anyone with internet access.
Lastly, most people associate art history and the art industry with useless knowledge that is non-applicable in the real world. This connotation is just laced with ignorance. If this were true, why would every royal house in Europe for thousands of years prioritize art literacy?
The University of Chicago Art History Department's website states the importance of the subject for personal development.
"Art history teaches students to analyse the visual, sensual evidence to be found in various works of art, architecture, and design in combination with textual evidence," according to the website.
Fine art is dead, and we allowed it to die. The culprit was not abstract artists like Duchamp or Pollock; the real culprit resides in every person who has let modern stereotypes devalue one of human history's longest-surviving and most impactful legacies. The real victim is not art but the people missing out on everything it offers, culturally and monetarily.
____________________
Follow the Graphic on Twitter: @PeppGraphic
Alexia Urdinola Garcés: alexia.urdinola@pepperdine.edu