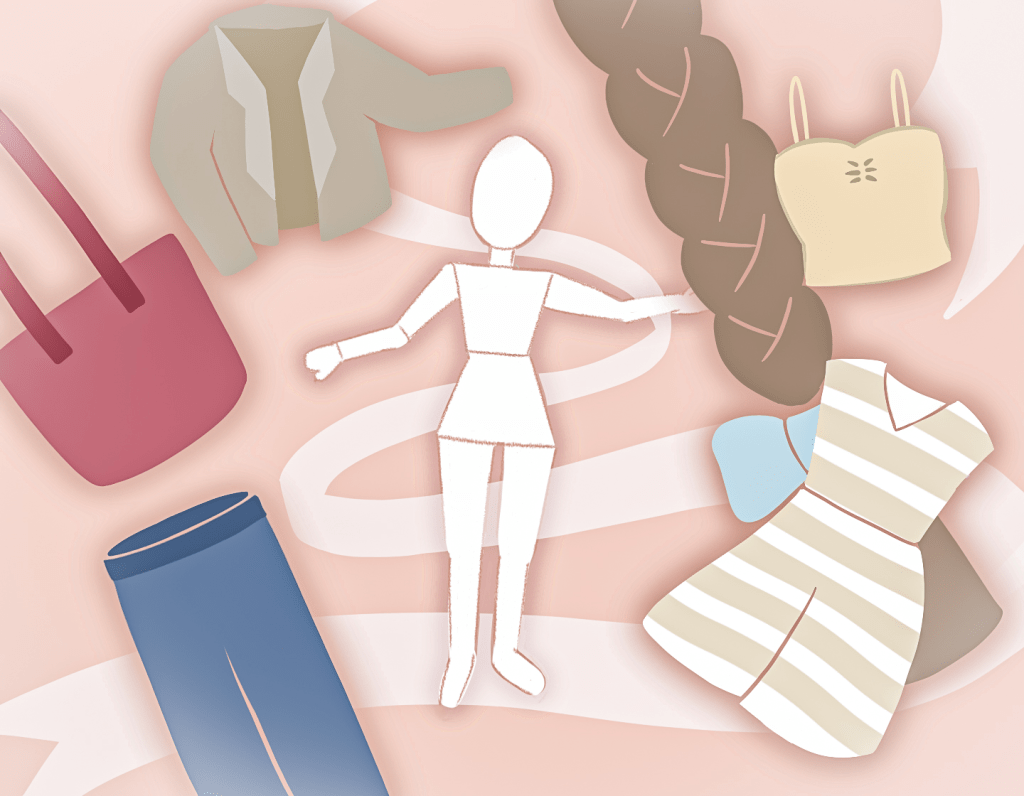 Art by Vivian Hsia

Transparency Item: The Perspectives section of the Graphic is comprised of articles based on opinion. This is the opinion and perspective of the writer.
Dressing nicely for an interview is a widely accepted piece of advice. However, in day-to-day life, the importance of dress is less emphasized, especially for college students.
Dress — for example, the shape and color of clothing and hair— changes how individuals are perceived. Colors impact moods, feelings and behaviors, according to Color Psychology.
"Color is a powerful communication tool and can be used to signal action, influence mood, and even influence physiological reactions," Kendra Cherry wrote in a Verywell Mind article.
I have experimented with different hair colors and styles. I've traveled the rainbow from my natural straight, dark brown hair to rose gold, blonde, purple, silver and pink. I love to change the style from long to short and incorporate curls, braids and hair accessories.
I've found the color of my hair changes the way I act in social situations and in the way I see myself. In addition, I've noticed depending on my hair color, people have different first impressions of me. When I sport an unnatural hair color, such as pink, I've been told my personality is bubbly and cheerful. In contrast, I come across as studious and responsible with brown hair.
I also enjoy having a variety of colors and styles in my wardrobe. Some days I might choose a hot pink blazer with high heels, while other days I prefer to wear a neutral T-shirt with jeans and tennis shoes.
Dressing how I want gives me joy and confidence. My mood and the occasion control my fashion choices.
Depending on how I feel when I get out of bed, I am drawn to certain colors. When I know I have a full day of classes, I'll choose something cute and comfortable. When I go out with friends on the weekend, I might want to choose a more elaborate but less comfortable ensemble.
One's dress can play a large role in how society perceives an individual and how they see themselves. Yet, the ability to choose one's dress is a privilege. Limited monetary resources can limit an individual's option for self-expression through dress. Designer clothing, hair salon services and beauty procedures all cost money — a barrier to low-income individuals.
At the same time, having so many options for dress is hardly sustainable. The fashion industry is responsible for exploiting factory workers in developing countries, sweatshops and high carbon dioxide emissions, according to Columbia Climate School.
The U.S. alone disposes of almost 11.3 million tons of textile waste a year, or 2,150 pieces of clothing per second, according to Bloomberg.
These practices are detrimental to people and the environment. While experimenting with different types of dress can exhibit creativity and allow for personal expression, the consequences of doing so should not be ignored.
To consider the social and environmental effects of my choices, I reduce my consumption by limiting new purchases. If I do not think I will wear an item at least 30 times, I think twice about purchasing it. In addition, I explore options such as purchasing clothing at second-hand stores or organizing clothing swaps with friends.
I am certainly not perfect, and achieving sustainability is not an all-or-nothing. Rather, it is a lifestyle practice of considering every choice through a socially and environmentally conscientious lens.
No matter one's socioeconomic status, anyone can choose wisely with the resources they possess. This practice may look different for different people, just like one's choice of dress varies from person to person.
Though I use dress as a fun way to present myself to the world, I know my appearance should not dictate my identity. Instead, my identity is rooted in Jesus Christ, and I aim to use how I dress to reflect this identity.
The next time you get ready for the day, examine your choices. How you choose to dress may reveal more than you thought, and may even prompt you to change elements of what you're wearing. Understanding how your identity is reflected in your everyday dress can set you up for success.
____________________
Follow the Graphic on Twitter: @PeppGraphic
Email Madison Luc: madison.luc@pepperdine.edu