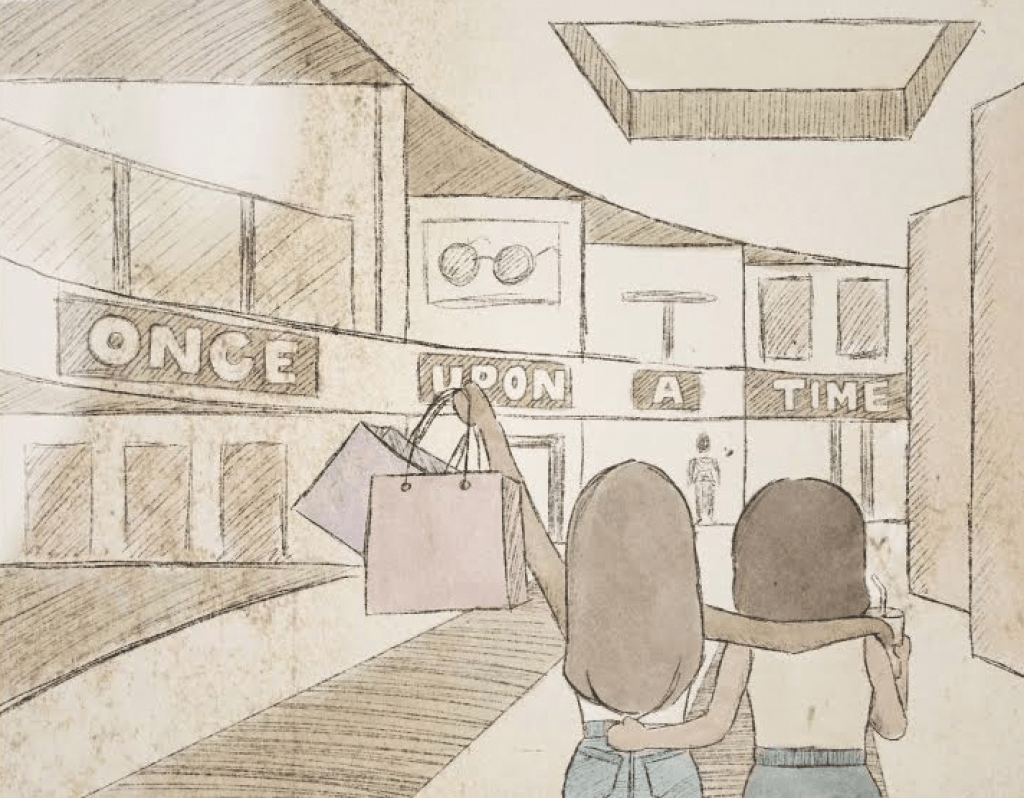 Art by Stella Engel
Transparency Item: The Perspectives section of the Graphic is comprised of articles based on opinion. This is the opinion and perspective of the writer.
With online shopping becoming more convenient and relevant in recent years, a significant amount of people no longer want to go shopping in a mall. From 2012-21, online sales increased by 11.1%, and offline sales saw the respective 11.1% drop, according to Zippia. Shopping online within the comfort of your own home has become too enticing.
However, it hasn't always been like this. There are a variety of different factors contributing to what appears to be the slow and eventual death of malls, with COVID-19 being the most prominent.
There are countless activities to do at the mall. Individuals can spend the whole afternoon trying on new outfits from different clothing stores, perhaps even swiping their credit card one too many times. Even for those unwilling to spend money, they could choose to window-shop and still enjoy all the different consumer goods on display.
Whatever one chooses to do, the mall is a place that has something to offer to anyone who decides to come.
No one expected the disastrous effects COVID had on malls, yet alone the outbreak of a worldwide pandemic. As previously mentioned, with online shopping becoming more popular, malls already started to struggle with the convenience of online shopping versus in-store shopping. It is most evident COVID was the final blow to knock malls off their feet.
This may sound extreme, but within a few years, it might be time to say goodbye to malls — they may soon become memories of the past. It's almost unbelievable to even think of not having an air conditioned facility to find refuge in from the violent, unmerciful sun during the intense California summers. If malls were to close, where would middle and high school students go to hang out during the weekends or even right after school lets out?
It must be the collective responsibility of society to ensure malls don't merely become relics of the past.
AMC, Macy's, The LEGO Store, Nordstrom, H&M, American Eagle, Urban Outfitters, Foot Locker, Lululemon and PacSun are only a few of the myriad of shops within malls. Metaphorically speaking, a mall is simply an all-star lineup of your favorite retail stores and more.
Would our society accept this future reality?
It'd be hard to say — although it's easier to simply type the name of the store you want to shop at into your computer and make a purchase with a few clicks, it seems robotic. There is no human interaction. There are no memorable experiences with friends. There is no lingering smell of popcorn coming from the movie theater. There is no tangible good before you to stare at for an unreasonable amount of time.
What if those jeans don't fit? What will be there to do during summer break when you've done everything and can only resort to going to the mall? Where will you go to do last minute Christmas shopping? What about that one individual who always shines your shoes and somehow convinces you to buy their product? OK — maybe that last one was something that wouldn't be necessarily missed.
If you were able to somehow resonate with any of the aforementioned experiences, how could you be at peace with the disappearance of shopping malls?
You can't. There's always something enigmatically significant about nostalgic experiences. Whether it's watching that cartoon show every Saturday morning with a bowl of cereal or trying to tell yourself that you'll take a break from building another bag out of a LEGO set only to complete the entire build, memories seem to bring joy. It's even evident within fashionable apparel and the shoe market.
"It seems that most core trends repeat every 20 to 30 years — a concept often called the '20-Year Rule'. This 20-year timeline could be that designers consciously or subconsciously take inspiration from the styles their parents wore," according to Current Boutique, a Luxury & Designer Consignment Shop.
The wonder of nostalgic experiences seems to remain a significant fragment of memory throughout generations. No matter who one is, if they grew up going to the mall, forming memories as a young adolescent or even as a parent with their children, there should be this compelling emotion that is against the idea of malls eventually ceasing to exist once and for all.
Next time, before pulling out a laptop to make a purchase, consider driving to the closest nearby mall. You may not find the thing you want to buy, but the mall will compensate for that shortcoming by providing a place, an atmosphere perhaps, that welcomes you to loiter for countless hours and enjoy the embodiment of consumerism. Possibly more significant, you are able to enjoy the warm, joyous recollections of youth in the mind.
___________________
Follow the Graphic on Twitter: @PeppGraphic
Contact Christopher Andrews via email: chris.andrews@pepperdine.edu