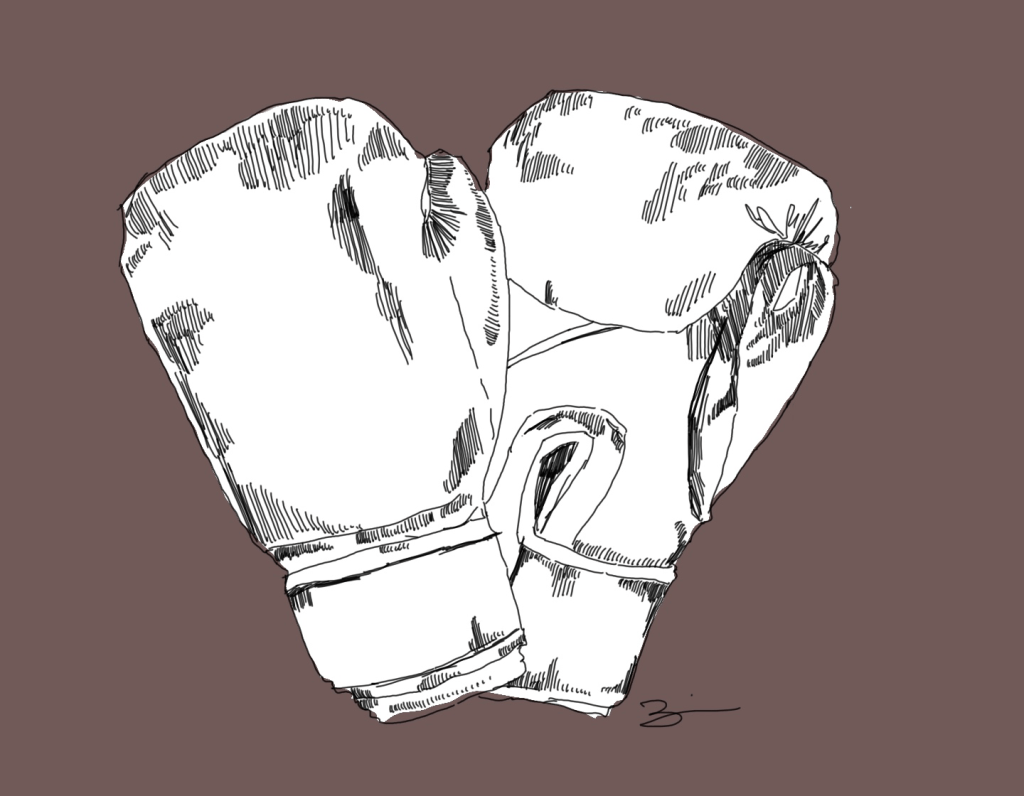 Art by Vivian Hsia

Transparency Item: The Perspectives section of the Graphic is comprised of articles based on opinion. This is the opinion and perspective of the writer.
Mixed Martial Arts started as a fringe sport — its humble beginnings were at UFC in Denver, with a measly audience of just 7,800. Fighters from across the world from different disciplines like Taekwondo, Karate, Kickboxing, Wrestling and jiu-jitsu competed in bloody one-on-one competitions.
MMA has grown a lot since then, expanding up to UFC 229 in 2018 with a record-breaking 2,400,000 Pay-Per-View buys. Now, everyone knows a guy who watches UFC, whether it's your weird uncle or your brother who thinks he's cooler than he is. The knowledge of MMA and combat sports has exploded worldwide.
Inevitably, with the rise in popularity of MMA, the knowledge and techniques of how to fight each other have spread throughout the country. While common sense would tell us this would increase violence, I argue training in these skills alternatively positively channels aggression.
Most fights are largely avoidable. Fights break out where it's a constant upping of the ante, from calling names, pushing and shoving, climaxing and eventually going to blows. At any point in this escalation, one can stop most fights before they start.
In most altercations, there is a need to prove oneself — a fundamental insecurity.
"There are close links between social exclusion and violent conflict and insecurity, both in terms of causes and consequences," according to a psychological study by the GSDRC Applied Knowledge Services on conflict and insecurity. "There are now convincing arguments that some forms of social exclusion generate the conditions in which conflict can arise."
Social exclusion breeds a need to assert oneself out of a place of insecurity.
Regardless of how this problem started, it's here now. How can we combat this insecurity and social exclusion?
The answer may sound contradictory, but it's to harness the healthy benefits of combat sports. Many people misunderstand the relationship between power and violence. Neurotic personalities — those with low self-esteem — have a high tendency toward crime, according to a psychological study published by Dr. Sudhinta Sinha in the National Library of Medicine.
A great way to combat low self-esteem is to develop responsibility.
Here we can learn from "Marvel's Comics' Spiderman", and while we may not all be as charming as "Spiderman: Homecoming's" Tom Holland or attractive as "Spiderman 3's" Tobey Maguire, we can all appreciate their shared mentor Uncle Ben's advice:
"With great power comes great responsibility," Uncle Ben said.
But physical power is not easily gained; it is only earned through hours of training and sparring in fight gyms.
The head Brazilian jiu-jitsu coach at Pepperdine is associate professor of Philosophy Tomas Bogardus. He is a purple belt in Brazilian Jiu-Jitsu and has been training for five years.
"You get the thrill of high-intensity sparring, which lets you prove your competence to yourself and others in a constructive way," Bogardus said. "You learn what you're capable of, and you can work to become capable of more. So, the desire to prove something to yourself or others through a physical fight goes way down."
I still remember sitting in my Great Books class, head spinning and unable to look at the light, realizing I had gotten some form of head injury from jiu-jitsu practice, where a 250-pound man had sat on my head. Despite that, I had nothing on my mind — especially not the aching pain I needed to get checked out —Harilela Fitness Center.
"It helps you become the kind of person who isn't looking for violence, but who isn't afraid of it either," Bogardus said. "A warrior in a garden, as they say."
____________________
Follow the Graphic on Twitter: @PeppGraphic
Email: Arik Chu arik.chu@pepperdine.edu