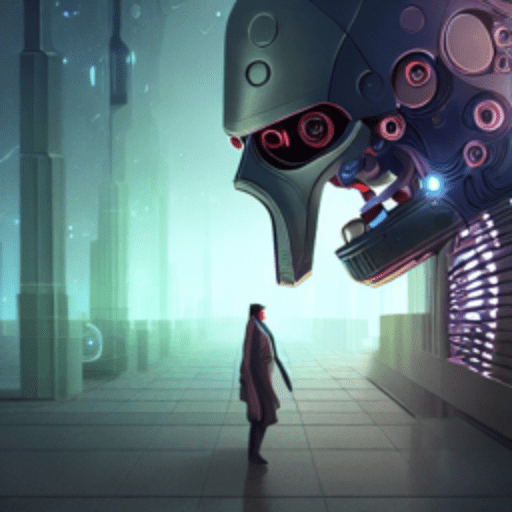 Text-to-image AI creates attractive paintings, illustrations and images. Created on Hotpot.ai using keywords: Artificial Intelligence in Academia.
Transparency Item: The Perspectives section of the Graphic is comprised of articles based on opinion. This is the opinion and perspective of the writer.
Artificial intelligence is a computerized simulation of human intelligence that can transform the way people can learn and grow as students and educators, according to IBM. AI should be used in all forms of academia for creativity, efficiency and ultimately for people to continue to grow with upcoming technologies.
Educators can use AI to determine a student's learning style and knowledge to create customized learning and instructional content. AI can even help grade exams with an answer key — which eliminates the tedious and time-consuming tasks of grading multiple choice tests and record keeping, according to University of San Diego.
Additionally, it can compile data about how students individually perform on assessments. Furthermore, for grading, AI can grade non-linear assignments like projects and essays. From the humanities to sciences to languages, AI can be used in various ways. The future of technology is moving quickly, and keeping up with it and staying ahead is crucial to progress.
In tutoring, AI enhances the personalization of student learning programs and courses. As a tutor, it would help promote tutees' improvement in their weak spots and sharpen their skills. AI allows for easy communication for learning between educator and student for all hours of the day. Learners said they are excited because of the enticement of AI, according to University of San Diego.
Some benefits of AI include being able to access content and educational resources from anywhere at any time. If students have frequently asked questions, they can be sorted and answered for each class. AI allows for all of their information to be organized quickly and easily.
The cost of most basic AI programs are free, but more developed and intricate programs range from a couple hundred dollars to several thousand dollars. AI can be viewed as a long-term investment.
In a HUM 313 course, I used AI for my final cumulative project and received an A on the project. One professor shared their excitement about my use of AI for the creativity within the project. They noted how they felt this was a unique opportunity to showcase new technologies and the entire project fit into the program seamlessly.
I was able to use the website DALL-E 2, which allowed me and my project partner to select keywords from several periods of times. These images were in accordance with our theme — having AI images that were never before seen or created and unique rendered our original project.
What excites me and worries most educators and academic institutions, according to PlagiarismToday, is that AI can help in writing. These AI writing assistants improve the given text through spelling and grammar checks.
The LanguageTool uses AI to "strengthen the correction process by detecting and fixing advanced errors and by generating rephrase sentences that can better suit your tone and voice," customizing the written work specifically for your voice, according to LT insights.
One company has discovered ways to incorporate various uses of AI into one format. OpenAI "builds next-gen apps with OpenAI's powerful models." Through this program, users have access to "GPT-3, which performed a variety of natural language tasks, Codex, which translates natural language to code, and DALL-E, which creates and edits original images," all to the benefit of educators and students alike, according to Open AI.
Some could view this as the easy way to writing papers, but students are simply using the resources and technologies available in the world, as they have been made available over history. It could help students to improve their writing skills and build confidence through well-articulated thoughts.
AI is biased, which can be beneficial as long as people stay mindful of its limitations. People choose the data the algorithms use and then they also decide how the application of those algorithms result. This can be beneficial in assignments, as it will customize to a person's likes and dislikes and be "unique" to them and how they want to tackle an assignment.
Although, without diverse machine learning engineers (ML engineers), it is feasible for unconscious biases to enter and alter the systems to automate those biased models. This is something that needs to be taken into serious consideration when used.
Artificial intelligence is a new technology that can help academic institutions, educators and students have a more personalized, organized, efficient and creative form of learning.
There is still a lot to learn about AI in the school system and its long term effects, but it should be tried out and incorporated into curriculums for technological advancement, educational progress and the overall benefit of the students and teachers.
___________________
Follow the Graphic on Twitter: @PeppGraphic
Contact Victoria La Ferla via email: Victoria.laferla@pepperdine.edu or by Instagram @vlf_insider