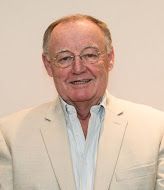 Photo courtesy of Edward O'Connor
Professor Edward O'Connor wore a mustard yellow button-down with palm leaves spread across its front. He stood with his back against the wall in the Caf, texting, before sitting down at one of the tables. After four years of teaching at Pepperdine University, he is no stranger to the din of the overcrowded feeding hole. Putting his folded hands on the table, O'Connor began to describe his journey to becoming a business communication and public speaking professor at Pepperdine.
"I feel like I can project to the students how important [communication] is because of the experiences I had from the businesses I was in," O'Connor said.
O'Connor's parents were immigrants from Ireland, chasing the American dream in the effort to provide a better life for their children. O'Connor was born in New York City on the upper West Side; though soon after, his family moved to Hoboken, New Jersey, just outside the Lincoln Tunnel. O'Connor said his Irish heritage goes back generations.
"I went to see some family back in Ireland a couple years ago," O'Connor said. "They're living on the family farm and had someone come out to test how old the foundation was. It turns out it was 800 years old! I told them we should make a family tree, but they didn't know what that was."
In Hoboken, O'Connor lived in the same apartment with his parents and his sister until he attended Rutgers University and married Esther, a girl he met at a St. Patrick's Day fair.
In the quest for job stability, O'Connor decided to try his hand in the aviation business in New York City. He smiled as he reminisced.
"I enjoyed my job at U.S. Airways," O'Connor said. "I had some good training, and it really flung me into the business world when I wasn't sure where I wanted to go. But I actually started out working for the airlines because someone said, 'You should really go into the airline business; they're going places!' This is in 1972, mind you."
He laughed at the memory.
"I went through four or five airline mergers and managed to survive them all."
After having three kids and moving to Minneapolis for a job promotion, O'Connor noticed that the airline business was struggling to make ends meet. Shortly thereafter, he and his family relocated to California so that he could work for a travel agency.
"The job I thought would be so good was not," he said. "So I started looking elsewhere. I went to work for American Express. During that time, they sent me to Pepperdine for my M.B.A."
After attending vigorous classes at Pepperdine while also working full time, O'Connor left his job of seven years for another corporation, Carlson Wagonlit. Meanwhile, Pepperdine asked O'Connor to teach an internship class once every other week.
"I worked with kids who were interning at different companies, while still doing consulting on the side," O'Connor said. "It was a good gig."
In the internship class, O'Connor taught the students how to write cover letters and resumes. Coming from the business world, O'Connor said that Pepperdine felt he'd be a better fit to teach the course than someone solely from the academic realm. Pretty soon, they asked O'Connor to teach Business and Professional Communication (COM 380) as well.
In the beginning, O'Connor said he felt like a fish out of water due to the amount of material needed for preparation.
"That's when I thought, 'I'm not a college professor! This is silly!'" O'Connor said. "Giving interns some advice? I know how to do that. But this? I probably stumbled a bit, but nobody noticed, I guess."
However, Ken Waters, the Divisional Dean of the Communication, says that O'Connor has much more than simply book knowledge to give to students. "[Professor O'Connor] is very enthusiatic and brings a lot of professional experience to the table." Waters says.
With time, O'Connor caught his stride, and Pepperdine offered him the opportunity to teach public speaking in 2014.
Greg Daum, the head of the Public Speaking Program, remembers how Professor O'Connor sat in his public speaking class for two Summer blocks on his own time to pick up tips on how to teach the class.
"He's so humble." Daum states, "I've never seen him in a bad light. He has so much wisdom and knowledge in his professional field."
His students seem to agree. Annie Weirda, a pupil in O'Connor's public speaking class admires his engaging personality and teaching style.
"I'm really looking forward to learning from him throughout the semester." Weirda said.
When asked if he enjoys his position, Professor O'Connor smiled.
"I really, really enjoy teaching," he said. "I love to see people getting through [the class], and I like the way that [students] root for everyone. I read all the nice little notes they write about their classmates, and it's just really great. I love watching the kids grow."
Follow Breanna Podgorski on Twitter: @Brelynnmusic