Photos by Joanna Cabalquinto
No. 7 Pepperdine Men's Volleyball fell to No. 6 Loyola Chicago in three straight sets, 3-0 on Saturday, March 10. Senior outside hitter Alex Harthaller led Pepperdine with 12 kills and redshirt freshman setter Robert Mullahey dished out 34 assists.
The Ramblers managed to take their first-ever win over the Waves with the 3-0 sweep. Loyola Chicago is coached by Coach Mark Hulse, who played for Pepperdine for two seasons during his collegiate career.
"Loyola played well," Head Coach David Hunt said. "Mark [Hulse] played here so he learned some good stuff. He knows how to train his guys and his guys are playing well. Our team played hard. They played with and for each other. Loyola just made a few more volleyball plays than we did."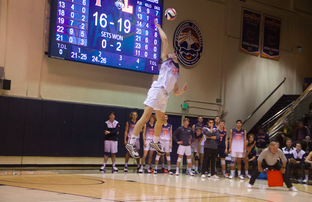 The first set was a close match. The Waves tied the set 10-10, but fell by three points, allowing the Ramblers to take a lead that eventually became a 25-21 win. During the second set, junior outside hitter Michael Wexter and Harthaller led the team's offensive counter with kills for a 17-17 tie. However, the Ramblers were able to capitalize on service errors, and won 26-24 to go up two sets.
Harthaller kept up his strong offensive display with a total of 12 kills throughout the match; redshirt freshman setter Robert Mullahey chipped in 34 assists as well. Meanwhile, senior outside hitter Colby Harriman led the team defense with six digs, with junior middle blocker Max Chamberlain totaling four as well.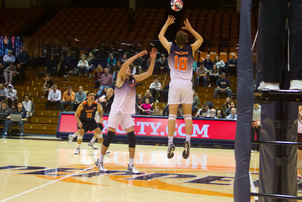 Junior outside hitter Kaleb Denmark also made an appearance on the court during the match. Despite the poor service game by the Waves, Denmark held down the court with no service errors.
"Loyola is a solid team," Kaleb Denmark said. "They played really well. We didn't have our best night. We just didn't play our game. We weren't as aggressive as we usually are and most of the errors were ones we don't normally make."
In the third set, the Waves fought hard by posting 14 kills. Unfortunately, the Rangers matched them with 14 kills of their own. Despite their efforts, the Waves were unable to get ahead and the Rangers completed the 3-0 sweep with a 25-20 win in the final set.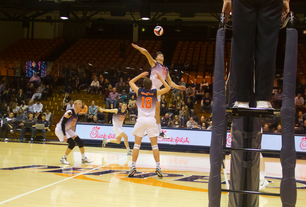 Set-by-Set Scoring:
Set 1: 25-21 (LUC)
Set 2: 26-24 (LUC)
Set 3: 25-20 (LUC)
Although the loss against the Rangers was disappointing, the Waves kept their spirits high and look forward to fighting the remainder of the season.
"Our conference has shown us that anybody at the top can finish," Hunt said. "As it is every year with our league, you just have to be good in the end and you have to be playing good volleyball. It doesn't matter how well you play right now because you have to play well in the end."
Up Next:
Pepperdine takes on Concordia-Irvine at Firestone Fieldhouse on Thursday, March 15 at 7 p.m.
_______________
Follow Pepperdine Graphic on Twitter: @PeppGraphic