Junior Peyton Stewart poses with her makeup. Students shared the recent trends that have emerged from social media and influencers. Photos by Lucian Himes

California may be exempt from the bitter frostbite and blinding snowstorms that pervade many Midwest and East Coast states. However, that doesn't stop Californians from breaking into the latest trends this winter season, according to a Who What Wear blog post.
Many of the current top trends crept into society through popular influencers and fashion icons parading their new must-have staples on platforms such as Instagram and TikTok, according to an article by Forbes.
While social media platforms such as TikTok can provide a fun way to engage with the most recent trends, senior Emily Castillo also cautioned against becoming too influenced by social media.
"If someone is carried on by technology and by social media I think that's dangerous because some things could be triggering for some people," Castillo said.
While some of these trends have garnered much attention and are here to stay, others appear less practical and students said they question whether they're worth the investment. Students shared how certain items such as the Ugg Tazz Slippers, Stanley cups, belt bags, cosmetic products and more are some of the most popular yet controversial products on social media.
Senior Jasmine Tapia said she is a keen observer of rising fashion trends, stemming from both social media and her job at Lululemon. Working at Lululemon, she said she notices many of their athletic products reflect the increasing popularity of specific trends across other brands such as their bags and straight-leg pants.
Tapia said skinny jeans no longer hold the high status they received in previous years as many public influencers have recently been featuring a more '90s style look. Tapia said several of Lululemon's new products, such as their Loungeful Straight Leg and Groove Super High-Rise Flared Pant are embracing this trend.
Tapia also said Lululemon's Everywhere Belt Bag, which launched in 2018, has become immensely popular on social media — the same bag that was listed as the number one best belt bag in an article by the New York Post. While Tapia said she is in favor of the rising trends in athletic wear, she remains hesitant about others.
"One trend I think is kind of overhyped is the Stanely cups just because I feel like it's not realistic to carry them throughout your day," Tapia said.
Tapia said the awkward handles, large straws and bulky size are all characteristics that can't compete with smaller and more nimble water bottles such as Hydroflask.
Named the fastest-growing equipment accessories brand by the New Product Development, the new Stanley Tumblr has become the new must-have essential after digital content creators raved about the new quencher online, according to The New York Times.
"Mostly TikTok is where I see all the trends but a lot of ads do come up on Instagram," Castillo said.
An artist at heart, Castillo said she was also inspired by art-based posts on social media featuring colorful creations on various objects. This led her to display her own style and passion for art on both her clothes and everyday essentials.
"I followed a lot of Bob Ross' ways of painting on water bottles and added my own twist to it," Castillo said.
Realizing that her water bottles could become her new canvas in 2017, Castillo then began commissioning her own in 2019 and has continued ever since. Castillo also shares her personal designs on her art-based Instagram account.
Castillo is not the only one turning to TikTok for trend inspiration. The mainstream video-sharing platform has been elevated beyond just being a popular site used between friends — it's also a massive marketing platform for products, such as Ugg's Tazz Slippers.
The Tasman slippers gained immense popularity and sold out online multiple times after going viral on TikTok with more than 13 million views under the hashtag #uggtasmanslippers, according to an article by Forbes.
Social media doesn't stop at fashion trends. Castillo also mentioned a new up-and-coming trend she's noticed are pH makeup products such as Tarte's maracuja juicy lip & cheek shift. This iconic lip product is fully customized to adapt to each customer's unique shade and can be used as both a lip product and a blush, according to Tarte's website.
Junior Peyton Stewart is an avid Instagram, Youtube and TikTok user and frequently turns to these platforms to keep up with the newest rising trends. Stewart said one of the most popular trend influencers is Alix Earle — a fashion and cosmetics icon, known for her content on TikTok and Instagram.
"The reason that she's so trendy is she's super relatable," Stewart said. "Not many of us can relate to a girl that's going to Drake's birthday party in Miami like that's the kind of girl that she is, but she's so down to earth."
With more than four million followers on TikTok, Earle's large sphere of influence allows her to effectively promote new emerging products such as the Rare Beauty liquid blush. Earle posted a TikTok video of her makeup routine featuring the cream-based blush Feb. 8. Stewart said the product is one of the most up-and-coming trends after Earle's video reached over 180,000 views.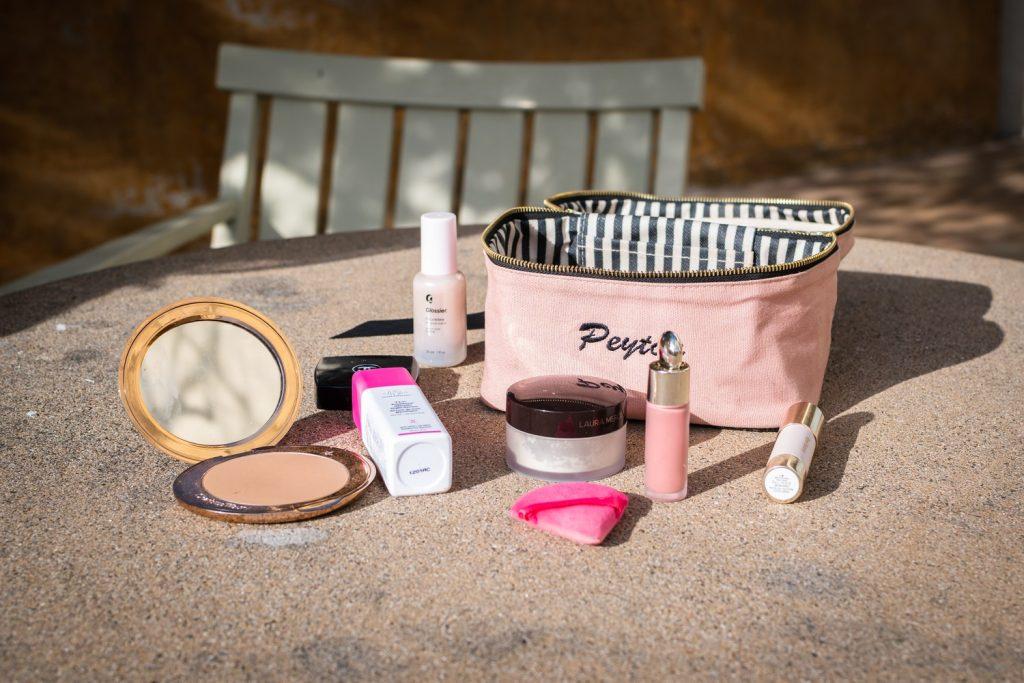 "Skincare is a huge thing for me because it's part of my day where I can just relax and I think it's a really good trend because trends can sometimes be super toxic," Stewart said.
While Stewart is a huge fan of makeup and skincare products, she also keeps up with trends outside the fashion and cosmetics industry. Specifically, Stewart said the 12-3-30 workout routine has been circling on social media recently. Inspired by social media influencer, Lauren Giraldo, this seemingly simple routine has become the new go-to exercise regimen for those new to the fitness realm or just starting out on their health journey, Stewart said.
"The results from it are insane," Stewart said. "It sounds super easy but if you try to do it, it's really hard."
While many fitness routines involve intense cardio or heavy weights, Stewart said she appreciates Giraldo's program because it is easier on muscles and joints and sparks confidence in those who may be less experienced gym-goers.
Social media has made substantial bounds in recent years not only for networking and virtual connection but also as a platform for creating global influence. While some students embrace the world of influencer culture, others remain skeptical of becoming overly immersed in the frenzy of trends.
___________________
Follow the Graphic on Twitter: @PeppGraphic
Contact Lauren Goldblum via Twitter: @Laurengoldblum1 or email: lauren.goldblum@pepperdine.edu