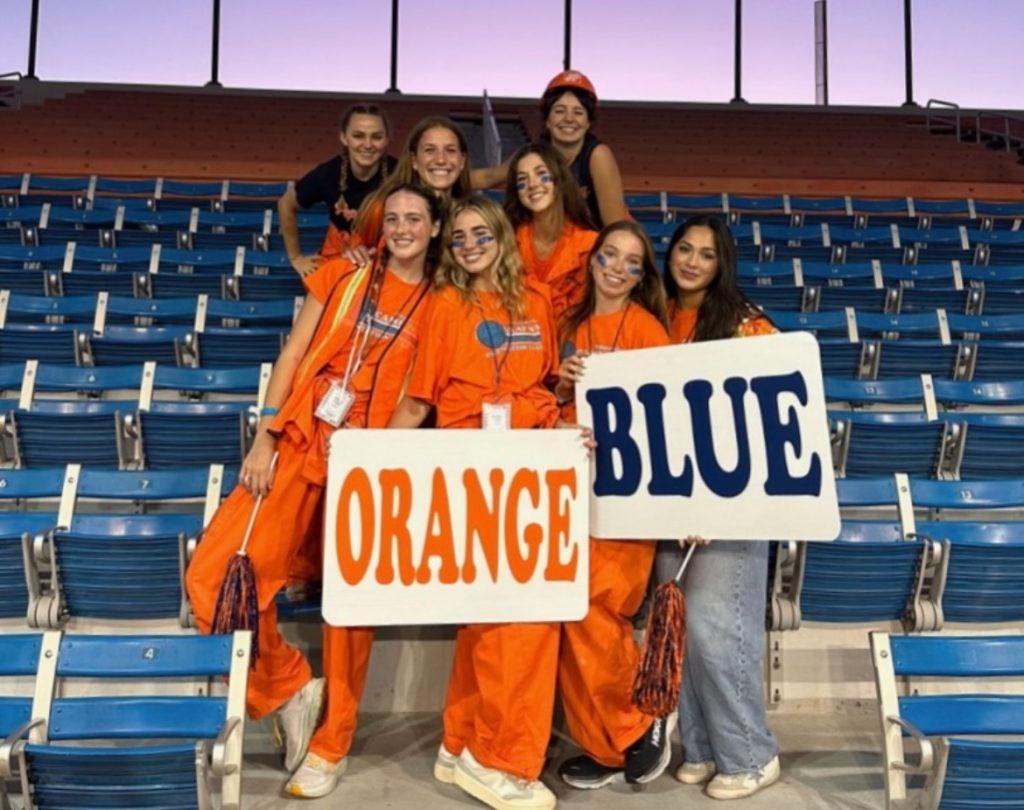 To find a member of Riptide, look for 1) pep and 2) Pepp. Sporting copious amounts of cheer and dressed in blue and orange from head to toe, Riptide members have been busy welcoming new Waves and planning for the fall season.
Riptide's presence was undoubtedly spirited at the Aug. 15 pep rally Pepperdine Athletics hosted for New Student Orientation (NSO). Riptide, dressed in their signature orange jumpsuits, organized songs, games and general school spirit for the new Waves. While Riptide's primary responsibility is leading the student section at sporting events, Pepperdine welcomes their energy and cheer at key start-of-semester celebrations.
Madelyn Brizzee, junior and veteran Riptide member, shared her personal love for the NSO tradition. Riptide's orange gear caught her eye during her own first-year pep rally, and she said the members looked like they were enjoying themselves at the event.
"I really [wanted] to be part of the fun," Brizzee said. "The pep rally is really important for new students because it gives you that first insight into sports at Pepperdine."
Riptide members Jenni McMahon (left) and Madelyn Brizzee (right) prepare for NSO's Aug. 15 pep rally. Both wore Riptide's characteristic orange jumpsuits. Photo by Alexandra Speck
Sophomore member Rylie DiLellio shared Brizzee's appreciation for the pep rally and said it is a significant demonstration of the Pepperdine community.
"Riptide and rally crew are the first that [new students] see of us working together as a whole, as a school," DiLellio said. "I love being on it because being a part of that community is so special."
Matthew Rosato, marketing and events manager for Pepperdine Athletics, said the pep rally is a crucial introduction to sports at Pepperdine for first-year students and transfers.
The pep rally is a favorite event because it ushers the semester in for new students and introduces them to Riptide, said Rosato. Willie the Wave, sports teams and Riptide are all included, thereby linking Riptide to the broader athletics community and fanbase.
While the NSO pep rally is Riptide's fall debut, the organization continues to make waves throughout the fall semester. Junior Jenni McMahon said Brizzee first introduced her to Riptide during their first-year chemistry class. She asked Brizzee about Riptide after recognizing her donning the orange jumpsuit and cheering at the traditional Blue and Orange Madness celebration, which rings in the fall sports season.
"That just looks like you're having a blast," McMahon said.
McMahon joined Riptide at Brizzee's beckoning and said she immediately found the organization as exciting as she had been expecting.
"[Riptide's] a really fun thing to go to and be part of," McMahon said. "It makes you feel like you are leading something that matters."
Riptide's strong internal bonds complement its mission to generate spirit within the broader Pepperdine community, McMahon said. She said she and Brizzee will often get ready for games together, pulling spirited Pepperdine gear and blue and orange accessories from her designated Riptide collection.
Riptide's cohesive and spirited image is largely thanks to the students themselves, Rosato said.
"Our rally crew leaders take a lot of initiative there," Rosato said.
Riptide members shared their goals for the impending fall sports season, with both students and management focusing on increasing membership.
"For the upcoming semester, we're looking to continue to grow," Brizzee said. "That definitely means we want more members. Anyone in any class — freshman, sophomore, junior or senior — can join."
Sports fans and regular game attendees willing to lead the crowd in chants should consider signing up, Brizzee said.
"What we're really looking for is just someone who loves sports and sporting events and is really excited about sharing school spirit," Brizzee said.
Rosato echoed Brizzee's call for increased Riptide membership and said the organization is actively recruiting future dedicated members.
"We want to see them come to a bunch of games and have fun at those games," Rosato said."[Riptide members] get those students that come to games excited about being there."
Members can sign up for games that complement their schedules, Rosato said. Riptide's flexibility allows members to devote themselves to their chosen game days and show up with the utmost energy.
Riptide's Instagram, which has been sharing content from past events and NSO since Aug.15, offers a glimpse into their duties and dress.
__________________
Follow the Graphic on Twitter: @PeppGraphic
Email Alexandra Speck: alexandra.speck@pepperdine.edu