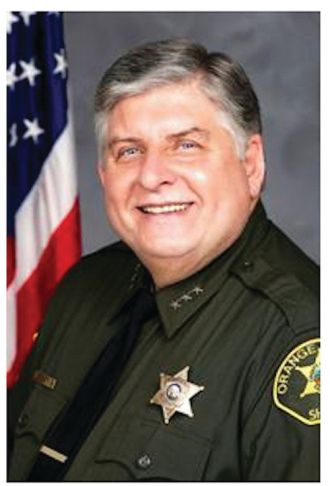 Courtesy of LA Sheriff's Department
Pepperdine alumnus John Scott was sworn in Jan. 28 as the Interim Los Angeles County Sheriff, effective Jan. 30, to replace former Sheriff Lee Baca, according to the Los Angeles Sheriff's Department's coverage of the induction event.
Scott has worked with law enforcement for 43 years and completed his master's degree in Public Communication at Pepperdine. He participated in the Law Enforcement Education Program offered at Pepperdine and graduated in 1979. This program was designed to educate and retain law enforcement personnel and was in part paid by the government, according to Scott.
"Communication is the foundation for getting the job done, especially in law enforcement," Scott said.
Developing communication skills even more on the job, Scott attested to the positive impact of his Pepperdine degree. Through his time studying communication, he said he learned the extreme value of listening. "You have to hear what others are saying and how that applies to what you are trying to accomplish," he said.
Scott's induction came as a welcome surprise to members of the Pepperdine community. "A number of public servants in the greater Los Angeles area hold undergraduate and graduate degrees from Pepperdine University," President Andrew K. Benton wrote in an email.
"We have always been proud of that fact, and I am delighted to know that Sheriff John Scott will be taking the helm of the LA Sheriff Department, especially because he is one of our own. Our campus community celebrates this moment with Sheriff Scott, and we extend our best wishes to him as he leads his colleagues in law enforcement in LA County."
As the new LA County Sheriff, Scott said he has high hopes for the time he will spend holding the position. "My time is going to be spent trying to restore the good image of the LA County Sheriff's department. It was tarnished by some recent indictments and allegations and it's important that the public knows that the vast majority are good, hard working and decent people, and only a small number have contributed to the negative connotations," Scott said. "I want to restore the image by changing the perception. I also want new reforms so we don't go down that path again."
Working previously as the Orange County undersheriff, Scott expects there to be differences between his old position and this new one. "The biggest difference is that I am the man totally responsible for this operation," Scott said.
As opposed to being second-in-command at the Orange County department under Sheriff Coroner Sandra Hutchens, Scott is now first-in-command. "It was one thing to recommend and another to act on those recommendations," he said.
Scott will serve as the interim sheriff until the election for the next sheriff on June 3, according to the Los Angeles Registrar.
"I use my education on a day-to-day basis and that's how it should be," Scott said. "It's not just about getting a degree but putting it to work."
_____________________________________________________________________________
Follow Rachel Littauer on Twitter: @rachelitt23