Photo Courtesy of Mark Davis
Pepperdine introduced an extended and clarified Good Samaritan Policy to campus during fall 2018 New Student Orientation (NSO). In past years, the policy promised to release a Code of Conduct offender from punishment if the violation was discovered as a result of an individual, or "Good Samaritan," requesting help for someone in need of emergency assistance concerning instances of substance use.
After a several months process of revising and receiving student feedback, the policy sports extended sections including hypothetical scenarios and busted myths, as well as a succinct slogan: "Call, Stay, Cooperate." Furthermore, the policy now takes into account an incident involving student organizations and covers all students in attendance at a party at which a Good Samaritan act was conducted.
"I'm grateful for all the input from SGA and various student groups that resulted in a clearer and broader Good Samaritan policy," Dean of Students Mark Davis said in an email statement. "Pepperdine is a community that prioritizes the health and safety of our students, and the Good Samaritan policy is one example of our commitment to Step Up! for each other."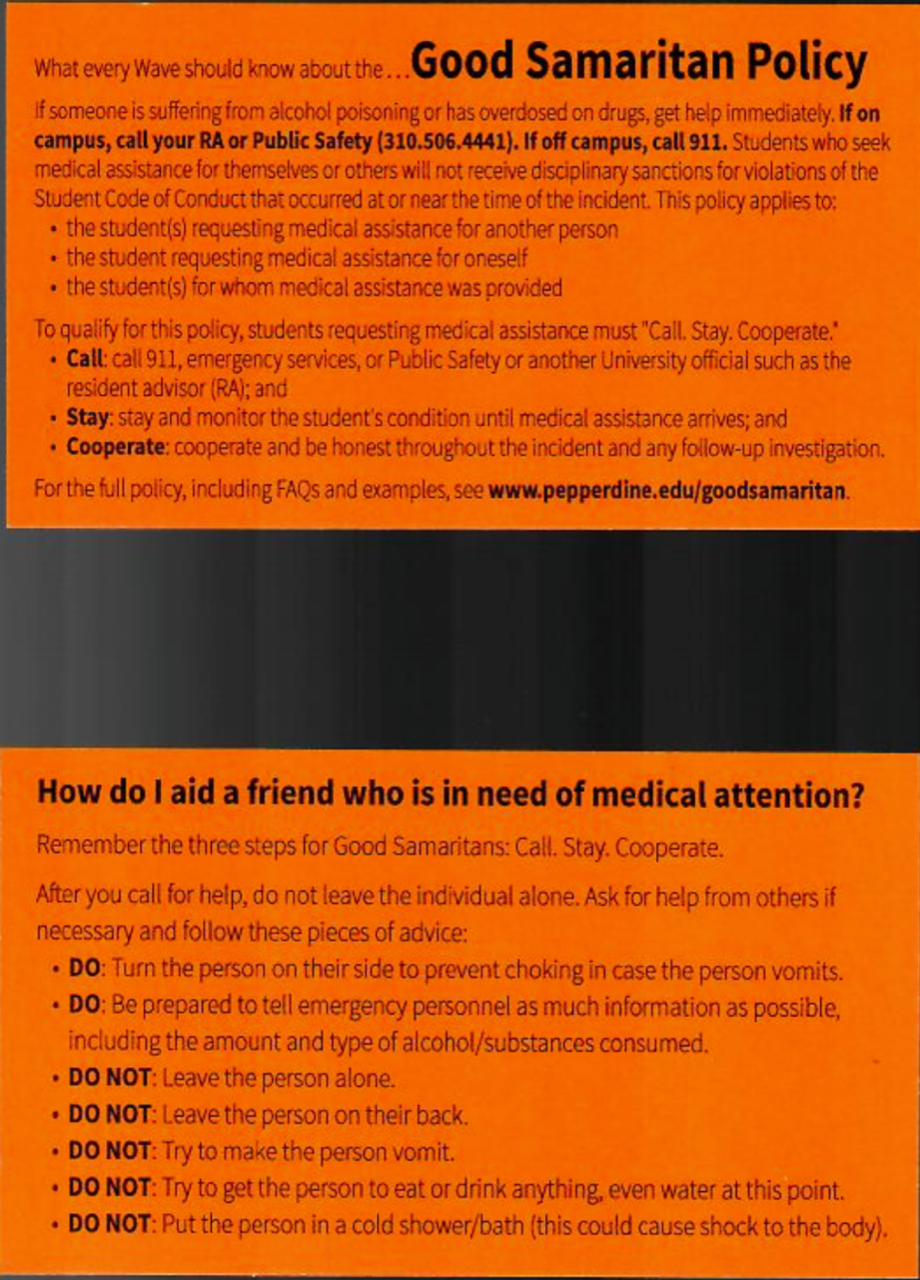 Although the fundamental elements of the policy are unchanged, Davis hopes that the extended sections and explanations will make students less hesitant to rely on the policy in an emergency situation.
After receiving feedback from a multitude of students, including the Student Government Association (SGA), the Greek community and the non-Greek community, Davis and Associate Dean of Student Affairs for Community Standards Sharon Beard began leading the process of revisiting and revising Pepperdine's Good Samaritan policy.
The new policy emphasizes the necessity to be honest and cooperative in the follow-up investigation of the incident and also goes into detail on any circumstances that would exclude a student from being covered by the policy.
Toward the end of the 2018 spring semester and the following summer, students were given several opportunities to provide input to the new policy through avenues such as surveys and email feedback.
While the Good Samaritan Policy previously consisted of a few paragraphs of policy explanation and FAQ section consisting of about five answered questions, the new policy includes:
– several additional paragraphs of policy explanation.
– an extended FAQ section of 11 questions.
– a section addressing common myths concerning the policy.
– six illustrative examples.
In the time leading up to NSO, Davis said in an email statement he and Beard reviewed the new policy with Resident Advisors (RAs), Spiritual Life Advisors (SLAs) and NSO Orientation Leaders (OLs).
This year's New Student Orientation Coordinator Katie White said when Davis and Beard presented the policy to OL and HRL staff, students were eager to listen and the administration was open to hear feedback.
"[Davis and Beard's] approach seemed loving and wanted each person to be safe as possible," White said. "They seemed engaged with the students and listening to their needs. They were eager to get feedback and be understood by everyone."
Davis said RAs were encouraged to review the Good Samaritan policy in their house CLOM meetings.
DeBell RA Rachel Jolly said she went over the new Good Samaritan policy in her CLOM presentation. In her experience, the policy has a reputation for being mistrusted around campus but she hopes that the revised policy will turn this view around.
"I encouraged my residents to become aware of the [Good Samaritan] policy and just to familiarize themselves with it because you never know what kind of situation you may be in, either on campus or off campus," Jolly said. "You want to be sure that you're safe and that others are safe."
The new policy was also presented during NSO in new students' meetings with their OLs and first-year seminar groups as well as in a Step Up seminar in Elkins.
Although the Good Samaritan policy is finalized, Davis said administration and the SGA eboard is now looking to revisit the Pepperdine alcohol policy. Items on the discussion agenda include the following: a) definition of drunkenness; b) clarification of what constitutes an official event ("four or more" members clause); c) policies and procedures regarding students who return to campus intoxicated; and d) recreational marijuana usage off campus.
Davis said he reached out to SGA to partner in hosting a forum, possibly on the weekend of Sept. 10 or 17, to invite feedback on the current Alcohol and Drug policy and the new Good Samaritan policy. Although the details are not finalized, Beard and representatives from Student Affairs and the Department of Public Safety (DPS) expect to be present at this forum.
_______
Follow Mary Cate on Twitter: @journ_marycate