Members of the Malibu community and the Malibu Foundation help restore the hillsides following the Woolsey Fire. Malibu is home to some of the world's most fire-adapted plants, and after seven to 10 years, native plants can fully recover.
Photos courtesy of ReJeana Goldsborough | Malibu Foundation
Malibu's native plants are inherently resilient.
Biodiverse and adapted to fire, some plants actually need fire to grow, as the heat cracks the seed's coating and allows it to germinate. Other plants' roots survive the fire and hold the land together to prevent mudslides. Biology Professor Helen Holmlund said she finds hope in this seemingly choreographed series of fire followers.
"Beauty through ashes is a great way to describe the Santa Monica Mountains after a fire because for the first few months all you see is moonscape," Holmlund said. "It looks like life is gone, and it's not gone at all — it's just getting ready to come back in a new way."
Woolsey was the largest wildfire in Malibu — almost 2.5 times bigger in size than the 1993 Green Meadow Fire, said Marti Witter, fire ecologist for the National Park Service. Witter said Woolsey drew attention to increased fire frequency and severity and, like most wildfires, could have been prevented.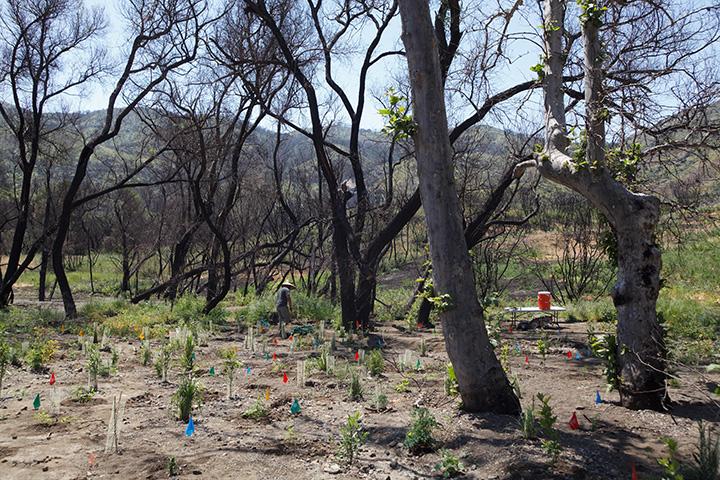 Most fires start from human factors, such as arcing power lines, and then spread due to natural forces, such as the Santa Ana winds, Witter said. Climate change, however, has resulted in longer and more severe droughts. Although Malibu is home to some of the most dehydration-tolerant plants in the world, they can still fuel fires.
For Christine Shen, Malibu's environmental sustainability analyst, making Malibu environmentally sustainable involves combatting the impacts of climate change, including the increase in wildfires. To prevent a repeat of Woolsey, the City of Malibu conducts Home Ignition Zone Assessments and enforces the Fire-Resistant Landscaping Ordinance, while also raising awareness about the intersection between natural hazard risk and climate change.
"The climate disasters are here, and there are ways that we can help mitigate that," Shen said.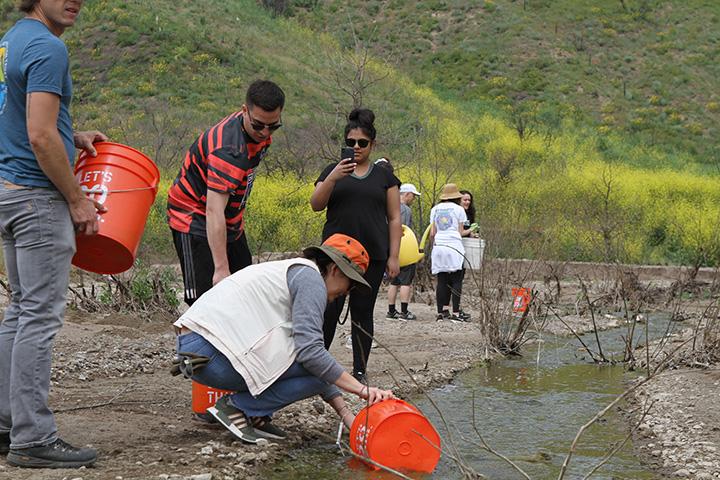 When protecting one's home, Witter said residents should be aware that embers are often more dangerous than flames, and the vegetation within 100 feet of the home is most important to clear.
"My hope is that people are really recognizing what needs to be done to effectively prevent wildfire and also just to make homes more resistant to burning down," Witter said.
Ultimately, Holmlund and Witter agreed that nature is generally more resilient than humans: seedlings can recover within three months of a fire, and after seven years, the chaparral's plants are mature. Wildfires often have a more devastating impact on people than plants.
"When people are living in this kind of landscape, there can never be a truly 100% happy story because the devastation has just been so, so bad for communities," Witter said. "It's a long, hard road to recovery for the people whose homes burned."
Witter also said she was amazed at the quick recovery of the plants after Woolsey, which she credits to the heavy rainfall in the spring.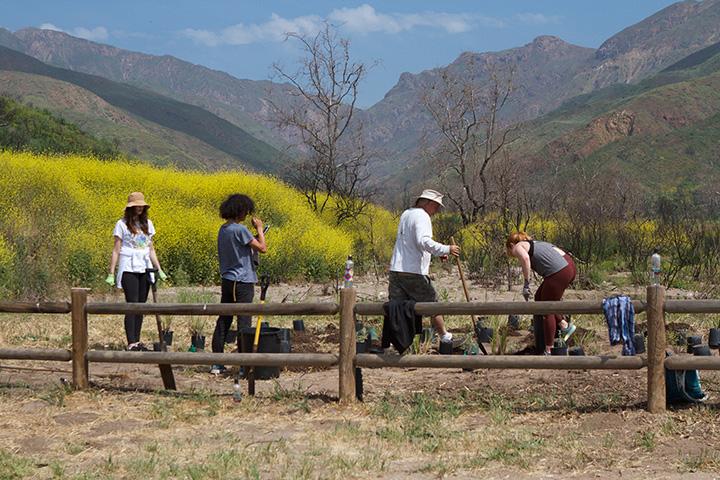 "The post-fire environment really was amazing," Witter said. "There is just a whole range of greens and yellows, and you have to learn to love it, but it's quite beautiful."
Malibu's animals also embody resilience. Some local animals perished or relocated during Woolsey, but others withstood the heat, with new and even endangered species inhabiting the land following the fire. Witter said the animal response depends entirely on the plant response.
"We were really surprised that after the fire, even in unburned areas and burned areas, we saw more diversity of plants than we've seen in any other time ever," Witter said. "It really was just magical."
Despite plants' ability to survive natural disasters, Holmlund said residents need to be more mindful of how their actions can alter Malibu's landscape. When the fire return interval is shorter than the amount of time it takes for plants to fully recover, their ability to do so breaks down, and some plants on Pepperdine's campus are now at risk of extinction.
"Nature is beautiful and resilient, but humans still have an impact on it," Holmlund said.
_______________________
Email Makena Huey: Makena.huey@pepperdine.edu
Follow Currents Magazine on Twitter: @PeppCurrents or Instagram: @currentsmagazine