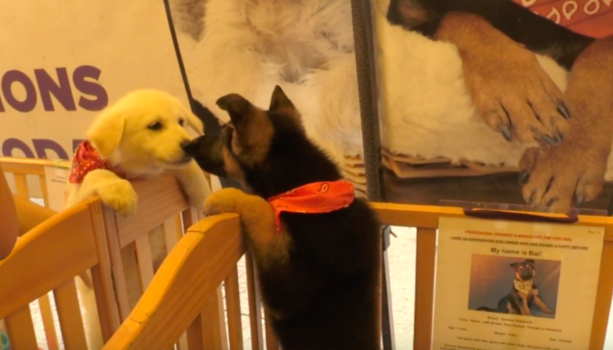 Photos by Julianna Lauro
An organization that works with shelters in the Los Angeles area, called MuttShack Pet Adoptions, has made its way down to the Malibu area and will have pet adoptions at the local Cornucopia Farmers Market.
The MuttShack, a registered nonprofit organization, works with shelters and rescues in low income areas to rescue dogs and their puppies. By rescuing the puppies, the organization is trying to end the cycle of breeding. This organization ensures that all puppies receive vaccinations, spaying and neutering procedures, and any other care needed before they are put in new homes.
"We have mommies and puppies poverty programs is where we go in, we spay them and we grab the puppies before they come out and become breeders too," Amanda St. John, co-founder of the organization said.
Amanda and Martin St. John, husband and wife and co-founders of The MuttShack, said they rescue puppies from all around the Los Angeles area and place them in temporary foster care homes until they are healthy enough to be adopted.
"Our goal is to rescue these dogs before they are put into shelters," Martin said. "We want to make sure the puppies are healthy and that we find them new homes with families who will love and take care of them."
The adoption tent was the center of attention at the Malibu Farmers Market, which is open every Sunday from 10 a.m. to 3 p.m., located between PCH and Webb Way. Many Malibu and Los Angeles residents came to check out the dogs, and some even adopted a dog, too.
One new dog owner, David Castro, was eager to share why he and his family adopted a dog from The MuttShack.
"I've been taking care of dogs of my friends, neighbors and family and every time it's been a really great experience for everyone," Castro said. "I felt like bringing a dog into our home is the next step because they are all very precious animals and I love them to death."
Some may have adopted a puppy while others looked, but others, like junior Pepperdine student Bree Maupin, got to play with the puppies, with the hopes of bringing one home one day.
"I've already seen like 10 different puppies get adopted today and honestly, I really want to adopt one now so I'm hoping my mom will let me," Maupin said.
For many students and residents like Maupin, adopting a dog is always found on a family to-do list. Although these furry friends are invaluable, there are certain expenses that should be considered before adopting.
The first year of owning a puppy can cost between $1,314 for smaller breeds, to $1,843 for larger breeds. This cost also includes the one-time expenses like spaying, neutering, training, medical fees and crates, according to the American Society for the Prevention of Cruelty to Animals
Following the first year, ASPCA states that the annual cost can range between $580 for smaller breeds, to $875 for larger breeds. This cost mainly includes food, toys, beds and vet visits, when needed.
One proud dog owner and Los Angeles resident, Joseph Gonzalez, said he was shocked when he realized how expensive a dog is.
"When I got my dog, I did not consider how much it would cost. I thought it wouldn't be too bad, but man, was I wrong," Gonzalez said. "But he is my best friend, so it is worth it. I just learned how to budget."
According to Rover.com, which is a Seattle-based pet-sitting website, the annual rate is more, about $2,858 per year. This includes dog training, pet sitting, teeth cleaning and vet bills.
Dog owners also have the option of getting pet insurance, which will guarantee annual checkups for their pet, and will help with the cost of other pet services.
Mark Grandstaff offers three tips on how to help cut pet care costs, according to an article in USA Today.
Grandstaff's tips include taking your dog for regular checkups, brushing your dog's teeth and cleaning your dog regularly to keep all fleas and ticks away. These three tips, Grandstaff said, will ensure that your dog is staying clean and healthy, which will prevent you from having to spend extra expenses on the dog.
One employee at Petco in Los Angeles, Meghan Elisabeth, said it is important for future dog owners to research and understand how expensive a dog really is.
"I know we all want to own a dog, but we really have to be mindful and make sure that we can take on this [financial] responsibility," Elisabeth said. "We also want to make sure that this expense will not be a burden, because having a puppy is such an amazing experience."
One way that the MuttShack helps with the expenses is that they offer a free visit to the vet, as well as free microchipping. They also spay and neuter all puppies before they put them up for adoption, which eliminates that expense for the owners.
Amanda and Marin St. John are eager to continue their mission and hope that they can continue to give families the perfect furry addition.
"Many of our customers followed us from [our previous location in] Burbank and are here today at the Farmers Market," Martin St. John said. "So, we would love to spread the word about the dog adoptions."
For those interested in adopting a dog from The MuttShack, check their website or Twitter to find out where their next pet adoption events will be held.
________________
Follow Julianna Lauro on Twitter: @julianna_lauro