Photos by Arin DeGroff
"Thrilling. Exciting. Everything you could have imagined," volleyball player and MC Matt West, a junior, said in regards to the 2014 Mr. All-American pageant.
For those who are unfamiliar with the event, the annual springtime beauty pageant is a competition between freshman male athletes for the coveted title as the quintessential "All-American" male.
Like a traditional beauty pageant, competitors participate in a swimsuit, question and answer, and talent section. There are four judges who tally the points of each first-year Wave. The panel consisted of three strength and conditioning coaches: Jamie Faro, Stewart Gonzalez, and Tubbs Pike, as well as sports nutritionist Anne Stone.
"I was blown away with how hard everyone worked. There was so much school spirit and support for our athletes. It warmed my heart to see everyone come out and cheer on those who participated," Stone said after the competition.
With competition being second nature, the athletes took the stage to elicit laughter, astonishment and pure entertainment from the crowd of hundreds of students in Firestone Fieldhouse. Former competitors sophomore Stacy Davis from basketball, junior Josh Taylor from volleyball and West as the MC provided witty and humorous commentary throughout the competition.
"It was the Best All-American Competition I've seen. Everyone came prepared and competed and brought it. Jackson blew it out of the water," West said.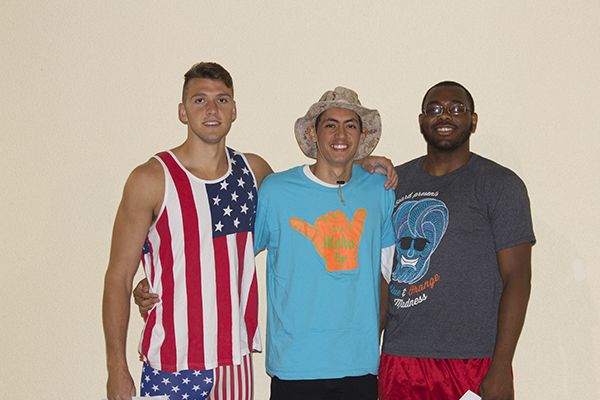 And the true hero of the day was crowned king: freshman Jackson Hogan of men's cross-country. While every other men's team sent three-to-four representatives, men's cross-country selected the freshman by means of "Eenie, meenie, minie … Jackson," according to Hogan. Considering Waves teams like water polo and baseball have around 30 athletes and cross-country sports less than half of that at 12, Hogan's victory is a true triumph of the underdog.
The field was packed with talented competitors. During the swimsuit segment, freshman tennis player Stefan Manichella came in like a wrecking ball as Miley Cyrus in her infamous white spandex suit. During the question and answer segment, freshman Mitchell Penning from volleyball confessed his infatuation with judge Jamie Faro. Then, in the talent portion, baseball freshman Chandler Blanchard displayed a prestigious rendition of "Gangnam Style" by Psy.
Water polo choreographed a sexy dance to rebel star Justin Bieber while volleyball broke out into the YMCA. After several dances performed by men in spandex, Hogan walked onto the stage wearing shades and a jean jacket, and launched into a nervous and poorly played "Old McDonald" on the keyboard. Then, as the crowd favorite endeared his audience further, Hogan began to skillfully play Van Halen's "Jump," sending the crowd and judges into a frenzy.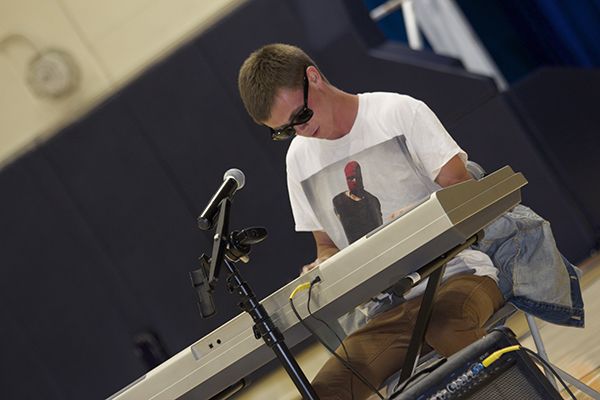 Hogan continued his performance with a mash up of "All of Me" by John Legend, "Bound 2" by Kanye West and "And We Danced" by Macklemore. After the last key, Hogan received a standing ovation from competitors, judges and fans alike. Baseball's Blanchard won the bronze title of Mr. Pepperdine, volleyball's Penning took second, and cross-country's Hogan was crowned Mr. All-American 2014. After the victory and celebration, Hogan shared his reaction and thoughts:
"I was surprised. Honestly didn't think I would win. Before the competition I was having a nervous breakdown in the bathroom. Frankly, I'd be happy if I didn't win, as long as people were entertained."
Hogan truly ran the event, rocking a full body wetsuit for the swimsuit competition, selecting Mr. All-American 2013 Davis as his future wife because of his basketball skills during the question segment, and wowing the crowd with the swag of a true All-American entertainer with his keyboard and vocals during the talent section.
"I want to thank Kanye West for being a great role model and inspiration of my work," Hogan said during the post-competition celebration. And with that, the freshman runner jogged off to embrace his adoring fans.
_____________________________________________________________________________