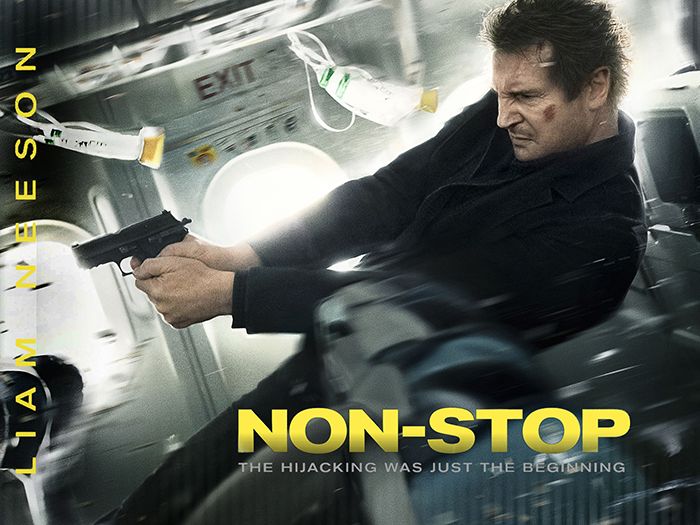 Photo Courtesy of Universal Pictures
Since the success of "Taken," Liam Neeson has gone from a dramatic actor to an action star. With "Non-Stop," that hot-streak does not seem to be ending anytime soon. The film was directed by Jaume Collet-Serra, whose credits include the "House of Wax" remake. The director previously collaborated with the Irish actor in "Unknown."
The film focuses on alcoholic U.S. Air Marshal Bill Marks during a transatlantic air flight. He must save the 150 passengers on his flight from an unknown killer after a series of sinister texts are sent, demanding $150 million through Marks' account or people will die every 20 minutes.
Supporting Neeson are Corey Stoll, Michelle Dockery and Lupita N'yuongo, all of whom you may recognize by face, if not by name, from "House of Cards," "Downton Abbey" and "12 Years A Slave."
Neeson personalizes the role with his dramatic acting, bringing a surprising amount of depth to what could have easily been a generic action lead.
The film is also helped by the confined space of the airliner, which heightens the suspense due to dangers that could occur should the plane suffer any damages. Compounding all this is that any one of the passengers or crew members could be responsible for the claustrophobic mayhem.
The first two acts of the film deliver on the suspense and mystery, but some plot twists in the third act undermine the film's buildup to the climax.
Because this is an action film, there are more than a few situational and character moments that may not line up with reality, but a good action film knows that this can all be overlooked if you keep the story engaging and entertaining.
Misdirection is the name of the game, where the script presents a large number of potential suspects that can only be whittled down by the small clues presented to the audience.
The main message woven into the narrative is that despite the numerous security upgrades to airline travel since 9/11, passengers are not truly as safe as they think. Many people might find this message a bit hard to swallow given the fact that real-life airline security is much more thorough. However, it does generate discussion about the state of post-9/11 security in the United States.
The best movie to compare to this film is the 1994 film "Speed," which starred Keanu Reeves. Both films feature protagonists in isolated environments working to diffuse an imminent threat within a limited time frame. They were also pressed by the situational factors involved with the threat, namely the ignorance and fear of the passengers regarding the true nature of their predicaments.
Essentially, "Non-Stop" is "Speed" on an airline flight in the 21st century combined with the mystery narrative of "Unknown" and the one-man element of "Die Hard."
If you can suspend your disbelief regarding the story's more questionable elements, "Non-Stop" will prove to be a suspenseful and entertaining mystery-action flick. I give it four out of five stars.
_____________________________________________________________________________
Follow Collin Chersi on Twitter: @PepperChersi