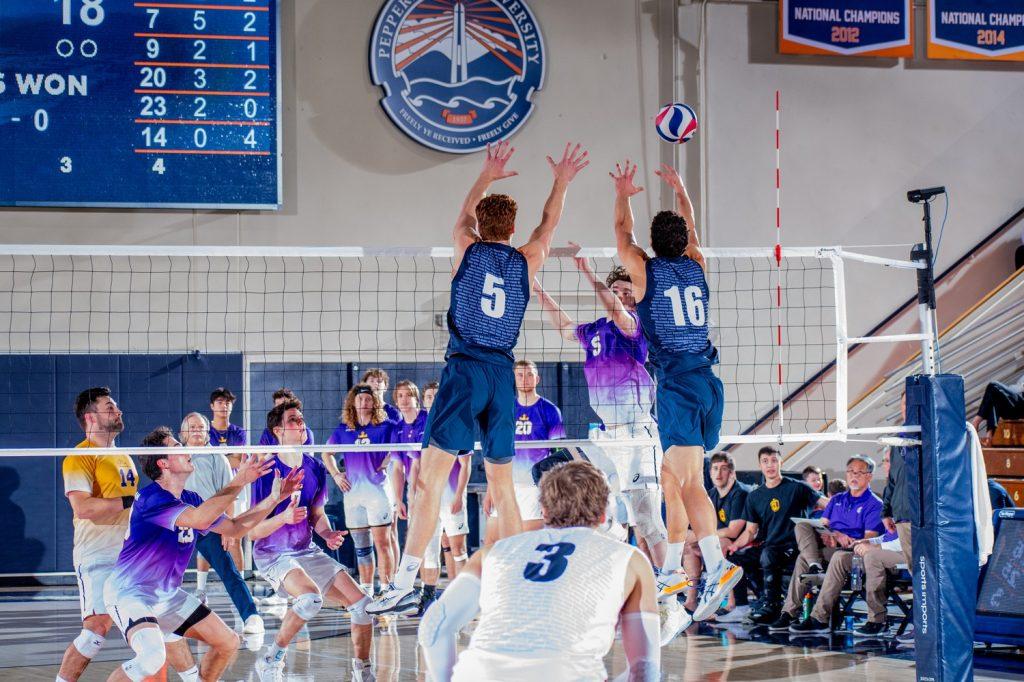 Junior middle blocker Anderson Fuller and redshirt sophomore Eli Crane go up for a block against Cal Lutheran at Firestone Fieldhouse on April 1. Fuller had four block assists, and Crane merited two assists and a single solo block. Photos by Brandon Rubsamen
Men's Volleyball earned a 3-0 victory over Cal Lutheran at Firestone Fieldhouse on April 1.
Following two away losses on March 24 and 25 against No. 6 BYU, the Waves had a total record of 14-10 coming into Saturday's game and are ranked No. 13 in the nation. The Waves won the first two sets, 25-16 and 25-19 respectively, with redshirt junior opposite Jacob Steele and junior middle blocker Anderson Fuller leading the Waves in kills, with 10 and 11, respectively.
"I think it showed us that we can come in here and take care of business pretty quick," Fuller said. "I think that's what we did for the most part."
The Waves dominated the first two sets. Though there were occasional changes in momentum, a staunch defense prevented Cal Lutheran from posing any real threat. Junior setter Bryce Dvorak made a diving save to prevent a Cal Lutheran score and setting up a kill for the Waves.
The third set would see Cal Lutheran offer some resistance, as they led for most of the set.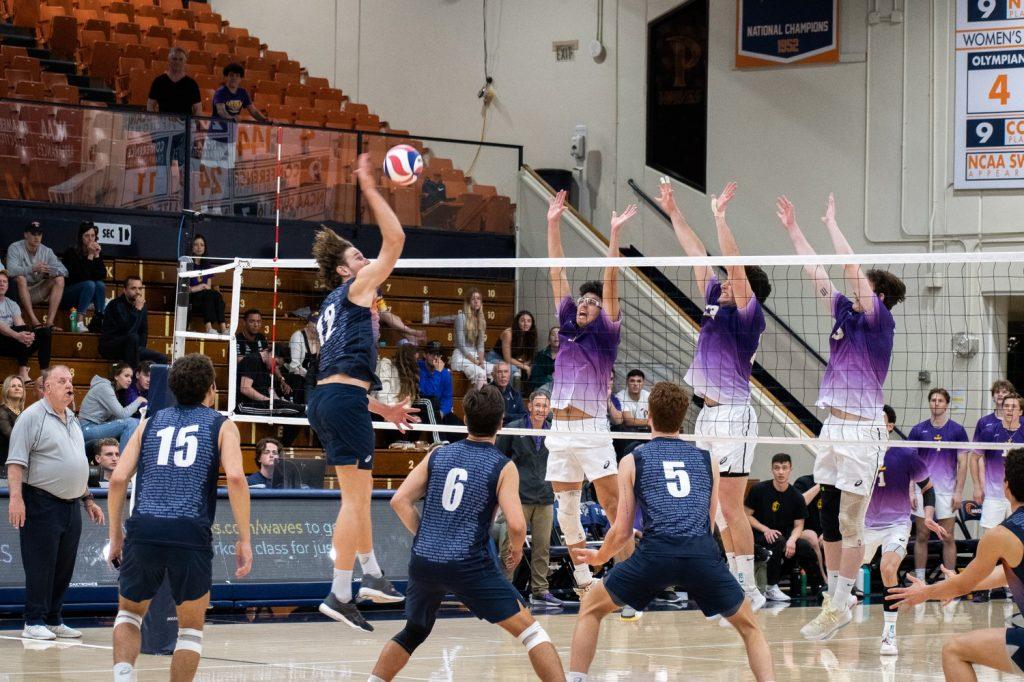 "That's the exciting thing about volleyball; the momentum can make a really big difference," Steele said. "It was cool to be able to get challenged like that in a game where we didn't think that would happen."
The Waves eventually came back, falling back on the defense that had aided them throughout the game. The two teams would trade blows, with the lead moving back and forth. First-year Brantley Holladay, a spectator, said the energy in the crowd during the third set was the loudest all game.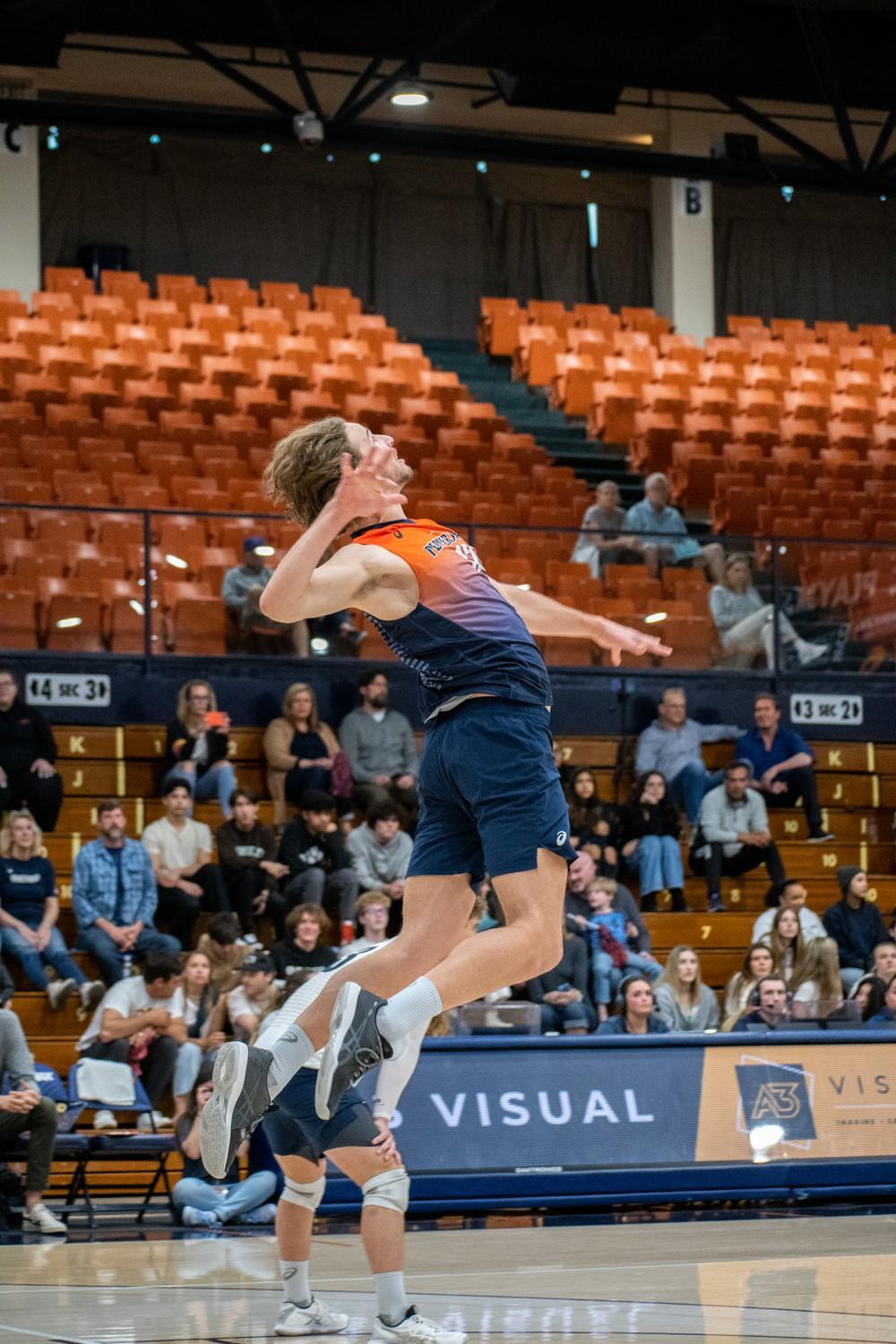 "When it got close at the very end in winning that last set, it was very tense, but also exciting," Holladay said.
Eventually, the Waves prevailed, winning the third and final set 25-22.
"Sometimes you just have to battle and fight them off," Head Coach Johnathan Winder said.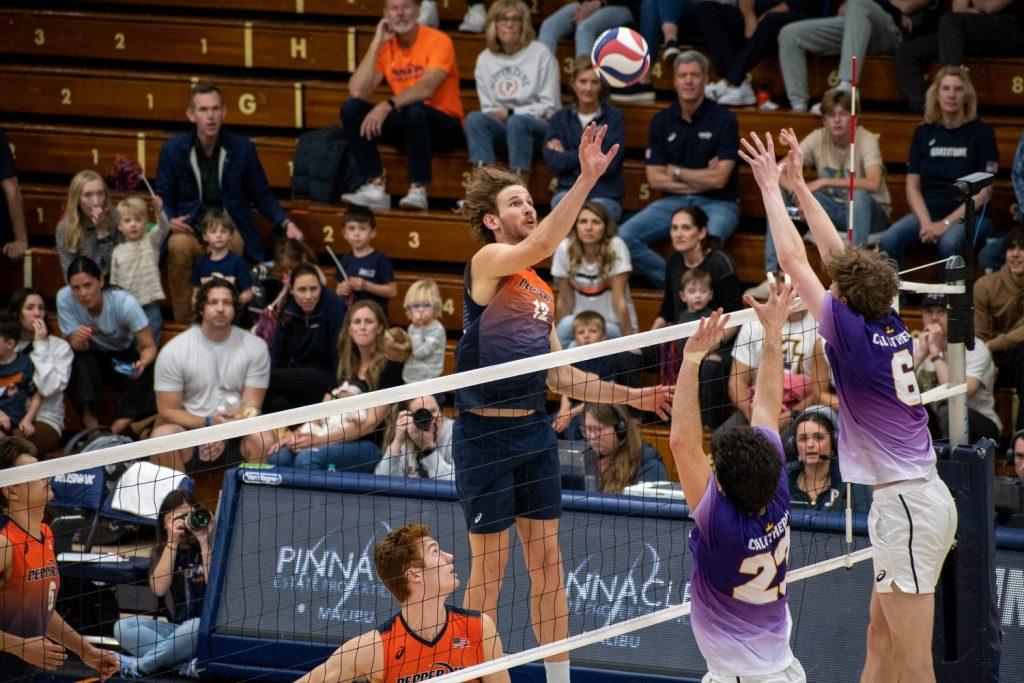 Though he was happy with the win, Winder said he was looking toward two upcoming matches against No. 9 Concordia University, with an away match April 6 and a home match April 8.
__________________
Follow the Graphic on Twitter: @PeppGraphic

Email Max Pohlenz: maximilian.pohlenz@pepperdine.edu