Photos courtesy of Pepperdine Athletics
Six Waves represented Pepperdine at the Intercollegiate Tennis Association's Southwest Men's Regional Championships which was hosted at Ralphs-Straus Tennis Center Thursday Oct. 18 through Monday Oct. 22.
The competition was the second ITA tournament hosted at Pepperdine this year but the first home court action for the six Waves.
"We've made a lot of growth since August, and we all realize there's still a lot of growth yet to be made," Men's Tennis Head Coach Adam Schaechterle said.
Redshirt senior Nicholas Baez, freshman Enrique Luque Rico, redshirt senior Matias Sborowitz, junior Pawel Jankowiak, sophomore Felipe Galvao and senior Scotland Garapedian all played in the singles and doubles tournaments at the regional championship.
Rico advanced furthest out of the Pepperdine men in the singles tournament. He started with a bye in the round of 128 then defeated Lucas Grego from Grand Canyon University in the round of 64 Thursday. He came back from a 3-1 deficit in the first set to win 6-4 and dominate the second set 6-2.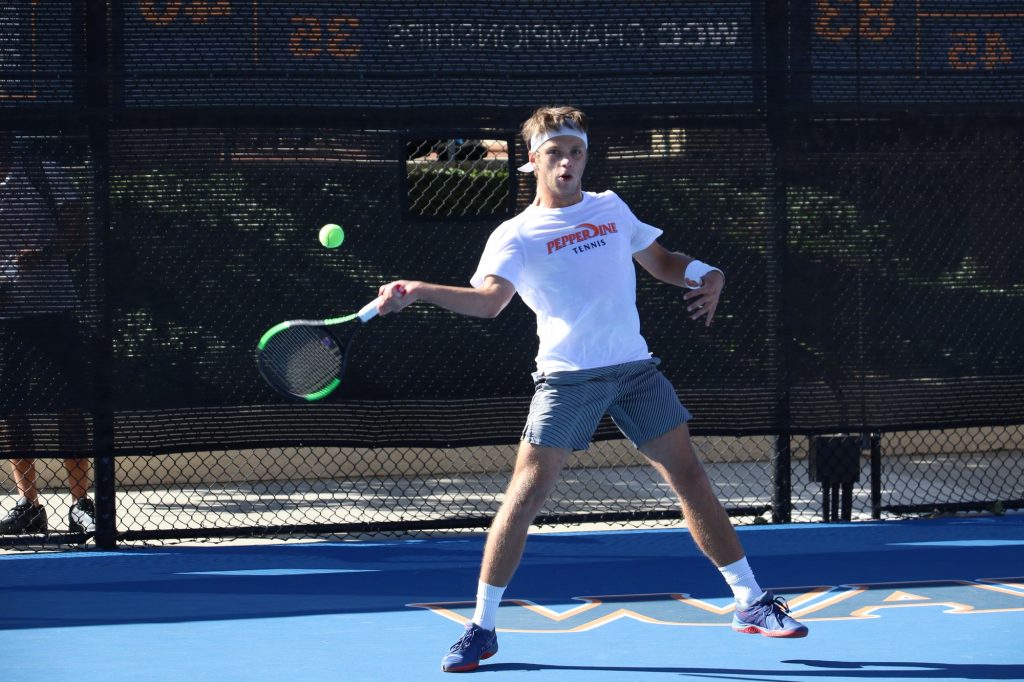 "Knowing where [Rico] is right now in his competitiveness, he's going to be a good college player for Pepperdine," Schaechterle said. "What we're demanding from [him] is whether he can be a great college player."
Rico's next match was Friday against University of Southern California freshman Jake Sands, who eventually lost in the quarterfinals. Rico lost the first set in a tiebreaker 7-6(2) then lost the second set 6-2.
"At one moment, I think I was playing better than him," Rico said. "After losing the first set, I ran out of gas."
Sborowitz also won his first singles match, beating Arnaud Restifo of San Diego State University Thursday morning 7-5, 6-7(9), 6-2.
"Always the first matches of tournaments are difficult to play, and it's important to win them," Sborowitz said.
Sborowitz returned to the court on that warm Thursday afternoon and played another tightly contested three-set match, falling 7-5, 6-7(9), 6-2 at the hands of Logan Smith of USC. Smith went on to win the entire tournament.
"[Sborowitz] has improved more than anybody else on the team," Schaechterle said. "For him, it was a big confidence builder."
Baez and Jankowiak also recorded wins in the tournament on Thursday. In the round of 128, Baez defeated Eric Kenneth from University of Hawaii in three sets, 6-4, 4-6, 6-4. Jankowiak's round of 128 win came against Daly Meinert of Cal Poly San Luis Obispo. The match was close, but Jankowiak won in two sets, 7-5, 7-5.
"I thought that [Jankowiak] had probably the best win in a Waves uniform," Schaechterle told Pepperdine Athletics, according to the department website's recap of the game.
Later that day, both Baez and Jankowiak lost in the round of 64 in straight sets. Baez lost to Lorenzo Fucile of Grand Canyon 6-0, 6-1 and Gui Osorio of the University of San Diego beat Jankowiak 6-0, 6-1.
The final two Waves, Galvao and Garapedian, each lost their opening singles matches in straight sets, although both were tight battles. Roman Shenkiryk of Cal Poly bested Galvao 6-4, 7-5 and Tristan Martin of Hawaii prevailed over Garapedian 6-4, 7-6(9).
"[Garapedian] and [redshirt junior Adrian Oetzbach] have done an unbelievable job as leaders," Schaechterle said. "It's worth mentioning that they have just done a great job getting after it every day."
In the doubles tournament, Sborowitz played with Jankowiak, Baez played with Rico and Galvao played with Garapedian. Sborowitz and Jankowiak and Baez and Rico all lost in the first round of the doubles tournament. Galvao and Garapedian received a win by default Thursday before losing in the second round to Anders Holm and Nicolas Moreno De Alboran from the University of California, Santa Barbara.
"It was the first time we played doubles together," Sborowitz said. "The good thing is that we can see the errors now and have two more months to practice."
The Southwest Championships was the only home tournament for the Men's Tennis team in the fall season. They have one more tournament in 2018 before official collegiate play begins in January. The Pepperdine Women's Tennis team, who also competed at their respective ITA Southwest Regional Championships over the weekend in San Diego, also have only one fall tournament remaining.
"I'm very happy with how the guys are buying into the culture that we're building, but I think there's still some steps we can take just in how we practice and how we do our daily work," Schaechterle said.
_________________
Follow Karl Winter and Kyle McCabe on Twitter @karlwinter23 and @kyledotmccabe