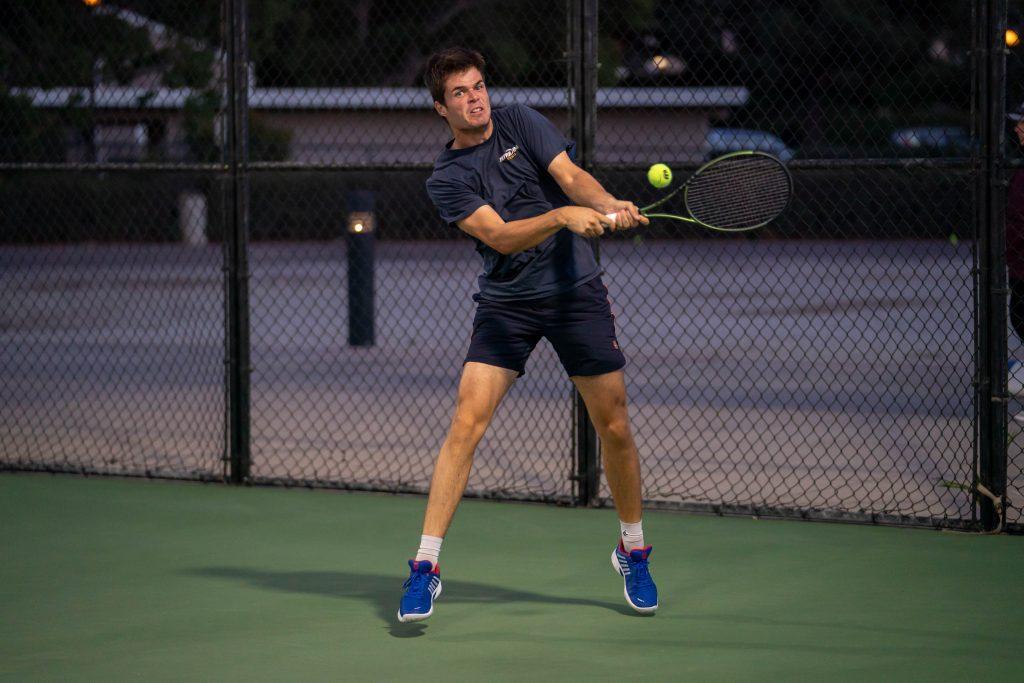 Graduate student Daniel DeJonge continues a rally during the ITA Fall Championships on Nov. 2-3 in San Diego. The Waves are ranked No. 20 at the start of the 2022-23 season. Photo courtesy of Intercollegiate Tennis Association
The spring season is approaching again, which means the Men's Tennis team is gearing up for another run. After a season of ups and downs, the tennis squad is looking to build on last year's progress, and senior Eric Hadigian said he is confident in his fellow teammates to improve on how they did last year.
At the beginning of this season, the team is ranked No. 20 in the nation, which is similar to last year when the team was ranked No. 26 in the ITA computer ratings.
"I think we have an extremely talented team and a very deep team strength-wise," Hadigian said. "We have a lot of players that are very high-level."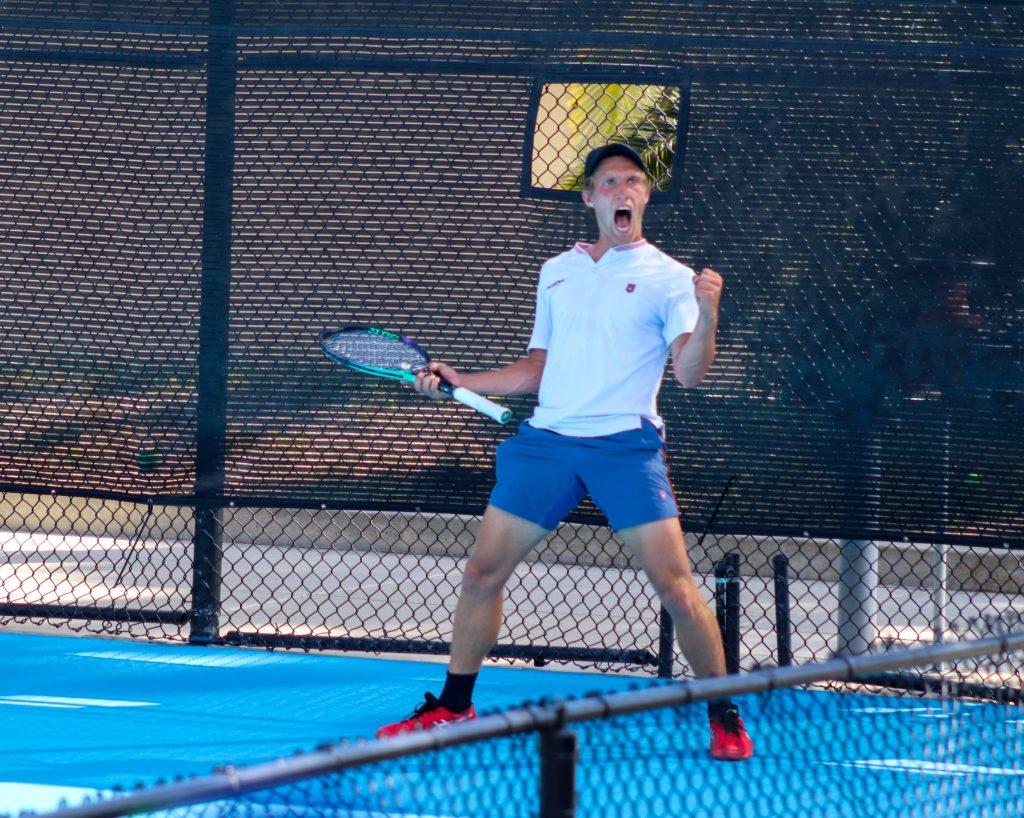 The 2022 Season
Hadigian said the Waves made a name for themselves during the 2022 season by beating multiple high-ranked teams such as UCLA and USC.
Despite all the bright moments, Assistant Coach Tassilo Schmid said injuries were the biggest challenge for the Men's Tennis season.
"We had a couple of injuries which I felt like were unfortunate," Schmid said. "But that's just how sports are."
The 2023 Season
The coaches said they have worked to make sure their returners are ready to lead the charge while at the same time bringing in a bunch of new talent. Freshman Max Wuelfing said there were changes in emotion when moving up to the collegiate level.
"In college tennis, it's a different level of rigidity. You get to be as loud as you want, and you can get as rowdy as you want," Wuelfing said. "So, I think that's the thing I'm most excited for."
On top of bringing in new recruits, Schmid said the coaches have worked to keep the team's schedule competitive and inspiring.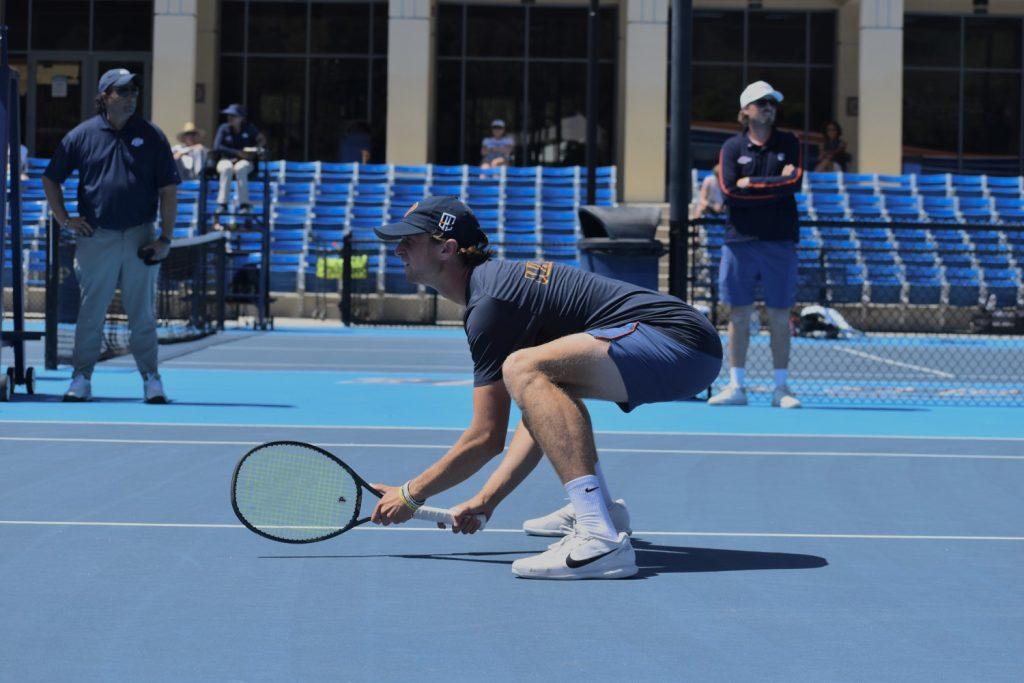 "I think, this year, our schedule is super strong, and we have tried to sketch on top teams in the country," Schmid said. "Our trip to Texas, where we play Texas and TCU — they're two top 10 teams. That's going to be a very challenging trip for our guys but, at the same time, exactly what we need and what I'm looking for because you want to play the best teams in the country."
The Waves are scheduled to open the month of February with a series of matches against No. 14 Arizona, Arizona State, No. 6 Texas and No. 3 TCU. This will act as an opportunity for Pepperdine to climb up the ranking board, Schmid said.
The main goals of the team this year are growth and development. Hadigian said with these tools, Pepperdine looks to build on their skill so the squad can excel above other teams in the nation.
"I want to grow every day here as a person and as a player and keep developing my game in a way that will prepare me for pro tennis as a team," Hadigian said. "We really want to be known as a team just like fearless competitors, where we have extremely strong character. We fight for each other. We're a very connected group."
Schmid echoed this sentiment and said he and Head Coach Adam Schaechterle pressed their focus on preparing the players for the future.
"Of course, we want to play for national titles and beat the power five schools," Schmid said. "But, for Adam and I, I think the most important thing is character building and development so the guys are ready for the pro tour after their Pepperdine career is over."
At the end of the day, Pepperdine can be a great highlight over the course of these players' careers, Schmid said. He felt like everyone on the team should take in every moment.
"Sooner or later, you're going to be a senior," Schmid said. "I think for us, it was always like enjoy the process, enjoy the development, and don't feel like if you have a bad loss, things are going in the wrong direction. Just be here now. Be in the moment, and really enjoy those four years as a college athlete."
The Waves' next match-up is Feb. 3, at Arizona.
__________________

Follow the Graphic on Twitter: @PeppGraphic

Email Joseph Heinemann: joe.heinemann@pepperdine.edu