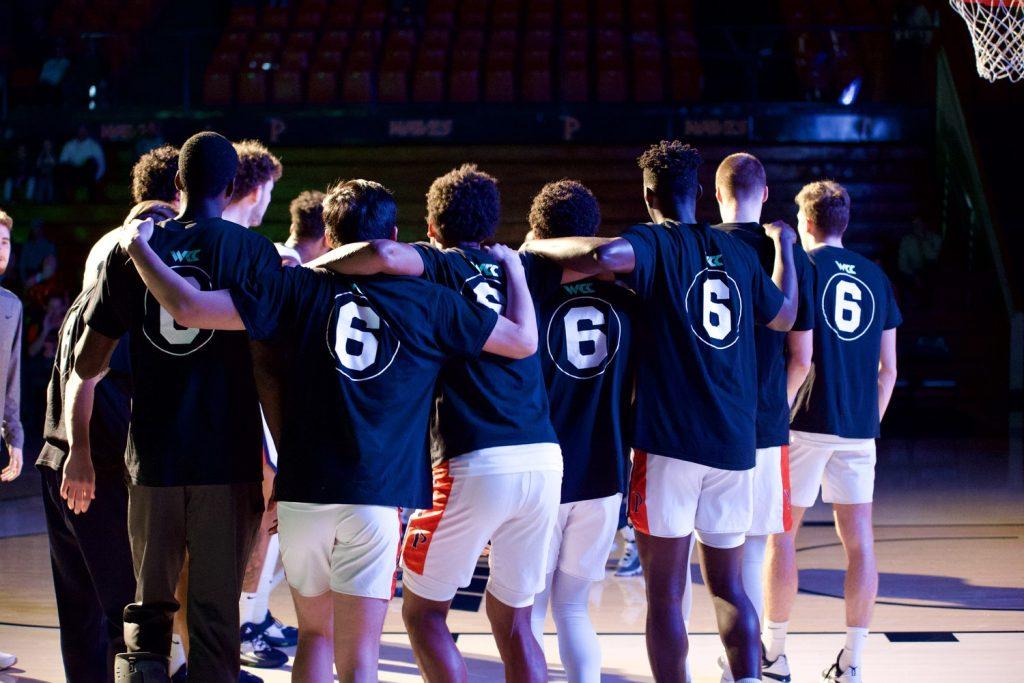 Pepperdine Men's Basketball unites before their WCC conference game against Portland on Feb. 4, at Firestone Fieldhouse. The team wore practice shirts with Celtics legend Bill Russell's jersey number, in memory of his passing. Photos by Colton Rubsamen
Pepperdine Men's Basketball won their first WCC conference game against University of Portland, ending their seven-game losing streak on home turf at Firestone Fieldhouse on Feb. 4.
The Waves came out of the gates in a haze, allowing a 9-0 run by Portland. Head Coach Lorenzo Romar responded with an early timeout call.
"They are a good three-point shooting team. We tried to take the three away and focus on attacking the basket," sophomore guard Houston Mallette said.
In the first half, the Waves had an array of turnovers but still managed to keep it close – shooting 42% from the field. Freshman forward Jevon Porter created several second-chance opportunities with boards in the paint – leading the Waves with 11 rebounds.
Portland began to capitalize on Pepperdine's unforced errors, again leaving Romar with no other choice than to call a timeout.
Mallette was animated in the huddle, trying to rally the players to surmount the 12–point deficit. Proving to be a spark plug, he led the charge with a quick three then drew two offensive fouls that put fans on their feet.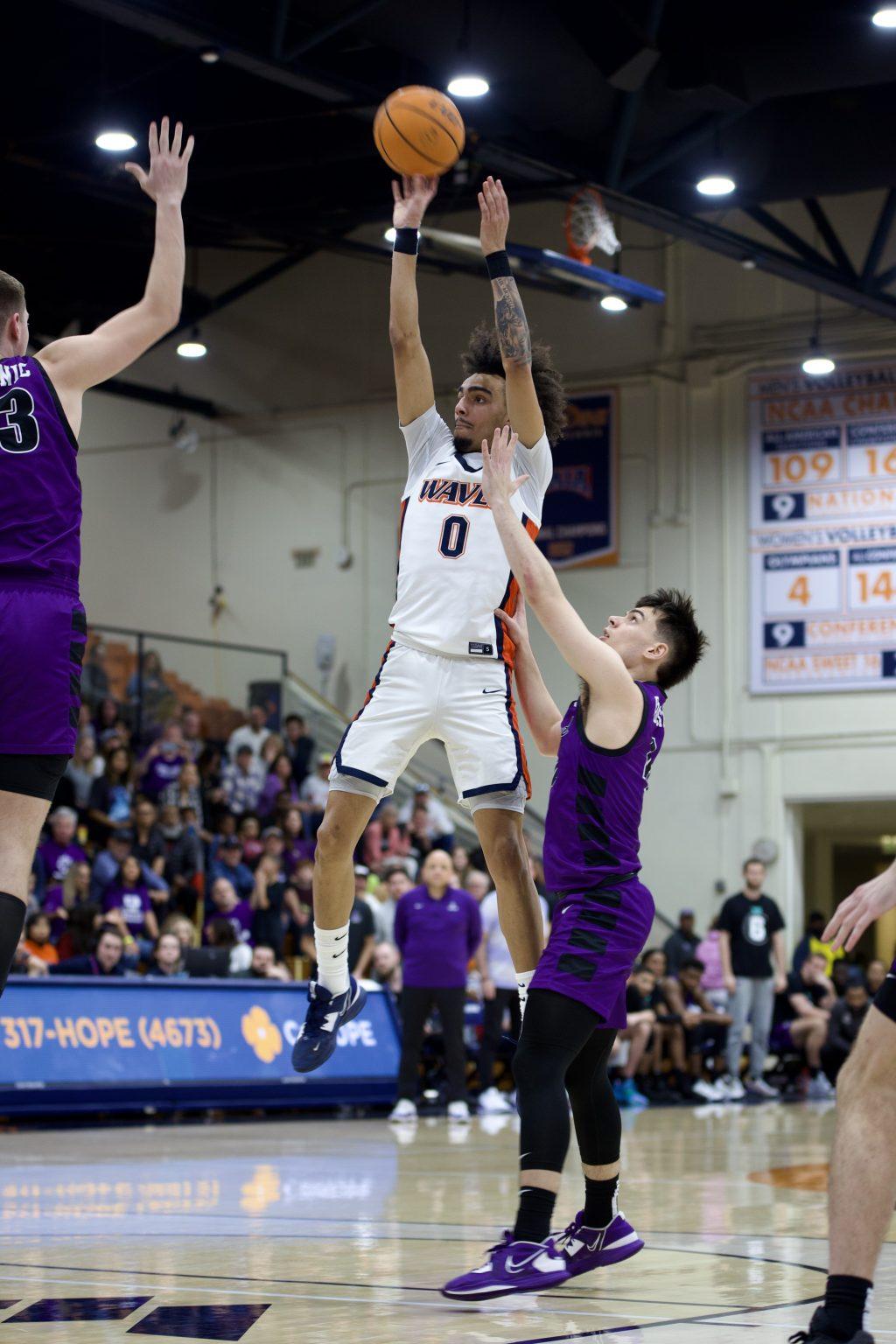 Momentum swung on a dime, as freshman forward Jalen Pitre lobbed an alley-oop to sophomore forward Max Lewis, sending Firestone into a frenzy. Waves led 36-35 at halftime.
The Dog Fight Begins
Fourth quarter play consisted of back and forth efforts keeping the game neck and neck. Sophomore guard Mike Mitchell Jr. assisted sophomore center Carson Basham to put the Waves up two.
With a minute remaining, Portland junior forward Moses Wood was fouled and sunk one of his free throws — 68-67.
Porter hits a timely mid-range, giving the Waves insurance with 13.5 seconds on the clock — 70-67.
Portland replicated the final play of the 2016 March Madness Finals in their last possession. Junior guard Mike Meadows hustled up the coast and shovel passed to junior forward Kristian Sjolund — he was fouled and hit all three free throws keeping the Pilots alive, forcing overtime.
At the end of regulation, the game was tied 70-70. Mallette took the game into his own hands with eight unanswered points to open overtime.
"We had been in overtime games twice earlier this year and came up short. Our guys were not going to let that happen again," Romar said. "They wanted to win bad tonight."
With hope dwindling for Portland, Meadows drained a clutch three at the buzzer, quieting the student section.
Second overtime came down to the wire, as the Pilots were up 92-89 with 8.4 seconds remaining. Graduate student guard Jay Yoon kept the Waves in the hunt with a reverse layup along with a foul. With a chance to tie it, Yoon missed the free throw – 92-91.
"Credit to Jay Yoon for coming into the game after sitting for 49 minutes and rising to the occasion to keep us alive," Mallette said.
Final second controversy erupted as Sjolund fouled Pitre milliseconds before the game was stopped dead, giving Pepperdine the ball with 0.6 seconds.
Down 92-93, Romar drew up a play for Porter who spun around and tipped in an impossible shot at the buzzer to secure the win. Porter had his sixth career double-double with 18 points and 11 rebounds.
"0.6 seconds on the clock. We did not have much time to do anything other than catch and shoot," Romar said. "Mike threw a great pass to Jevon, and he finished the job."
The Waves continued their hot streak and defeated BYU 92-80 on Feb. 9 at Firestone Fieldhouse.
Next up for the Waves is a matchup against USF on Feb. 11 at San Francisco. Pepperdine hopes to turn their season around and match this rollercoaster of a win on Thursday night, Mallette said.
"This was by far the craziest college basketball game I have ever been a part of," Mallette said. "One for the books."
__________________
Follow the Graphic on Twitter: @PeppGraphic
Contact Nick Shea via email: nicholas.shea@pepperdine.edu