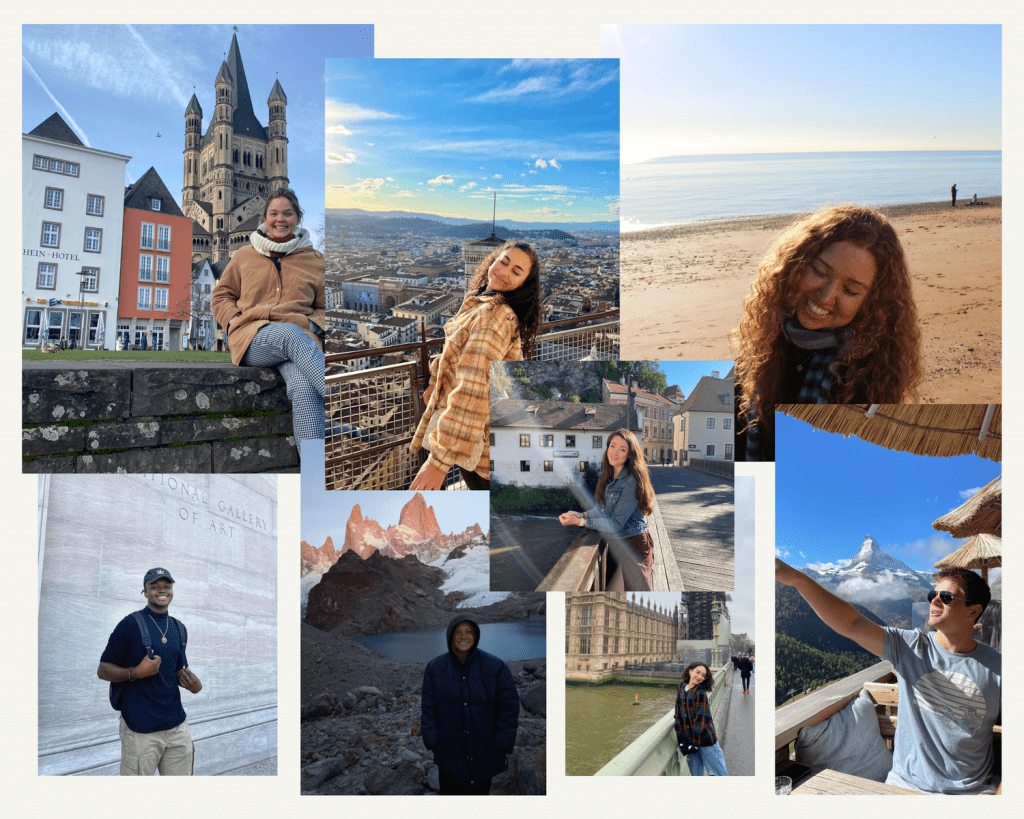 The six new ambassadors share some highlights from each of their international programs. The 2022-23 ambassadors said studying abroad was a life-changing experience for them. Collage by Lauren Goldblum
Studying abroad at Pepperdine offers students the experience of a lifetime and often is one that cannot be put into words, many of the international ambassadors said.
Each of the six international programs provides students with opportunities to gain critical skills in their career field, engage in rich cultures and develop new life perspectives from across the globe.
With the start of a new school year, the International Programs office said they are eager to welcome a new team of ambassadors to support and guide students during their abroad experience.
The International Ambassadors are a group of highly dedicated students who have previously studied abroad and act as valuable resources for prospective students to learn about the different programs, according to the IP Ambassador website.
During a typical week, the ambassadors hold office hours in the IP office, advocate for the programs by planning events and support students with any questions or concerns they might have.
Jacey Hoy: Lead Ambassador
Jacey Hoy smiles as she gets ready to lead the new IP ambassador team. Hoy studied abroad in London, England for the 2021-22 academic year. Photo courtesy of Jacey Hoy
After spending her sophomore year abroad in London, Hoy said she is excited to lead this year's ambassador team. Her role allows her to work closely with IP professors and faculty to organize and schedule important events while advocating for the London program, she said.
Hoy said two of her favorite memories from her time in London included visiting Greece and attending an educational field trip to Northern Ireland with her Arabic professor. She spent her time taking trips along the coast, studying Arabic and learning Greek dancing.
Educational field trips are a special part of studying abroad where students participate in a faculty-planned trip each semester that counts as a week of classes, according to the Seaver Blog.
Hoy said London is a "melting pot" of unique cultures, and she urges future students to cultivate an appreciation for the diversity of languages and food.
"I don't think I can put that experience into words, and I think that's a common theme with abroad," Hoy said.
Charlotte Davis: Global Fellows Ambassador
Charlotte Davis is striving to create positive lasting impacts across the world while leading the Global Fellows. Davis studied abroad in both Washington D.C., and Vienna, Austria. Photo courtesy of Charlotte Davis
During her three years at Pepperdine, senior Charlotte Davis said she gained invaluable experience through her role in the Global Fellows Program. The program is a network of dedicated students seeking to create change in the world and foster a sense of community between cultures, according to their mission statement.
"We [Global Fellows] really want to find people who want to change the world, as cheesy as that may sound. If people are driven by social change and are really passionate about learning different perspectives and cultures, we really want to appeal to them," Davis said.
In this program, Davis said students take classes that promote a global view, as well as hands-on work experience. For Davis, this meant internships with the United States Agency for International Development, Department of Defense and a climate summit mission in Vienna, Austria. Following her positive experiences as a Global Fellow and studying abroad in D.C., Davis said she is looking forward to helping future students reach their full potential through the Global Fellows Program.
Autumn Johnson: Heidelberg Ambassador
Autumn Johnson traveling while abroad in Germany during her junior year. Johnson said she appreciated the friendships she made with locals through connections in the Heidelberg program. Photo courtesy of Autumn Johnson
Senior Autumn Johnson was drawn to Heidelberg by the small-town life and nature-rich environment. Johnson said Heidelberg is the closest you can get to Hogwarts.
After applying to Pepperdine with the hope of becoming part of the abroad community, she said she spent her junior year traveling solo to Matterhorn where she made lasting connections with locals and learned more about who she is as an individual.
"I didn't speak the language, and it was very scary, but I proved to myself that I could do it," Johnson said.
Drew Nelson: Switzerland Ambassador
Drew Nelson is tasting local seafood during a side trip to France his sophomore year. Nelson said he is "a big seafood connoisseur" and loved trying different dishes while abroad. Photo courtesy of Drew Nelson
Inspired by the time he spent in Switzerland, junior Drew Nelson took on the role of the Switzerland ambassador. Nelson said he is eager to share in the excitement of students as they make their travel plans and connect with them over coffee or during office hours.
"Honestly, it's the little things that made such a big difference and impact on my life," Nelson said.
Located near Lake Geneva and the Swiss Alps, Nelson said the highlights of his time abroad included skiing in the French Alps and a trip to Munich to visit the Hofbräuhaus. He also said they had access to excellent transportation systems.
"It's really a cool program if you're trying to explore a lot of different countries," Nelson said.
After purchasing the d'Hauteville estate in 2019 and undergoing major renovations, Pepperdine's Switzerland program will change locations from Lausanne to Hauteville beginning in Fall 2023, according to an Oct. 28, 2020 article by the Graphic. The new campus, Château d'Hauteville, will be based in the central western part of Switzerland, giving students access to both city life and outdoor recreation, according to the Switzerland Program page.
Melanie Tadros: Florence Ambassador
Melanie Tadros is exploring in Florence, Italy during the spring of 2022. Tadros said she was grateful to be in such close proximity to famous historical landmarks within the city of Florence. Photo courtesy of Melanie Tadros
Not wanting to say goodbye to her time abroad in Italy, junior Melanie Tadros said she decided to continue her role in the IP community through the position of Florence ambassador.
"Traveling in such a tight-knit group, we all got close so fast, and getting to experience things together and meet new people was so much fun," Tadros said.
As part of the program, she said she was able to travel to multiple different countries, immersing herself in a diversity of cultures. By the end, she became part of a closely-knit community with her fellow abroad students.
Tadros said students applying to the Florence program can look forward to being stationed in the heart of the city proximal to the famous Florence Duomo and eating endless amounts of pizza and pasta. Tadros advises students to learn about the different programs and be true to who they are as individuals during the application process — to demonstrate the unique qualities they bring to the programs.
"Just be yourself; you don't have to sound like the ideal candidate," Tadros said.
Beth Gonzales: London Ambassador
Beth Gonzales smiles in a park near Buckingham Palace while studying abroad in London, England during the spring of 2022. Gonzales said she is happy to have achieved her lifelong dream of visiting London. Photo courtesy of Beth Gonzales
Editor's note: Beth Gonzales is the Life and Arts editor for the Graphic

Beth Gonzales said she dreamt of visiting London since her childhood, and the University's International Programs were one of the main reasons she chose to attend Pepperdine. Gonzales said London has something to offer every student, whether that be music, sports or history. As a huge One Direction fan, Gonzales said one of her favorite memories abroad was visiting Holmes Chapel, Cheshire — the hometown of Harry Styles.
"I think this is cliche, but it shows that dreams can come true if you make the point and make the effort," Gonzales said.
Gonzales said she encourages students to embrace every single moment during their time abroad and to leave with zero regrets.
Emme Phillips: Buenos Aires Ambassador

Emme Phillips said she is excited to continue her role in the IP community as the Buenos Aires ambassador. Phillips studied abroad in 2022 during the spring semester of her junior year. Photo courtesy of Emme Phillips
Inspired by her interactions with the Buenos Aires ambassador her first year, senior Emme Phillips said she spent her junior year in Argentina — backpacking through Patagonia and improving her Spanish.
Phillips said the BA program is unique for several reasons; students have the advantage of both city living and easy access to nature — creating what she said was the best of both worlds. In addition, the homestay program offers students a personal cultural experience, unlike any other IP program.
"Being in the homestay program is so nice because it does really enrich your experience just being able to talk to a local and creating this connection with someone in a different country," Phillips said.
Even now, Phillips said she and her "Madre" still keep in touch often. Phillips recommends future students rely on their peers through the process of living abroad and supporting each other on their journeys.
RJ Wicks: Washington D.C Ambassador
RJ Wicks as he prepares to welcome a new cohort of students into the IP community. Wicks has studied in D.C., Fiji and London. Photo courtesy of RJ Wicks
With a passion for travel, junior RJ Wicks said he studied in D.C., London and Fiji all by his junior year. Wicks spent his time in D.C exploring the east coast and taking trips to Maryland, Virginia and New York. In addition to traveling, Wicks said students can look forward to the countless networking opportunities available within D.C.
"I think the best part of the program students can look forward to is internships, as well as possibly going abroad the next semester or semester before with D.C plus," Wicks said.
Recognizing studying abroad can often appear intimidating, Wicks said he is ready to connect with students and support them in whatever ways they need.
As the application priority deadline is Sept. 26, the IP ambassador team is preparing to help students as they make their program decisions. The ambassador team said students interested in studying abroad are encouraged to reach out to them through email or during their IP office hours.
___________________
Follow the Graphic on Twitter: @PeppGraphic
Contact Lauren Goldblum via Twitter (@Laurengoldblum1) or email: lauren.goldblum@pepperdine.edu