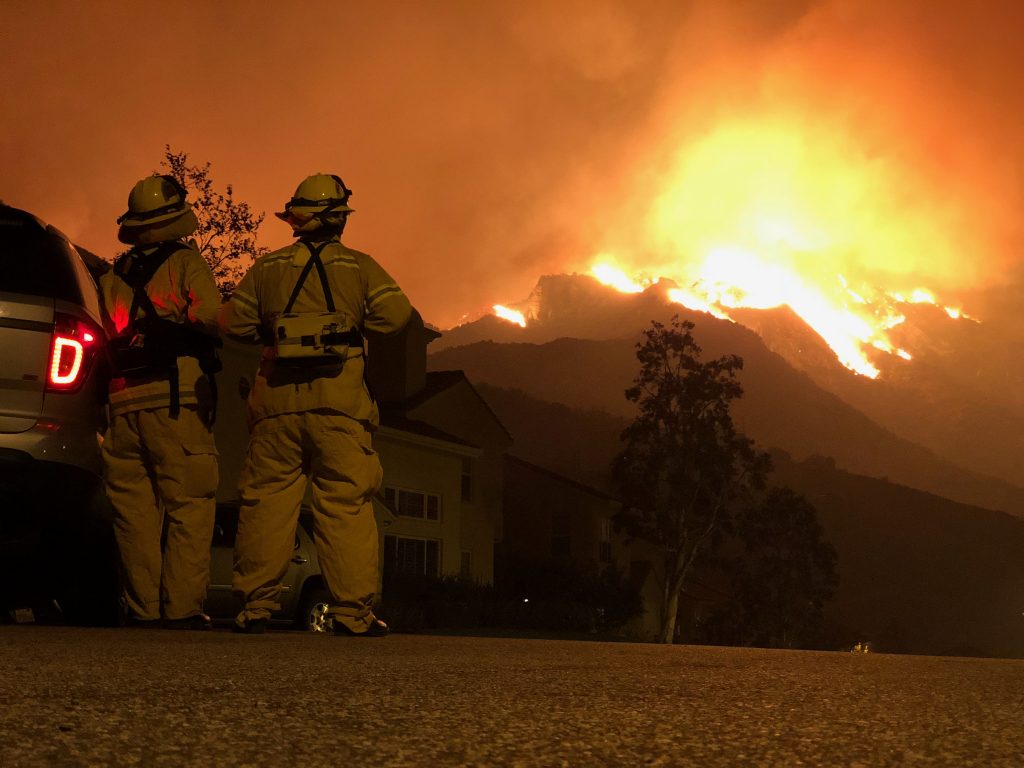 Photo courtesy of Thomas Ryan
Malibu residents spent sleepless, anxiety-ridden nights fighting the Woolsey Fire after refusing to evacuate.
As the Woolsey Fire approached Malibu on Nov. 9, residents debated whether to stay and protect their homes or to follow evacuation orders. A mandatory evacuation order was issued at 7 a.m., for Malibu but people stayed to protect their homes and neighborhoods, including Council Member Mikke Pierson.
"I think, growing up in Malibu, the thing I think all of us that have been here a long time share [is] a realization that we know fire is coming," Pierson said. "We're not surprised. We're not shocked and, you know, as you hear people yelling and screaming, the ones that have been here their whole lives seem to know a little more. Listen, fire was coming and you've got to be ready. With that said, we all see things that were done horribly in this fire."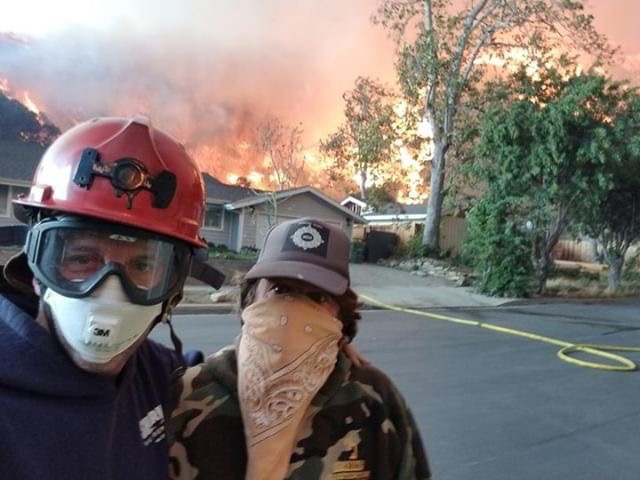 Photo courtesy of Mikke Pierson
Choosing to Stay
The Woolsey Fire started north of the 101 Freeway on Nov. 8, but quickly jumped the freeway and began approaching Malibu by 2 a.m. on Nov. 9.
Pierson and his son Emmet, along with a few neighbors, stayed to protect their Malibu West neighborhood. Pierson said he has lived in Malibu his entire life and never once evacuated. He lost his childhood home in the Mandeville Canyon Fire in 1978 and saved his mom from her home just before it burned from The Old Topanga Fire in 1993.
"Emmet and I stayed, which was not a popular decision at the time," Pierson said. "But when I look at a fire like this, I stayed to make sure the neighborhood didn't burn down because of embers. I had no idea exactly where it was going."
Pierson said he never felt unsafe and was always prepared with full gear, hoses, helmets and goggles.
Meanwhile, then-Pepperdine senior, Thomas Ryan, who lives in Bonsall Canyon with his parents, said he fought the fire in his Lululemon pants and T-shirt. Ryan said he stayed behind with his dad and felt prepared with a 150-foot fire hose and pump, as well as fire retardant, which kept his house wet.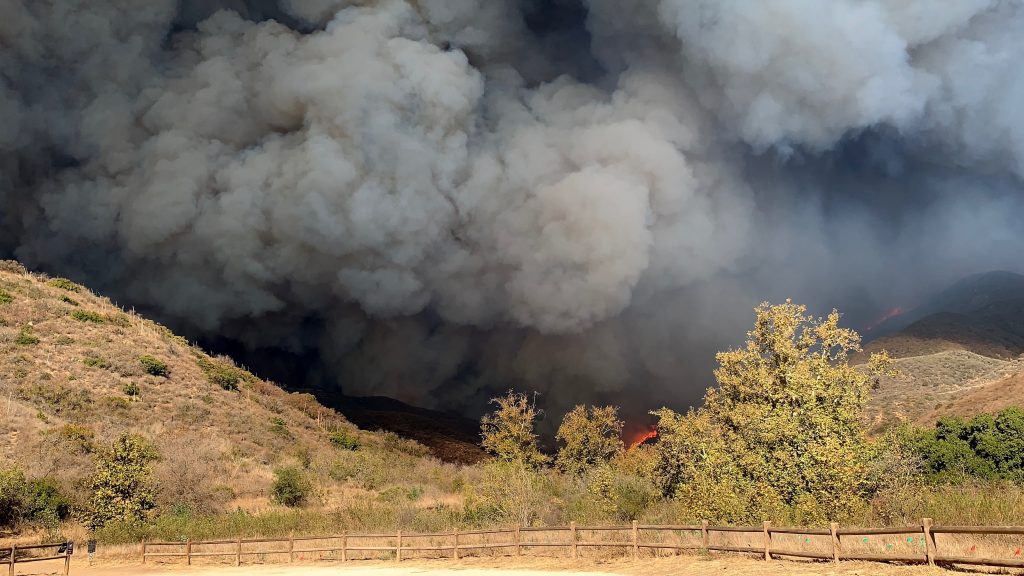 Photo courtesy of Thomas Ryan
"For a while I didn't really think [the fire] was going to get to our house, but it got real when we started seeing the flames," Ryan said.
Ryan said his dad woke him up at 7 a.m. Meanwhile, Pierson said he woke up at 2 a.m. when his sister-in-law had to evacuate from Malibou Lake. Both Pierson and Ryan said they stayed because they wanted to protect their homes and neighborhoods from embers, which caused hot spots in both of their neighborhoods.
"If you're not there, those flames grow and then they end up spreading and then consuming the house," Ryan said. "We wanted to be there to put out any ember fires."
Pierson said he saved three homes by putting out hot spots. He said he worked with his neighbors to combat the fire as it came down Trancas Canyon, saving most of the houses in Malibu West. Pierson said his neighborhood lost approximately 20 of 180 homes.
"We knew in our hearts that if the first houses at the top the canyon caught fire, you know right there the whole neighborhood would go because it'd be dominoes," Pierson said. "There'd be no way to stop it. So we made our stand and we did save those houses, but a couple near the top ended up burning."
Ryan said staying at his house allowed him to save his neighbors' homes as well as his own, although his shed caught fire and was unable to be saved. He said he slept in his car in front of his home to check on his home.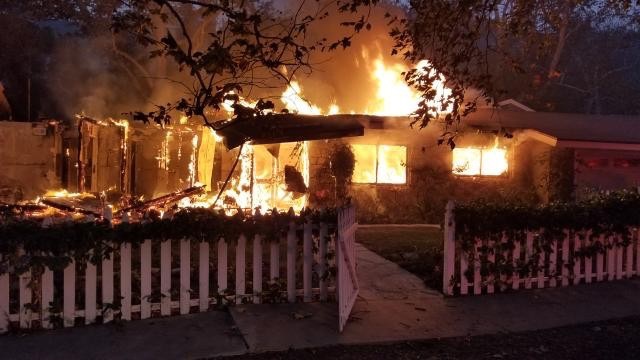 Photo courtesy of Mikke Pierson
The Problems with Staying
Firefighters Kevin Jensen and Dave Hay said they understood why people refused to evacuate if they owned a property in Malibu, but cautioned against it.
"I think I'd want to stay and defend my house too, but you have to know the dangers," Hay said. "You can't wait too long to leave."
Hay and Jensen said evacuations are important because if people don't leave, the firefighters could be doing a body recovery. However, the lack of firefighters and resources was a big issue for the Woolsey Fire.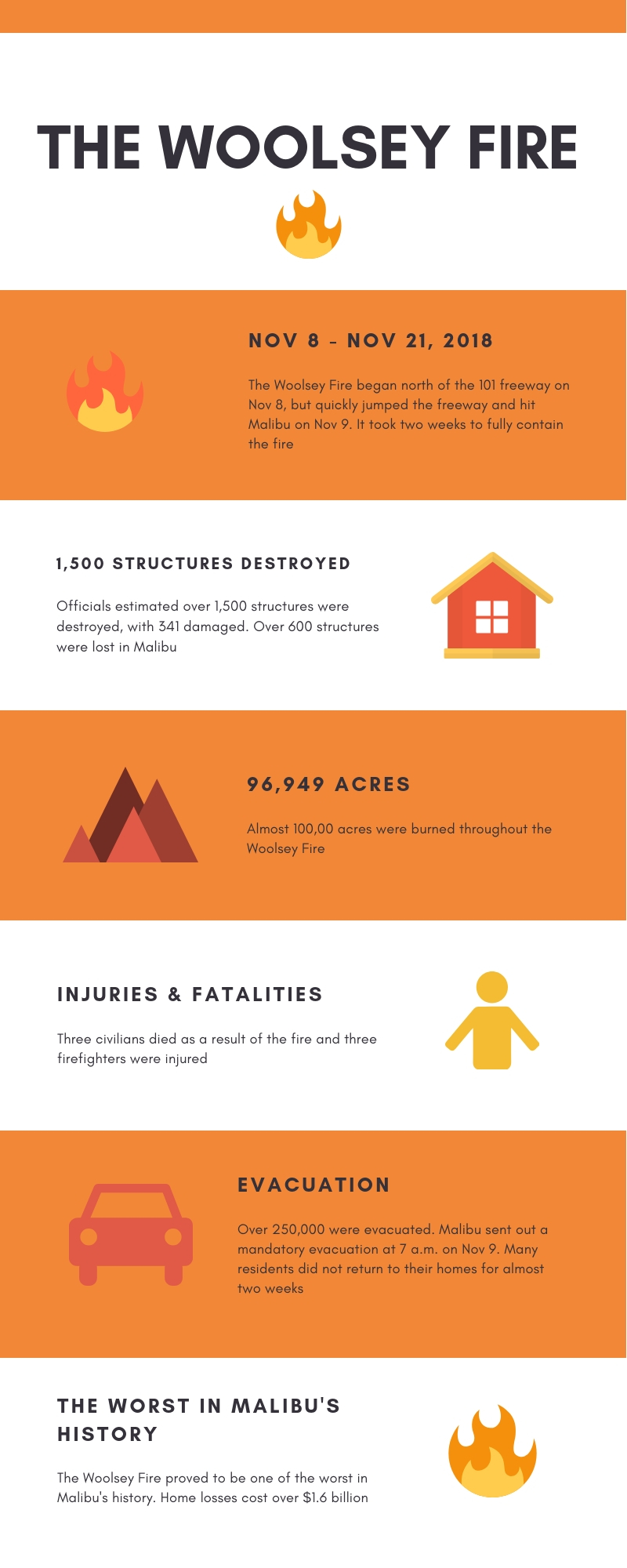 Infograph by Caroline Edwards
"We didn't see one firefighter on our streets for days," Ryan said. "They weren't there on Friday, Saturday, Sunday, Monday or Tuesday. And I don't really blame them. So many houses were burning, there was so much to do that it's almost like, 'How can they just choose to stop at a certain house and start fighting a fire?'"
Pierson said he fought the fires in Malibu West without any help from firefighters for four hours and when a truck from San Diego arrived, he said he never fought "with" them.
Both Jensen and Hay said staying is not only dangerous, but gets in the way of the firefighters trying to protect homes.
"They're not trained on what we see and the equipment that we have," Jensen said. "It's not just throwing water on fire, especially with the wind conditions we faced. Everyone makes their own decisions and everyone has ties to their house, but they have to know the consequences."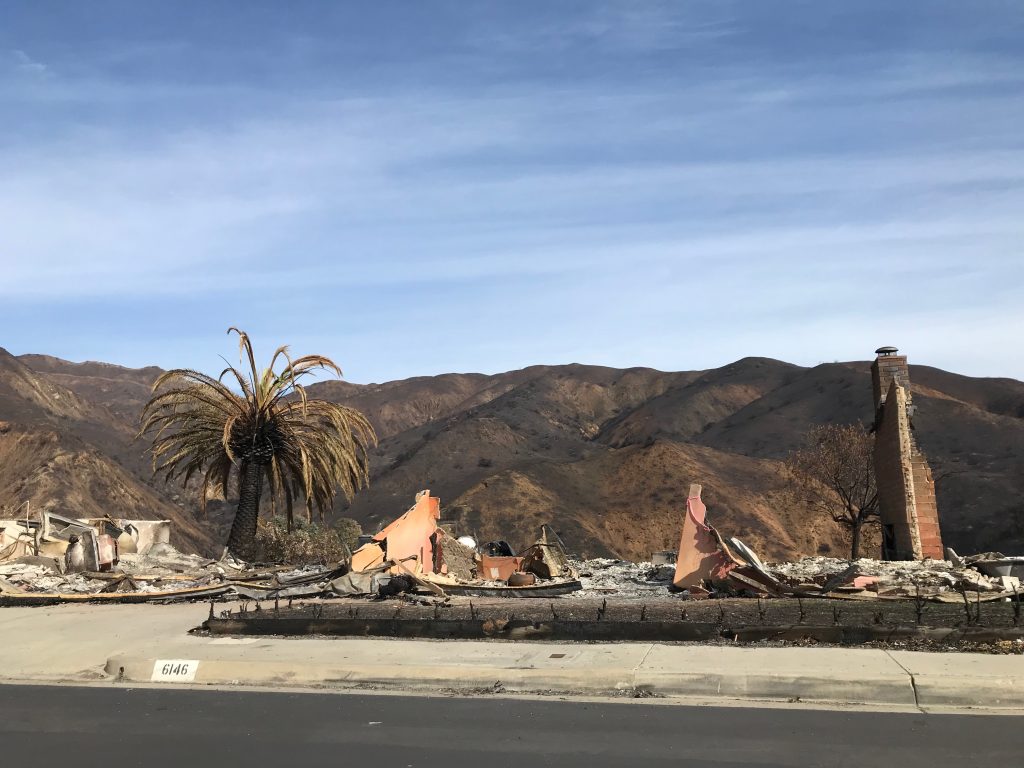 Photo by Caroline Edwards
Pierson and Ryan said they were aware of the consequences of staying, but were always prepared to evacuate.
"We had our cars ready to go," Pierson said. "Keys in the ignition. [Cars] turned around ready to go. We had another escape into [a neighbor's] swimming pool, which is last resort. You don't want to do that. But we had a plan there and [knew] how to do it successfully. We had multiple escape routes and with that said, I recognize that with fire, if the wind had been another 10 miles an hour … I think we were near the border of where we would have stayed or left because dying in the fire is not really a good plan."
Infographic by Caroline Edwards
Lack of Communication
Ryan and Pierson agreed that communication affected the fire, due to a lack of cell service.
Pierson said people used his Instagram for updates on Malibu after he offered to check people's homes. Pierson said because of the lack of social media and news, he was faced with telling over 120 people about the status of their homes.
"[To be] able to send them a picture of it just psychologically is really important," Pierson said. "It's hard to see, but it's way better than finally getting to see it physically a week later and then realize there's just nothing left because that's 98 percent of them. There was nothing left, just rubble. So there were a lot of appreciative people because of the communication, not that their house was burned down. The fact that somebody told them what was going on. That's what drove people nuts."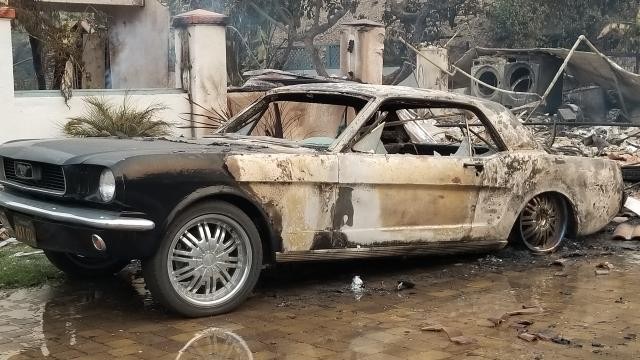 Photo courtesy of Mikke Pierson.
Ryan and Pierson said they were confident in their choices because they were able to save their neighborhoods and help the community.
"If we left, no one was going to protect the house," Ryan said. "And again, if you're there, you can put out those small embers and if you're not, your house has gone."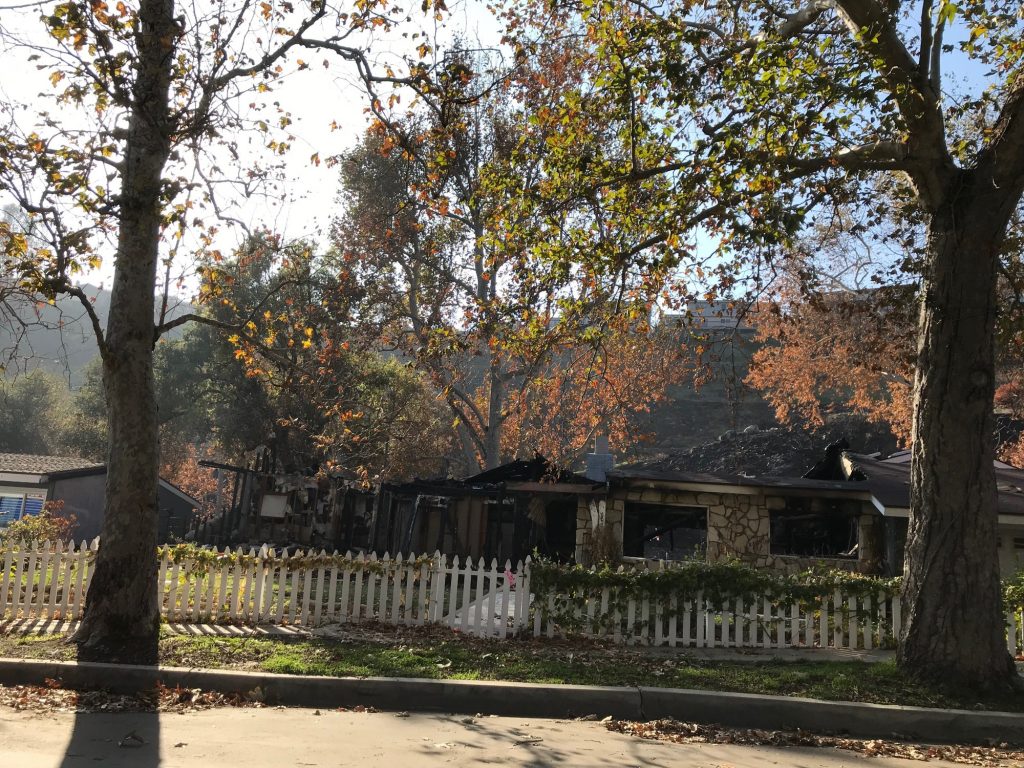 Photo by Caroline Edwards
Future Policy
Pierson said he was concerned about the amount of people who did not evacuate and who do not want to evacuate in the future.
Pierson said he hopes that Malibu adopts a policy that requires people to have a certification in order to stay and fight the fires, to make people aware and understand the risks of staying, including losing their lives.
"We have to figure out the fact that people aren't leaving, which scares me," Pierson said. "It scares me because I know a lot of people were looking at me and my experience as a reason they're not leaving, but you really got to know what you're doing if you decide to stay."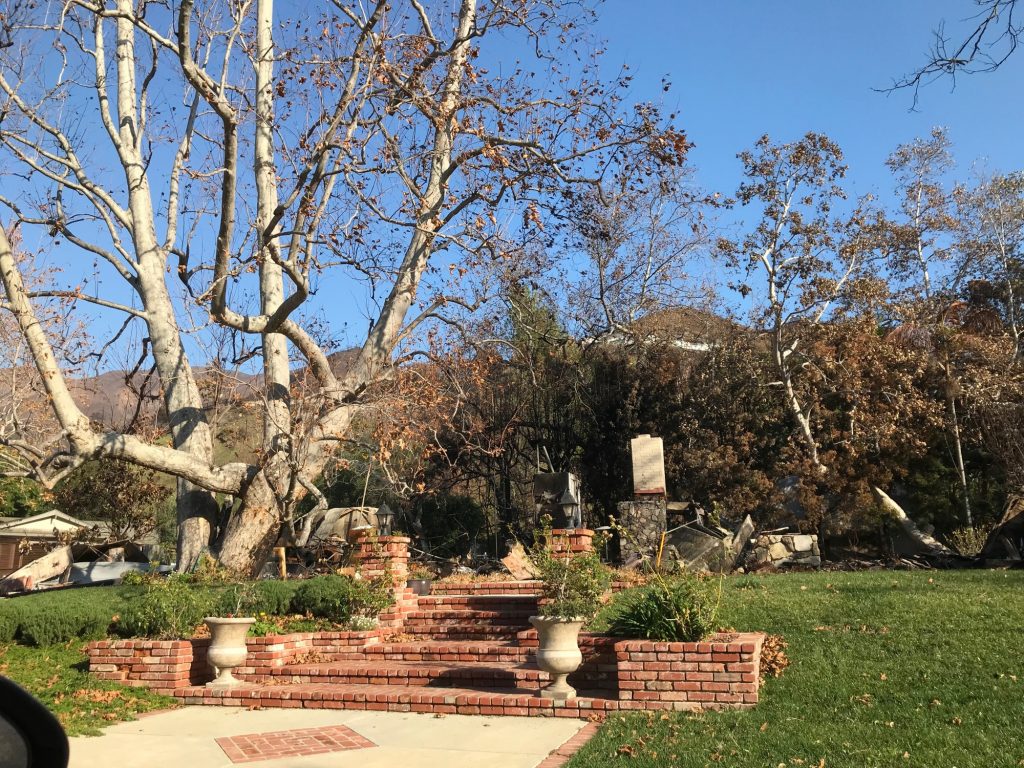 Photo by Caroline Edwards
Pierson and Ryan said a lack of water and resources hindered saving houses. Ryan said he had to use pool water to save homes once the power went out, while Pierson said a lack of hoses made it difficult to save homes, as he used a water pick used for gardening when a neighbor didn't have a garden hose. Pierson said Malibu needs to better prepare for the next fire.
_____________
Follow the Pepperdine Graphic on Twitter @PeppGraphic