Photo Courtesy of Mark Demick
As an elementary school student, Mark Demick was sent to the principal's office.
"At the time, there was a kid that was bullying me," Mark Demick said.
One day, Demick found a pin near his desk and put it through his shoe so it stuck out.
"The bully decided to pick on me that day and I tried to kick him and my shoe got stuck in his leg," he said.
The incident landed Demick in the principal's office – a place he now calls his own office.
Demick is going on his fourth year as the principal of Point Dume Marine Science Elementary School.
"Feeling important, feeling included at school, liking school, seeing [the students] smile, making them laugh every day," he said. "I think those are things that I always wanted in a principal when I was growing up. I've always tried to be that principal. Instead of Principal Demick it's always been Principal Mark. I've wanted to be that person who kids could respect and feel empowered by."
His passion for education began when he was a kid and his parents were teachers.
"My mom and dad were there at 3 o'clock when I got home because they were teachers," he said. "We had all of the vacations and summers together to hang out. I always wanted to teach little kids."
Demick's first job was 31 years ago as a sixth grade teacher.
"I got hired in Delano, California, which is outside of Bakersfield," he said. "At the time, I didn't know where that was but I was like, 'Who cares? It's California! Any place there is great!'"
Despite the sunshine, Demick said he became homesick and moved back to his native state, Washington. From there, he worked in Seattle for about 17 years and decided to get his principal degree.
"My journey had been to turn around low-performing schools," he said.
His journey took a turn when his oldest daughter, Stasia, attended Pepperdine University. She ran cross country and track, worked as the Sports Editor of Graphic, was the sports anchor on Good Morning Malibu and graduated Magna Cum Laude in 2016.
"When my daughter was at Pepperdine, I took a look at where I was in life," he said.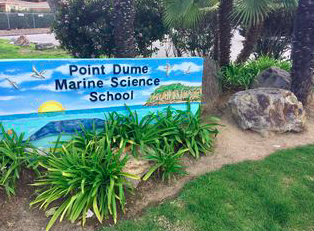 Point Dume Marine Science School had an opening. Demick said he wanted to be closer to Stasia so he applied for the job. He never imagined he would get it — but he was wrong.
"Your journey is an amazing thing," he said. "From Delano to Point Dume. It was the more challenging route to get here but it was the most rewarding route."
After 31 years in education, Demick is able to focus on the rewards.
"I've learned over my career that [the most rewarding part] is seeing kids being successful," he said. "Whether it's in their studies, or as human beings."
To achieve student success, Demick said he emphasizes providing a well-rounded education.
"You want kids to have the arts and be exposed to different, new things but also have student achievement happening at the highest level," he said. "For me, the bottom line is student achievement. How do we get each learner hooked into learning to make that happen?"
Looking back on his own education, Demick said fourth grade with his teacher Ms. Star was his favorite because of how engaged he was as a student.
"I wasn't a trouble-maker but I was the smallest kid in class," he said. " I was a July birthday so I was always a little bit behind. Fourth grade was great because Ms. Star made me feel important, included, capable and that mistakes were opportunities to learn. I felt safe at that grade level."
Demick translates that sense of safety and making students feel important into each work day.
"Every day is different and there's no formula to it," he said. "It's going to classrooms, playing with the kids at recess, serving lunch, working with budgets, observing teachers. That's what I really like about it – every day is totally different."
Every day also produces diverse challenges.
"You're juggling 10 different balls in the air and any given day you're going to get five or six thrown in that you weren't anticipating," Demick said.
When he isn't in school, Demick said he enjoys mountain biking, paddleboarding, learning to surf, traveling and seeing California.
"There's so much that we have," he said. "We're truly blessed."
Besides the students and teachers, Demick said one of the biggest blessings in his career is the Malibu community.
"The Malibu community means, to me, support," he said. "These kids are compassionate, they're giving, and that comes from the parents who truly love their kids a tremendous amount. It's representative of the community and I see that living here. If I go to a play, baseball, soccer, the community is there to support the kids."
___________
Follow the Graphic on Twitter: @PeppGraphic