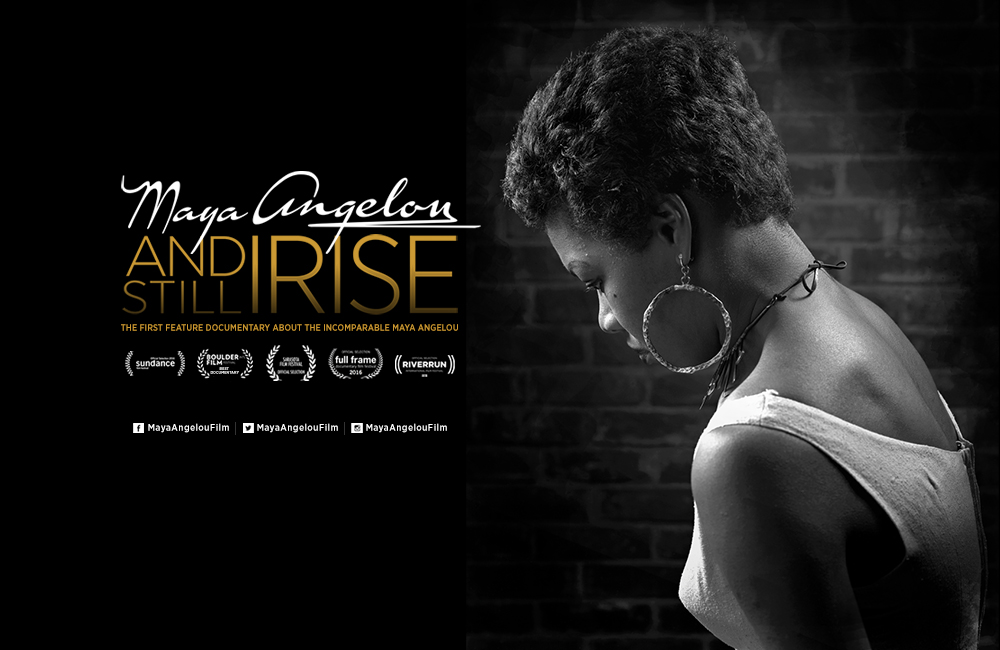 Poster Courtesy of American Masters Pictures 
A special screening of the Maya Angelou documentary "And Still I Rise" drew in a crowd of Malibu residents and LA filmakers to Elkins Auditorium on the evening of Friday, Nov. 11. The screening was organized by Pepperdine's Institute for Entertainment, Media & Culture.
Before the screening, Dean Helen Williams of Pepperdine's Graduate School of Education and Psychology welcomed the crowd and thanked them for their attendance while referencing the tumultuous week.
"Tonight, when our world is so divided, we come together to reason together. To figure out how out of the ashes we will rise," Williams said.
After an introduction of the film and its two directors, Bob Hercules and Rita Coburn Whack, the screening and story of Angelou's life began.
The story walked the audience through the many areas of Angelou's life, starting with her humble beginnings in Stamps, Arkansas, all the way through to her death in 2014. Commentary from her son, Guy Johnson, famous friends, such as actresses Cicely Tyson and Diahann Caroll, and musicians Common and Quincy Jones, helped paint her legacy.
Angelou herself mostly narrates the film by using interview excerpts to tell some of the most important stories of her life. The stories she told evoked laughter, cheers of excitement and some sad silences.
"She still manages to be humorous," Whack said, acknowledging Angelou's storytelling style. "She loved to laugh and she worked to live. To live life with some humor, some grace and some style, as [Angelou] said. It's just like life, sometimes you have to laugh at yourself."
Although Angelou seemed to find herself in many different circumstances throughout her life, such as a stripper in the 1940s, a singer in the 50s, and ultimately an activist and writer in the 60s, the commentary from family and friends painted her as influential and proud of her Black ancestry at most moments in her life.
The film also included her friendships with civil rights leaders Martin Luther King Jr. and Malcolm X, as the theme of her pride of her Blackness and promotion of unity within the Black community rang throughout.
These themes of "And Still I Rise" managed to carry over into the Q&A segment of the evening with the directors, moderated by Dean Williams.
When the directors were asked whether producing the movie has been freeing for them, Whack responded with the film's personal effects on her perseverance and confidence.
"You may encounter many defeats," Whack said. "That changed me. That made me say for women in this society, you are fighting to find your voice. That's what she did, and that's what I try to do. And that's freeing."
The directors also explained how the project itself evolved over the five years it took to create.
"When you're making a documentary, there are things that emerge that you never thought of," Hercules said. "The goal was to tell the key stories of her life in depth. It's all about the story."
"You have to be willing to throw [an original outline] out the window and chase the story," Whack said. "If you chase the story, it'll chase you."
While admiring the cinematography and the Angelou's story, much of the audience's commentary revolved around the timeliness of her words, referencing the recent presidential election results.
"If you look at another person differently because of [the movie], if you grow, then you got the message she had for the film and for all of us — which is a very important message for us to get at this time," Whack said. "We have to realize our power to effect change."
Whack and Hercules both said they want to get the film into more universities across the country, so that Angelou's message and words can continue to be spread.
"And Still I Rise" was released in theaters Oct. 14, and will continue to be shown in various locations throughout the U.S. in the coming months.
____________
Follow the Graphic on Twitter: @PeppGraphic