Photos Courtesy of Lauren McRae
The Rev. Paul Elder of St. Aidan's Episcopal Church called upon the Malibu City Council at the Malibu Town Hall recently to address the compounding issues of Malibu's increasing homeless population and the imminent El Niño storms.
Mayor Eric Garcetti and Los Angeles City Council members declared a "state of emergency" for homelessness in Los Angeles last September, and efforts have increased dramatically to get people off the streets and into shelters specifically by providing a means of transportation for homeless to winter emergency shelters.
In his three-minute statement to the council Monday, Jan. 25, Elder highlighted the precautions the Malibu community has taken to ensure the care of homeless persons in Malibu. He also issued a call to action of the city's governance to do more to prepare for potential emergency situations for the most vulnerable members of the Malibu community.
"LA County is providing a daily bus service to and from Malibu," City Manager Jim Thorsen said.
Dramatic rainstorms coupled with wind speeds topping 115 mph impacted Malibu and much of coastal Southern California on Sunday. The National Weather Service issued a high wind warning, which remained in effect through noon on Monday. The high-speed winds and steady rainfall further illustrated the need for appropriate shelter for homeless persons. According to 2015 research by the Los Angeles Homeless Services Authority (LAHSA), approximately 70 percent of the homeless population in LA is without appropriate shelter.
Elder described the solutions of various churches and community groups to ensure the safety of the homeless in the event of a storm, and he asked the City Council how they plan to increase their efforts.
Local churches and community members have collaborated to form the Community Assistance Resource Team (CART), a group that originated at the Malibu Methodist Church, dedicated to helping Malibu's homeless community get back on their feet.
"CART has been working very hard on the homeless issue — as have we," Mayor Laura Rosenthal said.
Elder said that although many Malibu homeowners are worried about how the storms will affect them, "the homeless are in even more dire circumstances and we need to look at them with compassion."
Elder said much of Malibu's homeless population resides on the beaches and at Malibu Lagoon. If there were a large storm and consequent flash flooding, the lives of the homeless in those areas would be jeopardized.
"It has, as of yet, not affected me in full force, but it will. I'm homeless. So it's going to hit me — hard," Megan Doty, a member of Malibu's homeless community, said. "[For me] everything is trying to find food and trying to just stay alive."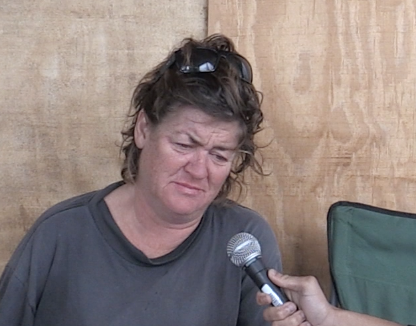 Elder said he estimates that more than 100 individuals call the streets and beaches of Malibu their home. Elder, along with approximately 50 other local volunteers, joined forces with LAHSA on Jan. 28 to conduct a comprehensive count of the homeless population in Malibu. The volunteers met at 5 a.m. at Our Lady of Malibu Church and dispersed in groups to different locations around the city until about 8 a.m.
Elder reports some unofficial numbers collected by the group that morning. On a "sight only" basis, meaning the volunteers did not count how many were in each tent or RV, there were at least 103 people accounted for. "You can imagine that there will be many more once the official [calculation] is done."
The homeless population of Los Angeles in 2015 increased by 16 percent since 2013, according to LAHSA. Although the results from the 2016 count will not be available until March or April, LAHSA experts estimate that the overall numbers for Los Angeles' homeless population have increased.
Infographic by Akela Newman with data courtesy of LAHSA.org
The shuttle between West LA and Malibu provides pick-up service every day at 5 p.m. in the Malibu Community Labor Exchange parking lot to transport homeless members of the Malibu community to the West LA Armory shelter. LA County did not plan on offering this service in Malibu, but due to the need demonstrated by the community and council members, the extra pick-up point was approved. It began operating on Nov. 1, 2015 and will continue through Mar. 31, 2016.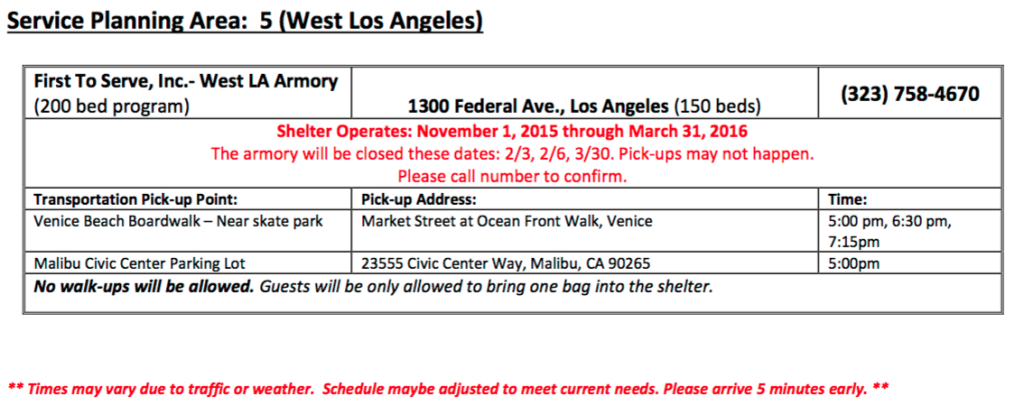 Rosenthal emphasized that addressing the conditions of the homeless in Malibu has been a collaborative effort between many organizations.
"Working together [with CART] definitely seems to move things along," she said.
While some may view the homeless in Malibu as a threat to public security due to several incidents involving theft and kidnapping in the L.A. area, members of CART view it as a humanitarian crisis.
The City of Malibu has often been criticized by the local churches for not providing a shelter for the homeless.
"In a lot of areas, it is the faith-based organizations who open their doors to the homeless," Thorsen's assistant Elizabeth Shavelson said. Shavelson helped orchestrate the inclusion of Malibu into the shuttle service for West LA's homeless population.
Elder questioned why such an affluent community is unable to meet the basic needs of their homeless. Rosenthal said there is always more the City could do, but they have very few location options for a shelter.
"The County has some property in Malibu that's not used. We're trying to encourage [the City] to open that up for shelters," Rosenthal said.
Even if a shelter could be built, there are several strict guidelines and conditions that it must meet to be approved as a shelter, not to mention the finances necessary for a staff and operation, Shavelson said. However, if there were an emergency in Malibu, the strict guidelines can be foregone and temporary shelters can be made available.
For now, Malibu's homeless are given the option to meet at the designated shuttle pick-up in the parking lot by the Malibu Labor Exchange every day at 5 p.m. to be transported to a winter emergency shelter for the night and then brought back again at 5 a.m. the next morning. The shelter is West LA Armory located on 1300 Federal Ave. The contact number for the shelter is (323) 758-4670.
"I hope you will keep in mind the plight of the homeless population, and when you are in charge will have the compassion to make changes," Elder said addressing future generations.
For more information and statistics on homelessness in Los Angeles visit www.lahsa.org and www.theycountwillyou.org
______________
Follow Akela Newman on Twitter: @akelarenae