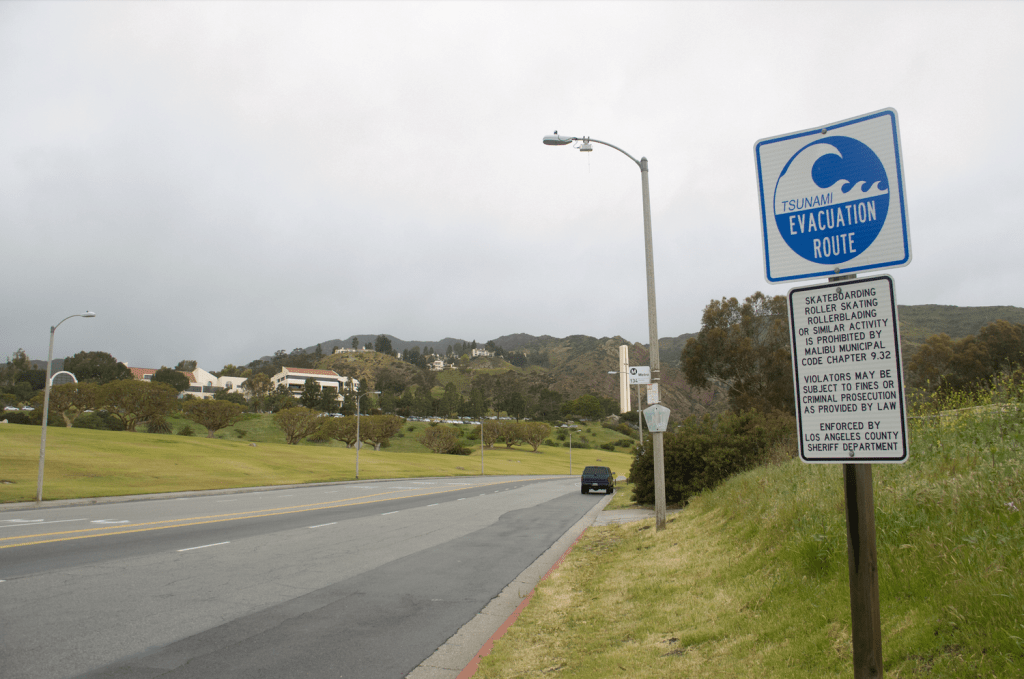 A sign indicates the tsunami evacuation route out of Malibu through Malibu Canyon Road on Feb. 23. The University recommends students find safety at least 100 feet above sea level in the event of a tsunami. Photos by Millie Auchard
The Earth rumbles. Picture frames fall from the walls and shatter into glittery shards on the carpeted floor. An earthquake has struck, and it's time to take cover under a bed, desk or table.
L.A. County experiences earthquakes frequently, according to data from the Southern California Earthquake Data Center. Some Pepperdine students said they don't feel like they could think on their feet during an earthquake. Public Safety Director Susan Dueñas said she recommends Malibu residents be prepared for earthquakes.
"Everyone should start making a plan," Dueñas said.
Dueñas said preparing for an earthquake is based on the individual. The actions one takes during an earthquake will depend on their location and activities.
"Look around the places where you normally spend a lot of time," Dueñas said. "Whether your home, your place of business or your school, and just kind of make a mental note of the hazards around you."
In a dorm, for example, one should assess the best place to duck and cover during an earthquake, such as under a desk or bed. If someone is on a set of stairs, they should crouch down, hold on to a railing and stay still, Dueñas said.
Earthquake Measurements
Seismographs use the vibrations of seismic waves to track earthquakes, according to the U.S. Geological Survey. The seismic waves correspond with a number on the Richter scale. Each whole number jump in magnitude equals about 31 times more release of energy than the preceding number, according to the USGS.
A 2.0 magnitude earthquake is a microearthquake. People don't usually feel these, and researchers typically record them on local seismographs, according to the USGS. Earthquakes of 4.5 magnitude or greater are strong enough to feel, and researchers record these on seismographs worldwide.
Great earthquakes are 8.0 magnitude or larger. The 1906 San Francisco earthquake, which destroyed most of the city, was an 8.3 magnitude, according to the USGS.
When an Earthquake Hits
People should not take cover in doorways with doors because they can swing violently during an earthquake, according to Pepperdine's Emergency Operations Committee's website. The EOC website also lists ways to protect oneself in a range of circumstances during an earthquake, such as in a high rise building, theater, stadium or crowded place.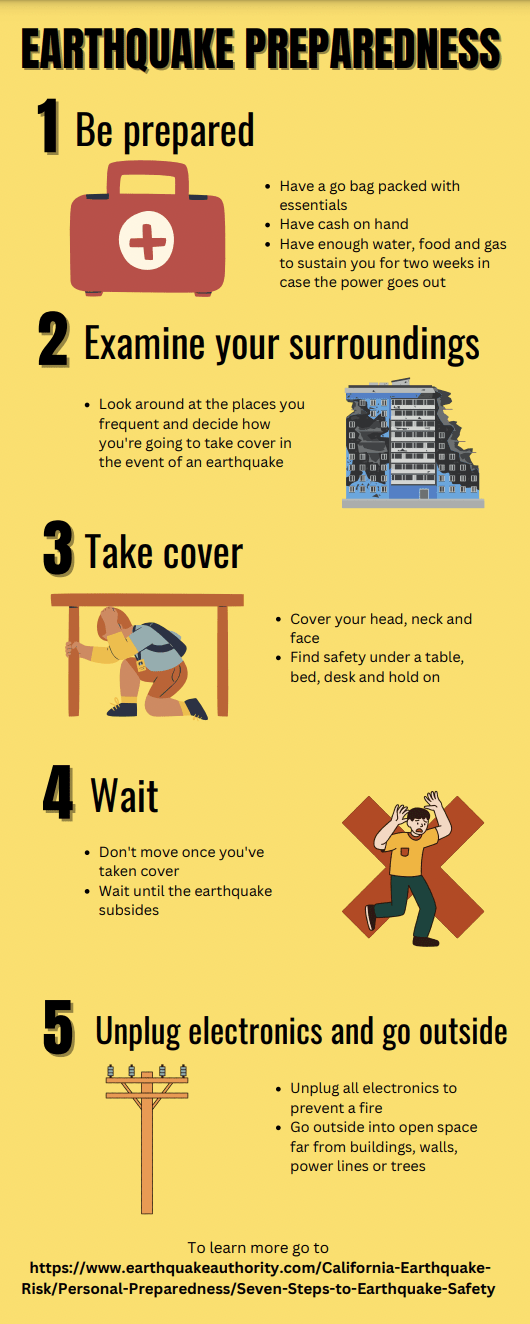 Infographic by Millie Auchard
At the beach, Dueñas said not to wait until a tsunami warning sounds before retreating to safety after an earthquake. Many people in the 2011 Tōhoku earthquake and tsunami in Japan died because they waited for the tsunami siren that never went off, Dueñas said. Those who survived went inland to elevated locations, according to a Preparedness Ambassadors case study.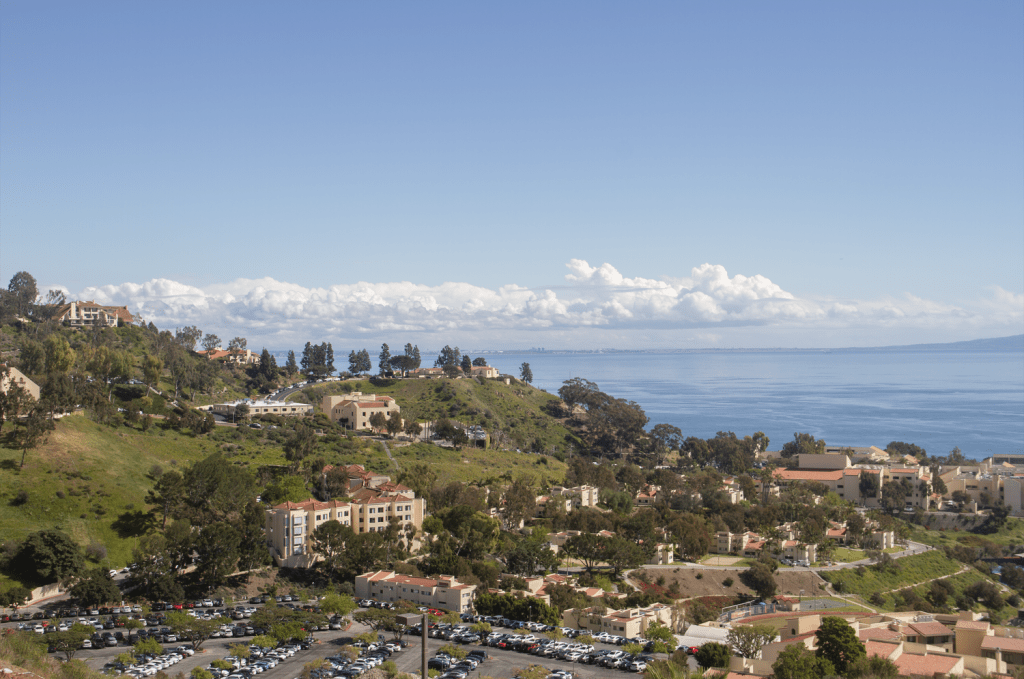 A view of the Pacific Ocean from the Drescher Campus Apartments on Feb. 23. Pepperdine's Malibu campus was built in the early 1970s when California introduced more earthquake safety codes, according to Optimum Seismic.
Earthquake Preparedness at Pepperdine
Pepperdine's location on a hillside offers the University protection from tsunamis, according to Pepperdine's Emergency Preparedness Guide. Main Campus sits at an elevation of 407 feet, according to Google Earth. One should find safety 100 feet above sea level in case of a tsunami, according to the Emergency Preparedness Guide.
Pepperdine built its Malibu Campus during a period of strict earthquake safety codes in California, the early 1970s, according to Optimum Seismic and the University's website.
The most devastating earthquakes leave cities without power, water or gas for weeks at a time, Dueñas said. To combat these potentialities, Dueñas said one should be prepared to be on their own for two to three weeks with enough cash, water, food, gas, clothing and more.
Dueñas said she strongly suggests leaving a small kit of emergency supplies in one's car. To determine what to put in the kit, Dueñas said to ask yourself what you would need to be comfortable if you were stuck in the middle of nowhere.
January Earthquake in Malibu
Ohio native and sophomore Amanda Gehringer said her midwest roots make her more familiar with tornadoes than earthquakes. At Pepperdine, Gehringer said she thought she would learn more about earthquake safety.
"I really did not get earthquake training," Gehringer said.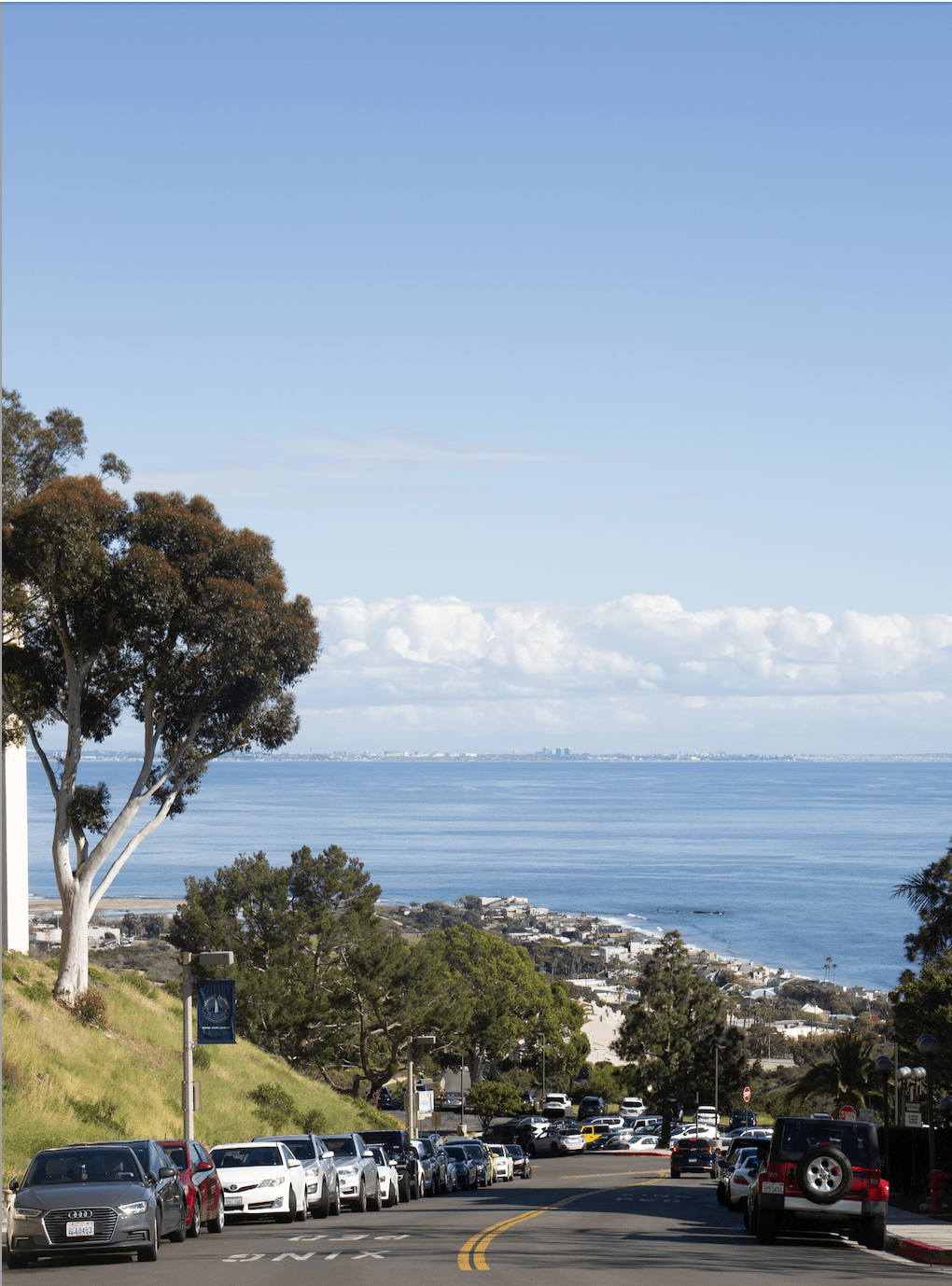 The view from Seaver Drive shows sunny skies Feb. 23. When a 4.2 magnitude earthquake struck near Pepperdine on Jan. 25, some Pepperdine students said they felt unprepared.
Gehringer said the 4.2 magnitude earthquake that struck Malibu on Jan. 25, only lasted a few seconds. If the earthquake had lasted longer, she said she would have grabbed her suitemate, and they would have figured out what to do together.
"I wish I would've, if it continued, been able to think on my feet and do my own thing for my own safety," Gehringer said.
Sophomore and California native Daniel Zhai said he had trouble thinking on his feet when the earthquake hit Malibu.
"I was just like, 'Oh, Earthquake,'" Zhai said. "And then I just sat there."
What Pepperdine Does to Help
Pepperdine offers earthquake training during annual Housing and Residence Life training sessions for Resident Directors, Resident Advisors and Spiritual Life Advisors, Director of Emergency Services Jonathan Weber wrote in a March 8 email to the Graphic.
Weber wrote the University then asks RDs, RAs and SLAs to share their emergency preparedness knowledge with their residents. The University also offers earthquake training at New Student Orientations and New Employee Orientations, Weber wrote.
Gehringer and Zhai said they don't remember receiving earthquake training from the University during their time at Pepperdine.
Weber wrote the EOC also offers earthquake safety information on their website, which includes suggestions on how to prepare for and respond to earthquakes.
"They [the University] need to advertise [earthquake safety information] more — that they have that information," Gehringer said.
Emergency Services will take Gehringer's comment into consideration, Weber wrote in a March 16 follow-up email to the Graphic.
___________________
Follow the Graphic on Twitter: @PeppGraphic
Email Millie Auchard: melissa.auchard@pepperdine.edu