Photos by Ashley Chavez
Darren Chapman has been waiting to move into housing since 2015. He sleeps in his car every night.
Chapman relies on food stamps and disability checks to get through each month. He showers in a hotel room the few times he can afford one. His Jack Russell Terrier, Daizy Ma, is well-fed and well-loved. This is Chapman's life, and he said he does what he can to make it work.
"I see the sunset and wake up and see the sunrise," Chapman said. "I don't mind, I've got my dog as my best friend. There's nothing more you can really ask for."
Chapman is just one of the many people who attend the weekly meals put on by the local Malibu religious groups. Our Lady of Malibu, United Methodist Church, Malibu Presbyterian, St. Aidan's Episcopal and Malibu Jewish Center are a few of the communities that contribute to the weekly meals by either hosting, volunteering or providing food, volunteer Ellen Cerniglia said.
Cerniglia said she has been a longtime volunteer at the weekly meals, is a member of the Community Assistance and Resource Team (CART) and attends Our Lady of Malibu. CART partners with the churches to help coordinate the meals and provide resources for Malibu's homeless community.
The Meals Stop
The weekly meals have been going on for over a decade, longtime volunteer Danny Shea said. However, around six months ago, the city of Malibu requested that the dinners to stop. Church and community volunteers used to prepare all of the food in a potluck style and hosted the Monday night dinners at United Methodist Church.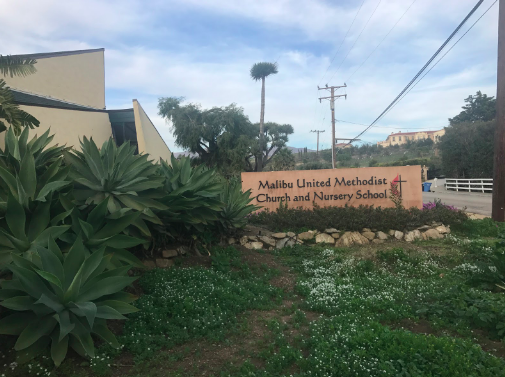 "Back when we used to be here [before the dinners were asked to stop] there were a lot of [homeless] people showing up and people in the community started to get worried," Cerniglia said.
Malibu residents complained to the city of foot traffic and an influx of homeless residents from Santa Monica, Cerniglia said. Malibu began to look into these complaints and decided the best course of action was to end the dinners.
"The city was getting complaints, the Malibu [Lost Hills] Sheriff's Department was getting complaints, and they had to 'do something,'" volunteer Carol Moss said. "There was really nothing they could do but stop the dinners."
After a six-month hiatus, the dinners were brought back to the Malibu Courthouse around October, Cerniglia said. However, the meals there were brought to a halt because of complications and legalities with the preparation of dinners, along with the destruction and evacuation from the Woolsey Fire.
In January, the meals were back to their old schedule and now Monday night dinners are being hosted at the United Methodist Church once again. Cerniglia said a security guard sits outside of the building – hiring him was a requirement to appease the city of Malibu and ease their worries over the gathering. He said it is good to start reestablishing a schedule and consistent locations so the homeless community can know when to expect their meals.
The current schedule consists of Monday night dinners hosted by volunteers from several different groups, Tuesday and Friday lunches outside the Malibu Public Library with Rev. Paul Elder of St. Aidan's Episcopal and Wednesday dinners on Zuma Beach hosted by Malibu United Methodist. All of the Malibu religious groups will have a chance to contribute or host, as a more regular schedule is being solidified after the break.
Community Assistance and Resource Team (CART)
Carol Moss is a grandmotherly woman tasked with one goal: to better the lives of Malibu's homeless community. Moss created CART four years ago to work with the homeless, provide them with community and work together to better their lives. She works closely with the local religious groups to ensure the weekly meals are occurring and needs are being met.
Moss explained the city's thought process behind the initial cancellations of the dinners. There used to be two consecutive dinners which would result in a large number of homeless people spending the night. Breaking up the days that provide dinner helped to prevent this issue, Moss said.
"People are so hungry, it's basic," Moss said. "Let them know they're cared for, respected, give them a little community and TLC."
In addition to food, CART will provide sleeping bags and other basic resources for the homeless community. Twice annually there is an eye clinic, and once a year the Homeless Connect Day, where showers, haircuts and DMV consultations are available.
Moss is trying to put together an art exhibit made by members of the homeless community, which will include a forum. She said she hopes this forum can help alleviate some of the concerns that the community has over the church-provided meals.
Rev. Paul Elder Provides Twice-Weekly Lunches
Elder takes it upon himself, on behalf of St. Aidan's Episcopal Church, to provide lunches to the homeless community outside of the Malibu Public Library on Tuesdays and Fridays. Elder and his volunteers also give out basic toiletries and sleeping bags.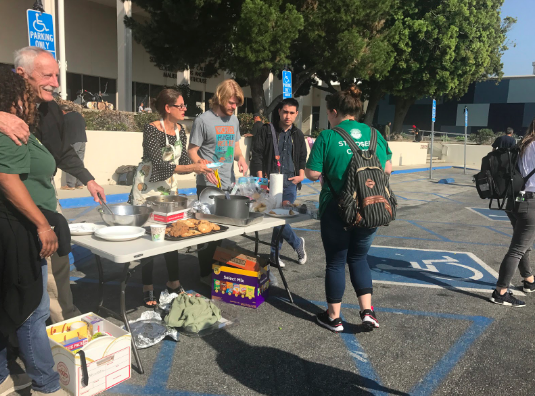 This lunch program has been going on for years and was continued throughout the ban on the dinner meals, Elder said. One volunteer said there were once 180 homeless in Malibu, including those living in cars and RVs, and that number has since been reduced to 140. There are social work representatives offering their resources, in addition to church members, present at these twice-weekly lunches.
The dinners are here to stay
The Malibu dinners are getting back on a regular routine and the homeless community said they are noticing the efforts. Last week there were only two people at the Monday dinner, and this week there were over fifteen, Cerniglia said.
"Some people don't understand until you get something taken from you completely … and you can't have it back," Chapman said. "You need to start fresh somewhere."
__________________________________
Follow the Graphic on Twitter: @PeppGraphic