Package ran live Feb. 7, for NewsWaves 32
The California Coastal Commission and the L.A. County Board of Supervisors remain invested in the proposition of low-impact camping in the Santa Monica Mountains — a move the Malibu City Council is not in favor of, Mayor Bruce Silverstein said.
The debate has been ongoing since 2019, when the Council submitted its first letter of opposition to the County. The Council wrote three letters in total, which stated letting individuals camp in a high-fire zone was dangerous, according to the letters.
"There's plenty of other areas in California that aren't very high fire hazard severity zones where people can go camp," Silverstein said.
Defining Low-Impact Camping
Low-impact camping is land designed for carry-in, carry-out camping — allowing campers to walk from ADA compliant drop off areas, trails or associated parking lots, according to a Nov. 15 Santa Monica Mountains Local Coastal Program Amendment.
Low-impact camping does not damage or change the land, and everything the camper brings in they need to bring back out, according to Essortment.
"This low-impact camping truly is a hike-in, hike-out, bring everything you need in your backpack and leave no trace," Director of Regional Planning Amy Bodek said in an April 19 L.A. County Board of Supervisors meeting.
Low-impact campgrounds do not have fire-protective measures, such as rules about no camping on fire red flag days — days with extreme fire risks — campsite inspections and no cooking facilities, the Council wrote in a Jan. 20 letter to the CCC.
The Mountains Recreation and Conservation Authority previously looked at adding low-impact campgrounds to Malibu Bluffs Park and Ramirez Canyon Park, according to past Malibu Times reporting.
"Right now, you're just allowed to hike there; you're not allowed to camp there," Silverstein said. "So it [low-impact campgrounds] will be an increase in what you're allowed to do."
Campgrounds in Malibu, including Malibu Creek State Park and Topanga Canyon Campground, are not low-impact campgrounds — they are designed for large tents and RVs, Bodek said, and the California Department of Parks and Recreation supervise them.
Concerns with Low-Impact Campgrounds
Cal Fire designated Malibu as a "very high fire hazard severity zone," according to Cal Fire, based on factors including fire history, natural vegetation, blowing embers, terrain and fire weather.
"That means that it can easily go up in smoke anytime," Silverstein said. "And it's uncontrollable when that happens, as we all know."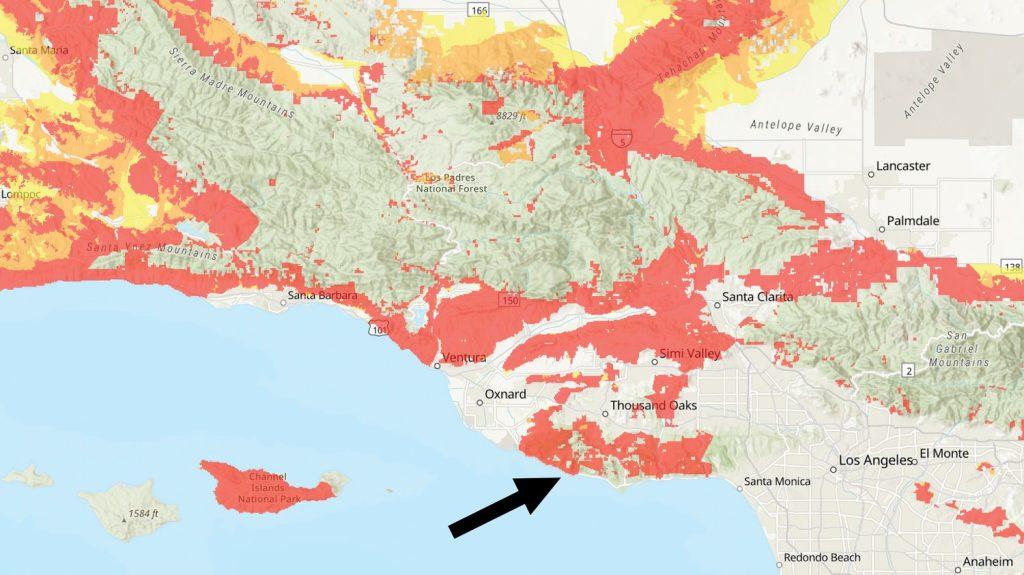 The CCC's plan for low-impact camping would allow campers to camp on red flag days, not require inspections and allow "fireproof" cooking stations.
The plan also does not follow L.A. County's guidelines on environmental protections — namely, allowing low-impact campers to camp within 50 feet of a creek or stream rather than the 100 feet the County suggests.
"We think it is irresponsible and short sighted for the Board of Supervisors and the Coastal Commission to be allowing increased usage of that area, especially camping," Silverstein said.
History of the Issue
Low-impact camping has been a back-and-forth issue since 2014 between the CCC and the L.A. County Board of Supervisors, according to the Santa Monica Mountains Local Coastal Program Amendment.
The Council wrote their first letter May 22, 2019, and stated low-impact camping was more dangerous than regular camping. The Council called on the Board of Supervisors and the CCC to change their language regarding regulations for low-impact camping.
The Council's second letter April 15, called on the Board of Supervisors to reject the CCC's most recent modifications to the Local Coastal Plan — modifications that triggered fire risk, according to the letter.
"I have a very hard time picturing anyone on this Council being in favor of what the County wants to do," previous Councilmember Karen Farer said in an April 11 Malibu City Council meeting in response to the CCC's modifications.
Despite the Council's letters, the CCC approved the County's modifications July 7, and the County accepted the CCC's modifications Nov. 15 — reaching an agreement, according to the Feb. 8 CCC Staff Report.
The Council then wrote their third letter Jan. 20, and stated the approved modifications to the Local Coastal Plan will greatly increase wildfires in Malibu due to the lack of fire protection, namely allowance of camping on red flag days and no supervision.
"They don't care what we have to say, they're going to approve it," Silverstein said.
CCC's Executive Director John Ainsworth reported Feb. 8, the CCC determined the County's actions to approve the modifications were legally adequate.
While the Feb. 8 meeting report was simply a report, not a decision, the Council wrote in their Jan. 20 letter they still remain concerned about low-impact camping and said they will work with the Board and the CCC to keep Malibu's residents and visitors safe.
"The City remains willing to work with the Commission and the County to resolve these concerns and reach a mutually acceptable solution," the Council wrote in their Jan. 20 letter.
_________________________________
Follow the Graphic on Twitter: @PeppGraphic
Contact Abby Wilt via Twitter (@abby_wilt) or by email: abby.wilt@pepperdine.edu