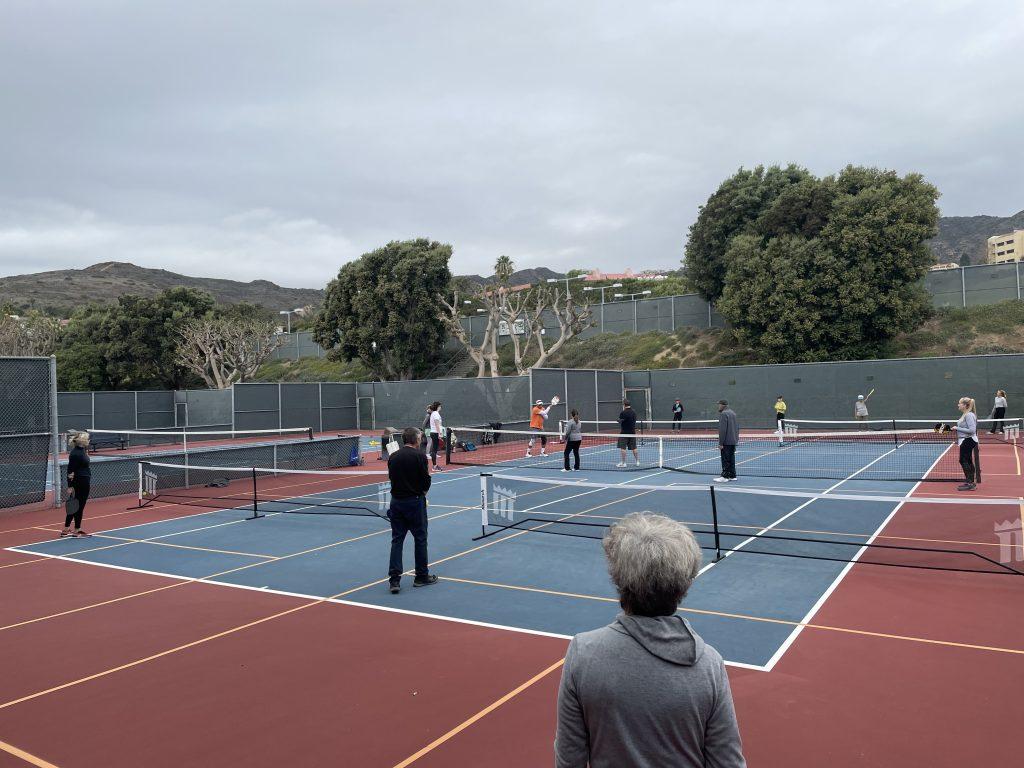 Malibu residents play Pickleball at Pepperdine campus in December 2022. Alongside student groups, Malibu resident Pickleball clinics have been on the rise. Photo courtesy of Tucker Fortson
Pickleball has been a recent phenomenon in both Pepperdine and the United States. There has been a surge of interest in the new sport, with 130 new affiliated Pickleball locations per month, according to USA Pickleball.
Pickleball is becoming more relevant in the American sports scene, said Tucker Fortson, Community Engagement and Development Officer at Pepperdine.
"I think, nationwide, it's gonna still continue to grow," Fortson said. "I just helped out with my first professional Pickleball tournament in Mesa, Arizona, at this giant 41-court facility, and at the finals of this professional Pickleball tournament, there were 2,000 people in the stands."
While Fortson said that more people at Pepperdine have been playing Pickleball, COVID-19 played a major part in popularizing the sport. Fortson said he viewed this increase as a chance to make something similar happen at Pepperdine.
"2020 was when it really started to kick off," Fortson said. "When I first got hired on here, I knew that I wanted to do something with Pickleball in some capacity. I saw such a great opportunity to engage the students, engage the Malibu community."
Julian Baker, coordinator of Recreational Sports at Campus Recreation, said Campus Recreation saw a lot of potential in the project.
"We figured there was a lot of different students and student groups that could benefit from added programming in that realm," Baker said. "We initially started with a fundraiser tournament in the fall semester this year, and that was our first big programming [event]."
Due to the rising popularity, Campus Recreation currently offers open play sessions and equipment rentals for Pickleball.
Alongside the administration, students have also sought to build up the Pickleball community from the ground up. Recently, students came together and created the Racquet Club in the hopes that the love of Pickleball and other racquet-based sports can grow.
"The [Racquet] club officially began this semester," Baker said. "They started with spring, although, the interest had been gathering all throughout the fall semester. They were putting together an interest list and getting the back-end work set up to start off on the right foot as a new club."
As more infrastructure is growing at Pepperdine, the work of both administration and students has increased the interest in Pickleball on campus.
"The advice I give to anybody is just go out and try it," Fortson said. "Why not? Go out and hit a few."
___________
Follow the Graphic on Twitter: @PeppGraphic
Contact Joe Heinemann via email: joe.heinemann@pepperdine.edu