History Professor Stewart Davenport and his wife, Mary, pose with their 4-year-old daughter, Shiloh. Photo by Megan Williams
It was early morning on July 11, 1958 when Virginia sheriffs took a couple into custody because they were in an interracial relationship, thus breaking the law.
Richard and Mildred Loving had been dating for a few years prior, but just five weeks before their arrest they decided to get married in Washington, D.C. — where marriage between two people of different races was legal.
"They asked Richard who was that woman he was sleeping with," Mildred Loving said in the HBO documentary "The Loving Story." "I say, 'I'm his wife' and the sheriff said, 'Not here you're not.'"
The Lovings fought the arrest all the way to the United States Supreme Court. On June 12, 1967 — nine years after their arrest — the judges deemed any laws banning interracial marriage unconstitutional, marking a monumental victory in the Civil Rights era.
Interracial relationships increasing
As of 2015, 10% of all married couples in the United States were in interracial relationships, and that number rose to 17% for all newlyweds, according to a 2017 Pew Research Center survey. Americans have become more accepting of interracial relationships, as 39% of adults agree that interracial marriage is good for society. Despite this, 9% believe it is a bad thing, according to the survey.
Allison Skinner, a psychology researcher at Northwestern University, tested the truth of these statistics in a 2018 study and found that most Americans possess implicit and explicit biases against interracial couples.
Communication Professor Jasmine Gray teaches a class on intercultural communication where students learn how to communicate and empathize with people of different backgrounds and identities.
"You can just imagine the generations of people that existed before the laws changed and the generations of people whose attitudes did not change even when the laws changed," Gray said.
Implicit and explicit bias can factor into why people don't enter interracial relationships, but for those that do, exposing one another to each other's cultures is the first step in building understanding. Gray said in order for a couple to learn about each other's backgrounds, they must have a firm understanding of their identity.
"It starts with you and being clear on who you are, what your values are, how those values are expressed through your culture and introducing [your partner] to those aspects [of your identity]," Gray said.
The best way to engage with each others' cultures and backgrounds, Gray said, is for a couple to create an environment within their relationship that fosters trust, vulnerability and patience. This can make space for couples to listen to one another, express curiosity, ask questions and learn about one another's backgrounds.
Navigating the personal dynamics
Senior Megan Strydom and her long-distance boyfriend Stephen Reynolds said one way they have navigated their cultural differences is by trying to put themselves in the other person's shoes in order to understand where they're coming from. They said this has prevented them from facing major challenges due to their racial differences.
Strydom, whose family hails from South Africa, is African American and from Virginia. Reynolds is white and from Colorado, but later moved to Virginia where he met Strydom. The pair have been dating for four-and-a-half years and met through their home church. Strydom said having the same religious beliefs helps them in working through differences they might face.
"It always comes back to what God wants us to do," Reynolds said. "So that's been a good common ground to have in those conversations because sometimes [they] can be pretty difficult topics."
Similarly, Kene Izuchukwu, Pepperdine alumnus and Men's Volleyball chaplain, and his girlfriend Valerie Posada said listening is key in understanding each others' cultural identities.
"I think it's forced us to be way more patient and mindful of our cultural differences," Izuchukwu wrote in an email. "We learned how to best communicate with each other and love each other through that."
Izuchukwu is Nigerian American and Posada is Salvadoran American. The couple have been dating for nine months and met at a church conference in San Diego in 2017.
The pair said being an interracial couple hasn't negatively affected their relationship and they haven't really taken the time to introduce one another to each other's cultures because they're both submerged into American culture rather than their parents' ethnic heritage.
"I think it affects us because it's who we are," Izuchukwu said. "But as far as external pressures, I don't feel it's affected us."
Couples overcome challenges and grow together
Gray said most people desire understanding and empathy within their relationships and for that reason, people might be hesitant toward entering an interracial relationship.
"You want to be with someone who can, if not understand what you experience, empathize with the challenges in your minority group," Gray said. "So, I think that's the biggest thing I've heard. People are not so unwilling to date outside their race, [but] are unwilling to date anyone who doesn't understand or try to understand where they're coming from."
For Mary Davenport, wife of History Professor Stewart Davenport, this was the mindset she had before meeting her husband. She said she was surprised when she found herself becoming interested in him romantically.
"I thought I would actually marry somebody who is Asian, just because I'm Asian," Mary Davenport said.
Mary Davenport is Filipino American from California, while Stewart Davenport is white from Alabama.
The couple met in 2005 at a Halloween party. One of Mary Davenport's friends showed an interest in Davenport, but he showed an interest in Mary instead. The pair dated, fell in love and got married two years later. They now have a 4-year-old daughter, Shiloh.
One challenge they faced at the beginning of their relationship occurred when Mary Davenport visited her husband's hometown of Birmingham, Alabama, for the first time. She said she was one of the only Asian people in the area and felt the judgment of the locals whenever the couple walked into a room together.
"It was the first time that I felt self-conscious because I was ethnic," Mary Davenport said.
Despite this, the couple said they don't feel race has played a huge role in their relationship and haven't experienced many obstacles because of it.
The Davenports said they've learned about each other's backgrounds through being around their families, eating cultural food and having conversations regarding each other's cultural experiences.
Gray said one benefit of being in an interracial relationship is the ability to understand perspectives and empathize with experiences outside one's own.
"Sometimes when you're dating within your race, you could accidentally be in an echo chamber where you're already hearing the same things you agree with," Gray said. "You're dealing with people who see the world similarly to you, and, as human beings, having challenges to our perspective and our worldview allows us to grow."
For Stewart Davenport, being a part of an interracial relationship has opened his eyes to the privileges afforded to him because he is white. He said being a father to a biracial child has allowed him to think about the limitations that can potentially be placed on his daughter because of her racial identity.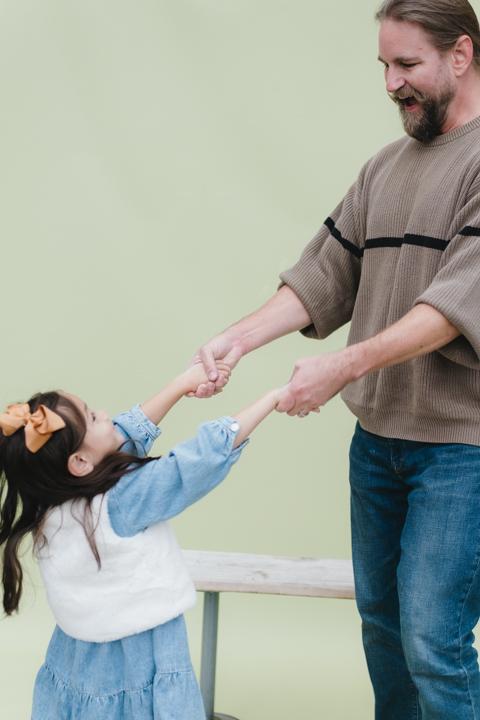 "It just kind of brought something up for me to start this understanding of a glass ceiling, or limitations, that are placed on people in the United States because of their gender, or because of their race, or because of their immigration status that I hadn't considered before," Stewart Davenport said.
As the couples reflected on their experience of being in an interracial relationship, they all said they've been able to move past any challenges through the love and empathy they have for each other. All couples expressed gratitude for their partner and for the fact that love brought them together.
"We were just thinking about how a couple of decades ago this wouldn't have been possible [because] it was illegal to marry someone of a different race," Posada said. "We were thinking about that and it's just crazy that we've come such a long way."
____________________
Email Yamillah Hurtado: yamillah.hurtado@pepperdine.edu
Follow Currents Magazine on Twitter: @PeppCurrents and Instagram: @currentsmagazine