The President's Briefing will take place Wednesday, Feb. 2 at 8:45 a.m. View the meeting here. See live updates below. Refresh page for most recent update.
9:39: Assurance Associate Paige Kohne closes the briefing in prayer.
9:38: Taylor explains the START and EXIT forms for anyone who has tested positive for COVID-19. The individual will fill out the START and EXIT forms in relation to their isolation.
9:34: Chief Business Officer Nicolle Taylor begins the Q&A portion of the briefing.
Q: Is the rate of spread of either variants affected by whether a person is vaccinated or not?
A: The science is mixed there are studies showing that vaccinations are not slowing the spread.
Q: Does Pepperdine weekly screening testing or contact tracing show which variant a person has tested positive with?
A: No, contract tracing is not doing any investigative research on positive test results.
9:32: Gash discusses upcoming athletic games, the Dance in Flight performance and the next installment of the Presidential Speakers Series.
9:30: Gash talks about Black History Month and shares the University is doing to celebrate. Gash encourages community members to visit the Kinsey Collection at the Weisman Museum of Art, featuring art, photographs, rare books, letters and manuscripts that chronicle the contributions of African Americans over the last five centuries.
9:29: Gash provides the University Update for the community.
9:25: Phillips said the University will be adding an "active cases" section on the COVID-19 Dashboard, where the University looks at how many active cases there are in the community. Right now, there are 95 active cases in isolation. The University has 146 people in isolation and quarantine, due to contract tracing.
9:24: Phillips said the University averaged a 6.3% positivity rate in January. Now, the University is averaging a 1.45% positivity rate.
9:23: Phillips said LA County averaged around 400 cases per one hundred thousand residents per day in January. Now, LA County is averaging around 200 cases per one hundred thousand residents.
9:22: Chief Operating Officer Phil Phillips provides a Pepperdine community COVID update.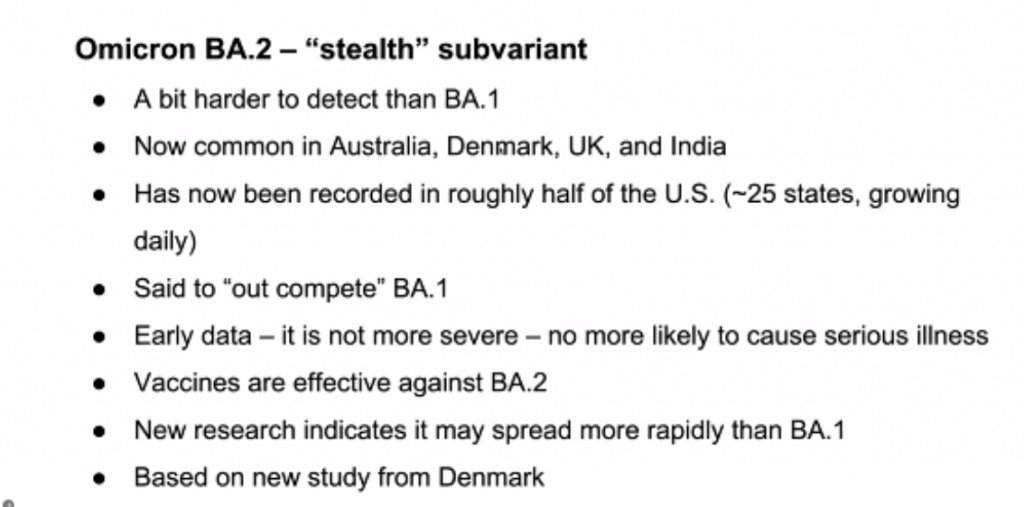 9:19: Kats explains Omicron BA.2, a stealth subvariant of COVID-19.
9:18: Vice Provost Lee Kats provides a science update for the community.
9:11: Gash introduces Provost Jay Brewster, who begins an interview with Christopher Worley, professor of Organizational Theory and Management at Graziadio Business School.
9:09: Cox speaks about the new Uganda summer program. Cox said the purpose of the program is "faith and advocacy" and it will take place from June 6 to July 2.
9:01: Gash interviews Deng about leaving Sudan, living in a refugee camp in Kenya and coming to America. Deng said Pepperdine basketball coach Lorenzo Romar was instrumental in inviting Deng to come to Pepperdine. Deng is studying economics and is planning to participate in the new Uganda summer International Program in summer 2022.
8:59: President Gash introduces junior Majok Deng and invites him to share his story with the community.
8:58: President Jim Gash thanks Ku for leading worship and said this briefing will showcase the "interesting nature" of Pepperdine's students.
8:54: Worship chaplain Ko Ku leads the community in worship.
8:47: Associate dean of International Programs Ron Cox leads a devotional to begin the briefing.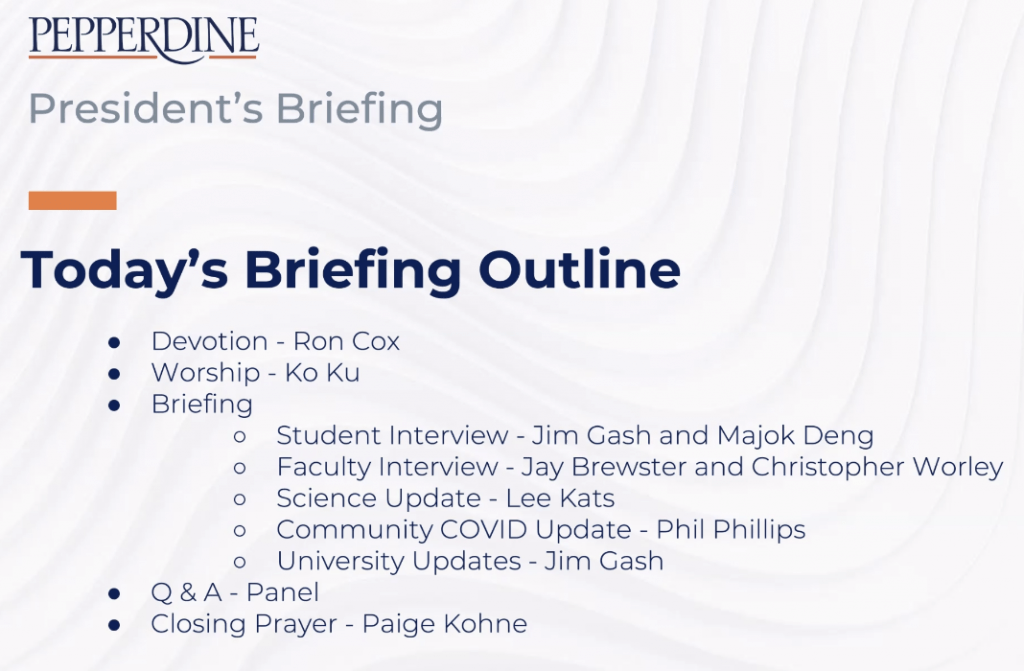 8:45: President Jim Gash welcomes Pepperdine students, faculty and staff to the briefing.
–––––––––––––––––––––
Follow the Graphic on Twitter: @PeppGraphic
Contact Abby Wilt via Twitter (@abby_wilt) or by email: abby.wilt@pepperdine.edu