The President's Briefing will take place Monday, Feb. 22 at 8:45 a.m. PST. See live updates below.
9:48 – Gash closes the Briefing in prayer. "God bless you, stay safe and travel back to us soon." 
9:47 – The University will provide a complete memorandum with details regarding a partial reopening once Pepperdine receives official guidance.
9:47 – International Programs are still planned for the summer and fall, with updates to come in March.
9:46 – There will be another President's Briefing next Wednesday, March 4 and the University will send out another community email March 1, as stated in the University's COVID-19 reopening communication outline.
9:41 – Question and answer continues
HPC and ventilation system update.

All ventilation programming has been adjusted to maximize ventilation systems in accordance with the CDC, Phillips said.

What is the schedule for campus allowances, any specific date or time restrictions?

At the moment, the library is considering a 9 a.m. to 5 p.m. schedule, but official scheduling will be set following the official guidance still to come.

What is the cleaning schedule for high-touch systems in indoor spaces, like the library?

The University will provide a special tool to students to help open doors and touch objects without using their hands. Complete cleaning schedules and details can be viewed on the Pepperdine Restoration plan. 

What is the masking requirement and will Pepperdine provide masks?

Students wanting a mask can call the COVID-19 hotline. Double masks are not required, per CDC requirements, Phillips said. "Remember wearing a mask includes your nose," Gash said.
9:40 – "[LA] County Public Health has been anticipating a full, complete opening in the fall semester," Gash said. "Whether it happens before then, is to be determined."
9:40 – Residential living remains closed to the majority of students, only those with hardship exemptions or athletes are allowed to live on campus.
9:22 – The Briefing opens for question and answers
Will there be a reservation system for the library and outdoor recreation facilities?

For the library – yes, up to a couple weeks in advance with 220 seats available in Payson and 83 seats for the law library. For outdoor recreation – not at this time.

Will study rooms be open in the library?

Yes – but one person per study room at at time

Will Starbucks reopen? No

Are the 10 students participating in the study sessions needing to be related to one another or in the same household?

No – so long as students are following social distancing and masking regulations, any group of 10 is allowed. Others can study in smaller groups or alone as well. 

Can residential students living on Malibu campus use these allowances?

Yes

Will indoor gym facilities reopen?

Not at this time

How can students learn how to use the Daily Wellness Check?

The Public Relations office will share more information via email about the Daily Wellness Check and how to use it. Students will begin receiving DWC emails after Pepperdine receives the official county guidance

Is the Daily Wellness Check required if you are only using outdoor recreation facilities?

Yes

Are there any other academic groups or activities that will be allowed other than the ones listed (film, music, art, etc.)?

At this time, the University does not expect other guidance

Are other community members allowed on campus with the new allowances?

Not at this time – only registered students, faculty and staff.

Will other services be offered in the library, such as checking out books?

The library reservations will be organized to those wanting to check out books, browsing the stacks or reserving a seat. Online book checkout services will remain in place for those wanting to pick up books.

Do quarantine travel restrictions still apply for those coming from outside of California?

The

LA County quarantine requirement

is still in affect, and those arriving from outside of LA County will need to follow those requirements.

Will digital ID cards be available through any of the Pepperdine apps?

Pepperdine does not have a digital ID program but for those needing a new ID, such as first-year or transfer students, Student Affairs will help students receive an ID.

Where will students be allowed to park?

The main lot is reserved for faculty and staff but all other parking will be open to students. Old parking permits will be allowed (2019-2020), Public Safety will provide new parking passes to students without one. 

Is the outdoor fitness center near Drescher open to students, faculty and staff?

This facility is only open to athletes, per NCAA and state guidance.
9:21 – Connie Horton, vice president for Student Affairs, reiterated that off-campus students are not allowed into residential living areas.
9:20 – These allowances do not affect students living on-campus, said Nicolle Taylor, vice president and Chief Business Officer. These allowances are only open for students coming from off-campus, Gash said.
9:18 – The Drescher patio and the Caruso School of Law library will also reopen, the law school library will reopen March 1 at the earliest.
9:17 – This particular order does not affect graduation, Gash said. "It is certainly a step in the right direction, a big step in the right direction." Graduation is still scheduled for May, no further guidance has been given by the University or the county.
9:16- The John Tyler and Seaver Drive booths will be open for students hopefully this week, Gash said.
9:15 – Dining services will be available for grab-and-go dining, Gash said. Students can eat outdoors in accordance with LA County guidelines.
9:14 – Residential living is not reopening, nor in-person classes at this time.
9:13 – Students who are on-campus, wearing masks and socially distanced are able to watch outdoor sporting events such as women's soccer, tennis or baseball, Gash said.
9:13 – Under the new guidance and regulations, no students, faculty or staff are required to come back to campus, Gash said.
9:12 – Gash demonstrates the "Green Dot" program, and reiterates that students need to fill out the DWC every day.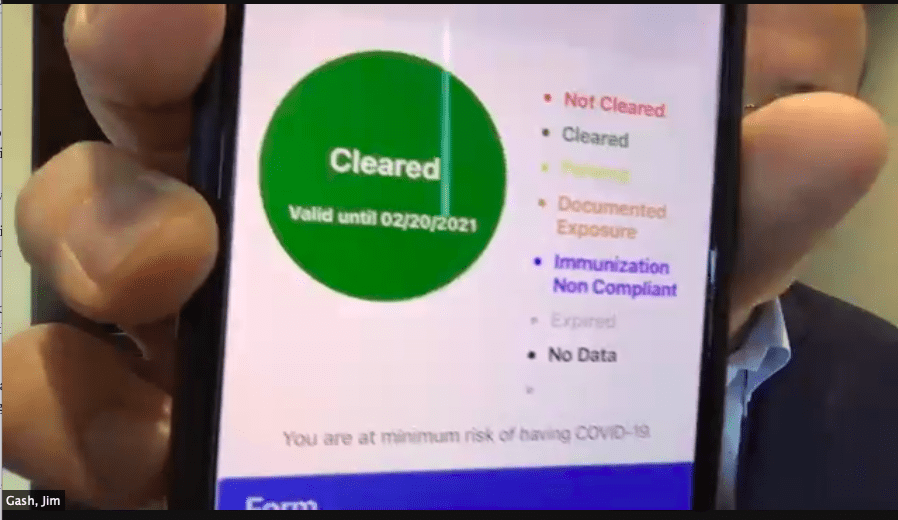 9:11 – To gain access to the library, students will use an app to make reservations and will swipe in with their campus ID card, Gash said.
9:09 – Gash reiterates that the University will be similar to other socially distanced settings, like a grocery store, meaning hugging or other gatherings will not be allowed. Socially distancing and masks will be required around campus.
9:08 – "We've been ready for this, we're eager for this," Gash said. Gash clarifies that the University does not have specifics from the county, and is only reiterating the proposed guidance from the county.
9:06 – "This is not a time for all employees to return to campus," Phillips said. Employees performing remote work will continue to do so unless they need access to campus and have approval from their supervisor. 
9:05 – Students and faculty will utilize "the Green Dot System," or Daily Wellness Check to gain access to campus, Phillips said, as well as student ID cards. New students without an ID will still be able to access campus and can get an ID card.
9:01 – The proposed county guidance for registered Pepperdine students and faculty is expected to be
Outdoor, in-person, study support sessions will be available for students in groups up to 10 people (following social distancing)

Outdoor sports facilities like the track, lower tennis court and other fields will reopen for non-contact sports

Payson will open up to 25% capacity, reservations will be necessary in advance

Art design, theatre art studios and music practice rooms will be allowed with limited numbers of four or less people, not including activities without a mask (such as using a wind instrument)

Film, video and music productions for academic development for those eligible 
9:00 – LA County Health Department promised Pepperdine an official health order on Friday, but the University has yet to receive official guidance from the county.
8:58 – LA County approved the Student Health Center as a vaccine site a few weeks ago, but still has not received information about how many vaccines and when the vaccines will be received, Phillips said, so the University is exploring other partnerships with hospitals and other clinical locations. 
8:56 – Vaccine distribution will begin March 1 for essential workers and educators, Phillips said. College and university employees will be eligible for the vaccine at that time, Phillips said.
8:56 – Schools, like high schools, elementary schools and possibly universities, may be able to reopen in the red tier, Phillips said, allowing for in-person classes, labs and studio arts.
8:53 – Phil Phillips, Senior Vice President for Administration and Chief Operating Officer, gives an update on LA county tier guidance. LA county is still in the widespread purple tier, but with an adjusted case rate, may soon move into the substantial red tier.
8:52 – Kendra Killpatrick opens the briefing in prayer
8:50 – Vice Provost Lee Kats provides a science update, with COVID-19 case data reported to the CDC for New Jersey, New York City, California Texas and Florida. Increased vaccination, mask-use, social distancing and more outdoor recreation (versus indoor gathering) have contributed to decreased case numbers, Kats said.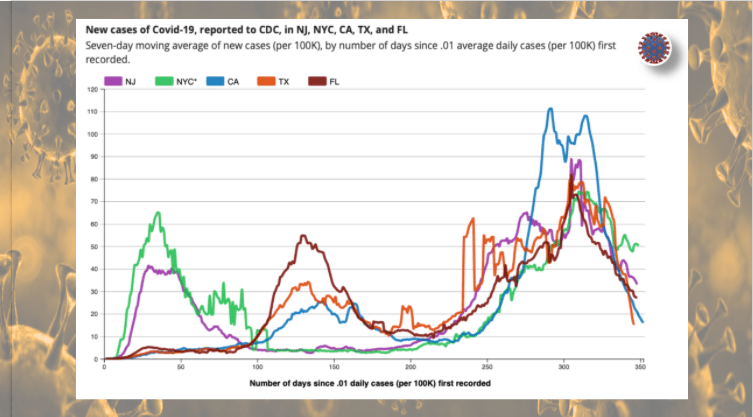 8:47 – Due to COVID-19 case level decline and vaccination increases across the county and in LA County, a reopening of Malibu campus is more likely, Gash said. The University received communication from the county last week, expecting guidance later today for a limited opening later this week. 
8:46 – President Gash provides a welcome and the Briefing outline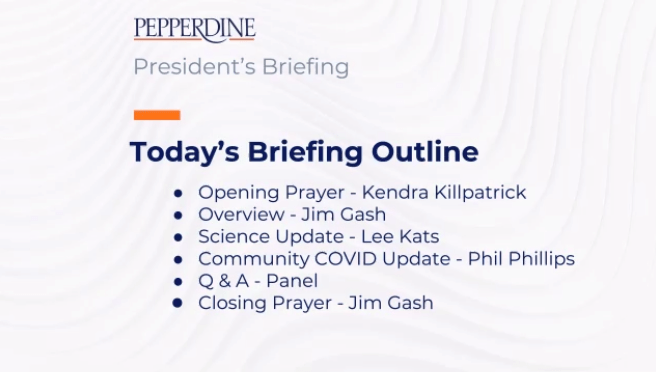 8:45 – President Jim Gash greets community members as they arrive to the briefing.