Photos by Kaelin Mendez
Things got jazzy at the Los Angeles County Museum of Art last Friday. An audience gathered in front of a stage by the iconic LACMA lanterns on Wilshire Boulevard to hear renowned Colombian woodwind player Justo Almario lead a quartet.
Some people who stood near the stage danced and tapped their feet to the beat, while others sat, nodded along to the music and applauded the soloists. The audience overflowed the main seating area and stretched out onto the lawn near Sixth Street.
LA resident Jessica Smith said she attends the concert every Friday night to decompress from the week.
"I just come to enjoy the outdoors, the vibe," Smith said. "Live music is such a healing force. This is a great place to experience it."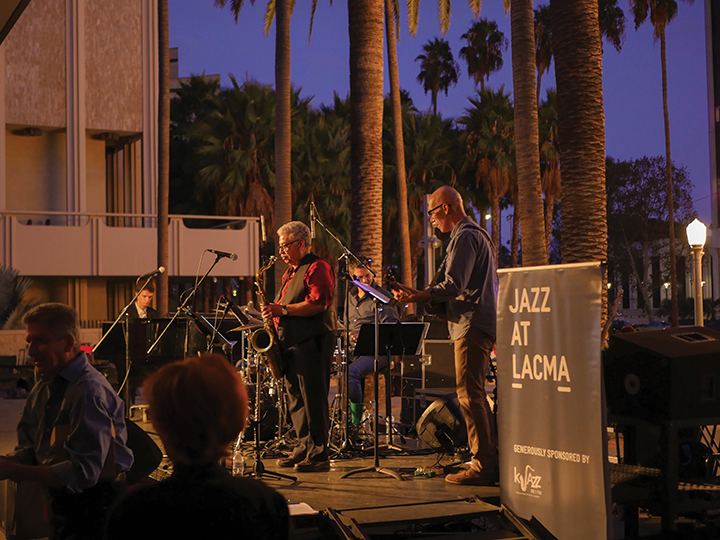 The band played two sets about an hour each, with a "Jazz Minute" in between for younger members of the audience. The Jazz Minute featured a different jazz musician every week. This week highlighted the late Mongo Santamaria, a Cuban musician known for fusing Afro-Cuban rhythms with American jazz and R&B. Santamaria was also one of Almario's mentors.
Almario engaged the audience, who sang along with him and danced while he wasn't playing. He lifted his saxophone in the air on high notes and crescendos. He switched to the flute during the second set. Movement drove the whole band's performance. Each member tapped to the beat with their entire body, smiling and swaying.
Smith said she saw Almario play before at a smaller venue and knew she couldn't miss this performance.
"I like his bearing, I like his professionalism and how he longs to pass the torch to the next generation," she said.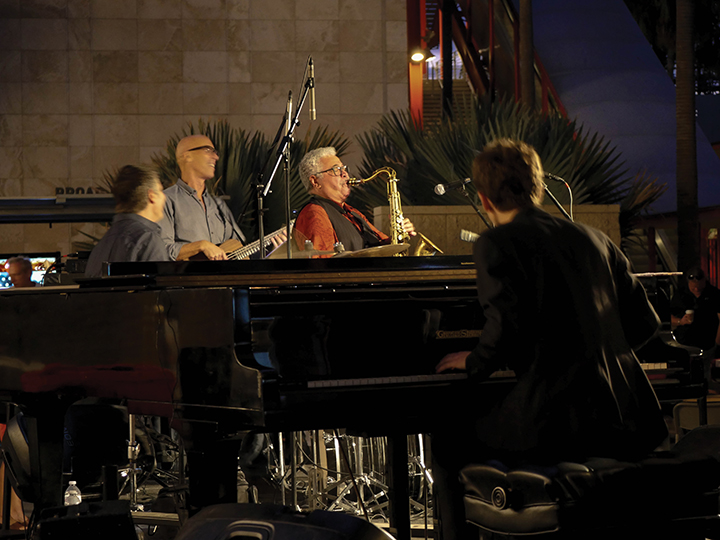 After the performance, Almario shook hands with individuals near the stage and talked with some of the younger audience members. Almario is a professor at the Herb Alpert School of Music at UCLA.
Smith said the concert was always worth the long drive.
"It's a beautiful outing, it's budget friendly and you get to hear great music," she said. "If you're in that area, make it part of your loop."
The band concluded to a standing ovation.
"This is what God wanted, for us to all get together and enjoy ourselves," Smith said.
Different jazz artists will perform every Friday at 6 p.m. at LACMA through the end of November. Next Friday, Sept. 22 will feature the Matthew Gordy JazzTonite Sextet. A list of all upcoming musicians can be found on the LACMA website. Admission is always free.
________________
Follow Lidia Bayne on Twitter: @lidiabayne