Photos Courtesy of Kira Brown
Eta Theta Tau won this year's Songfest Sweepstakes Award, the recognition awarded to the group with the best overall music, choreography, sets and costumes, theme and enthusiasm.
Songfest ran from Wednesday, March 14 to Saturday, March 17 at Smothers Theatre with this year's theme, "Lights, Camera, Songfest," dedicated to celebrating films from the past 100 years. The groups competed for the Sweepstakes Award, which was awarded to the best overall group — as it is every year — by a panel of judges composed of entertainment professionals and Pepperdine staff.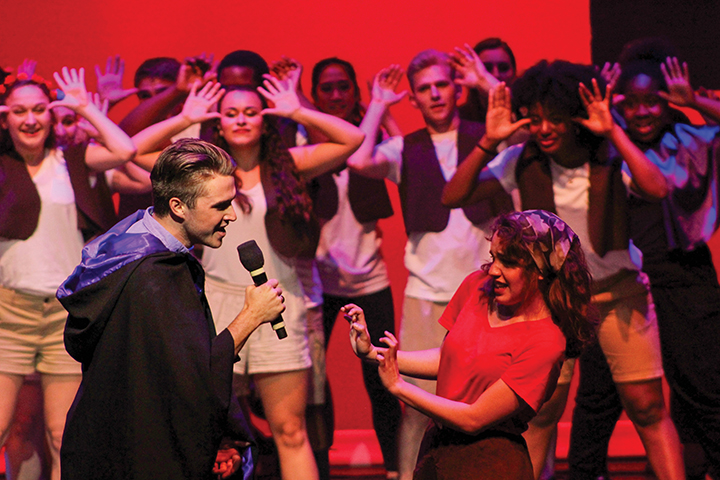 "We had such an amazing leadership team this year and it was really great to see their work pay off," said junior Shyann Ford from Eta Theta Tau. "We all became best friends so [winning] was just the icing on the cake."
This tribute to the silver screen marked Songfest's 46th anniversary, and it included performances from six groups: Sigma Phi Epsilon Alpha Phi with "Shrek," Gamma Ghkkkkket Sigma and Friends with "The Wizard of Oz," Eta Theta Tau with "The Princess Bride," Alpha Beta Delta and Company with "Dirty Dancing," and a non-competing alumni/staff/faculty group with "Willy Wonka and the Chocolate Factory."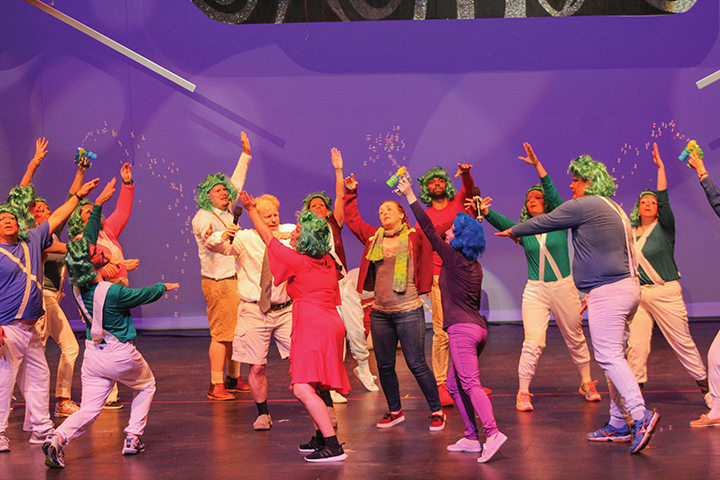 "It's just incredible how everybody comes together — the musicians, the whole band, the tech, the staff, the crew," Alumna Nina Sprenger, member of the alumni/faculty/staff group, said. "It is exhausting from the outskirts, but most great things in life require hard work."
Each group chose a movie and created a performance including an original script, original costumes and set-design based on their theme choice. Groups rehearsed for two full weeks for two hours a night from 10 p.m. to midnight.
"I really enjoyed how the theme was movies this year," said Senior Lauren Young, member of Alpha Beta Delta and Company. "I thought it was cool that everyone could watch and see their favorite movies [being portrayed] on the stage. I love Dirty Dancing, so it was really fun to learn some of the dances they do in the movie. Especially 'Time of My Life.'"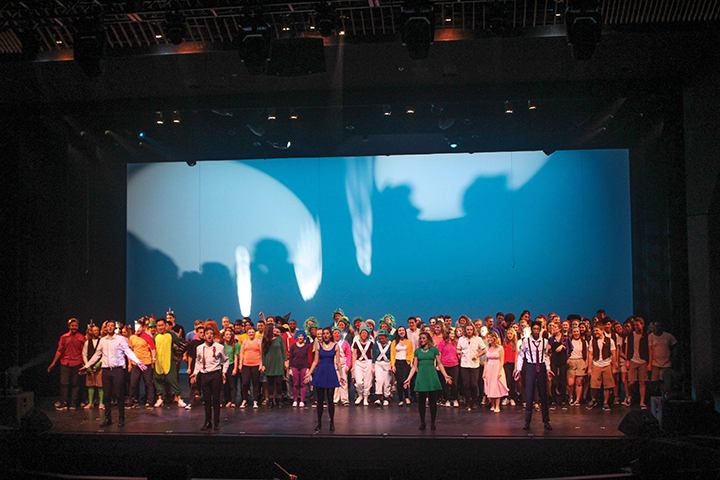 The rules of the competition required that each musical was 12 minutes in length, with a maximum of two-and-a-half minutes of dialogue, and that 75 percent of each performance included the entire group's cast. Each group had $500 to budget their expenses, and a random draw determined the order of the performances, the hosts said.
Songfest started in 1973, the same year Pepperdine's Malibu campus opened, and has been running ever since. Before performances were held at Smothers, students performed at the Waves Cafe and Firestone Fieldhouse. Although there were fewer competing groups than in past years, students said they were happy to see the return of the alumni/staff/faculty group this year.
"It's super cool to see the teachers and professors you see on campus on the stage," Senior Miles Ellis, one of the five hosts, said. "I thought they were absolutely unreal."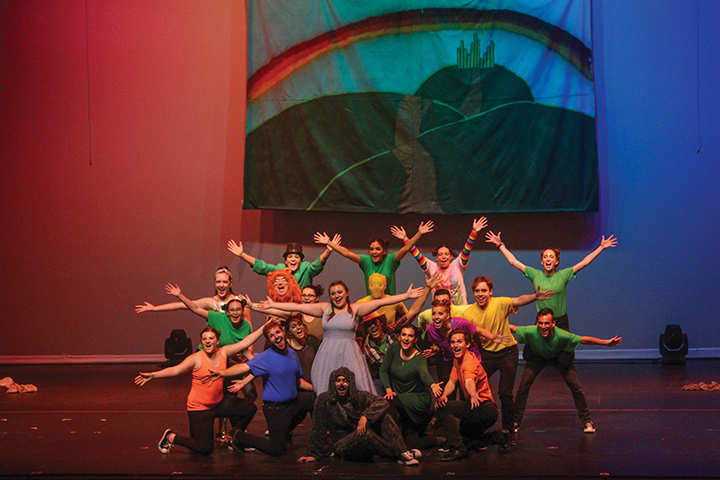 Ellis hosted this year's Songfest alongside Junior Cari Callen and Seniors Jared Evangelista, Lucas Hutchinson and Andrea Wigginton. Songfest alumni also attended the event and fondly recalled their own experiences.
"I love the show," Jenny Parmelee, five-time Songfest alumna and wife of Songfest Director and Seaver alumnus Sam Parmelee, said. "I come to multiple performances of Songfest every year."
Freshmen Taylor Carty and Araceli Chang, members of Eta Theta Tau, said they – like Ford – were ecstatic to win.
"It's worth it to get involved [in Songfest]," Carty said. "It's a lot of hours, but it's really fun and you meet a lot of cool people."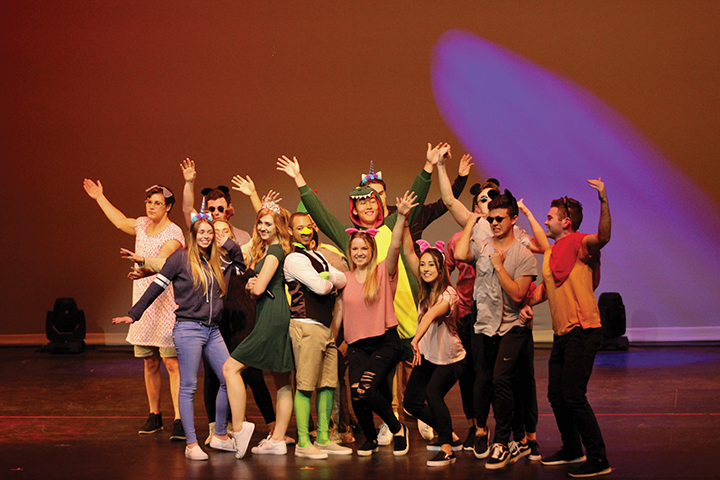 Ford also said she would encourage students from all walks of Pepperdine to get involved in Songfest.
"It was incredible to be so welcomed and so loved immediately," Ford said. "It's just the most enthusiastic, excited, energetic people you'll ever meet on campus – they all get in one room and we just have such a good time and you can tell there's nowhere else we would rather be."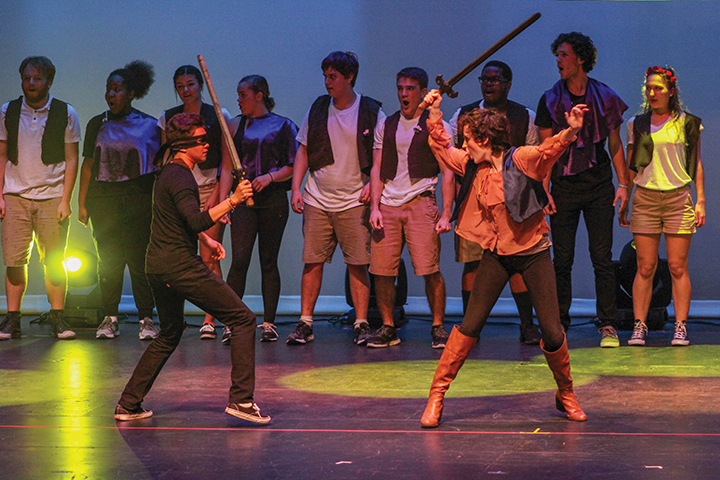 Young agreed and said that although her team didn't win, the Songfest experience is hardly about winning.
"Overall we were just really thankful for the experience," Young said. "We had a ton of fun doing [so] I think that's what it's all about."
To get involved in Songfest 2019, keep an eye on the Pepperdine Songfest website and stay tuned for host auditions in the Fall. You can also contact songfest@pepperdine.edu.
___________
Follow the Pepperdine Graphic on Twitter: @peppgraphic