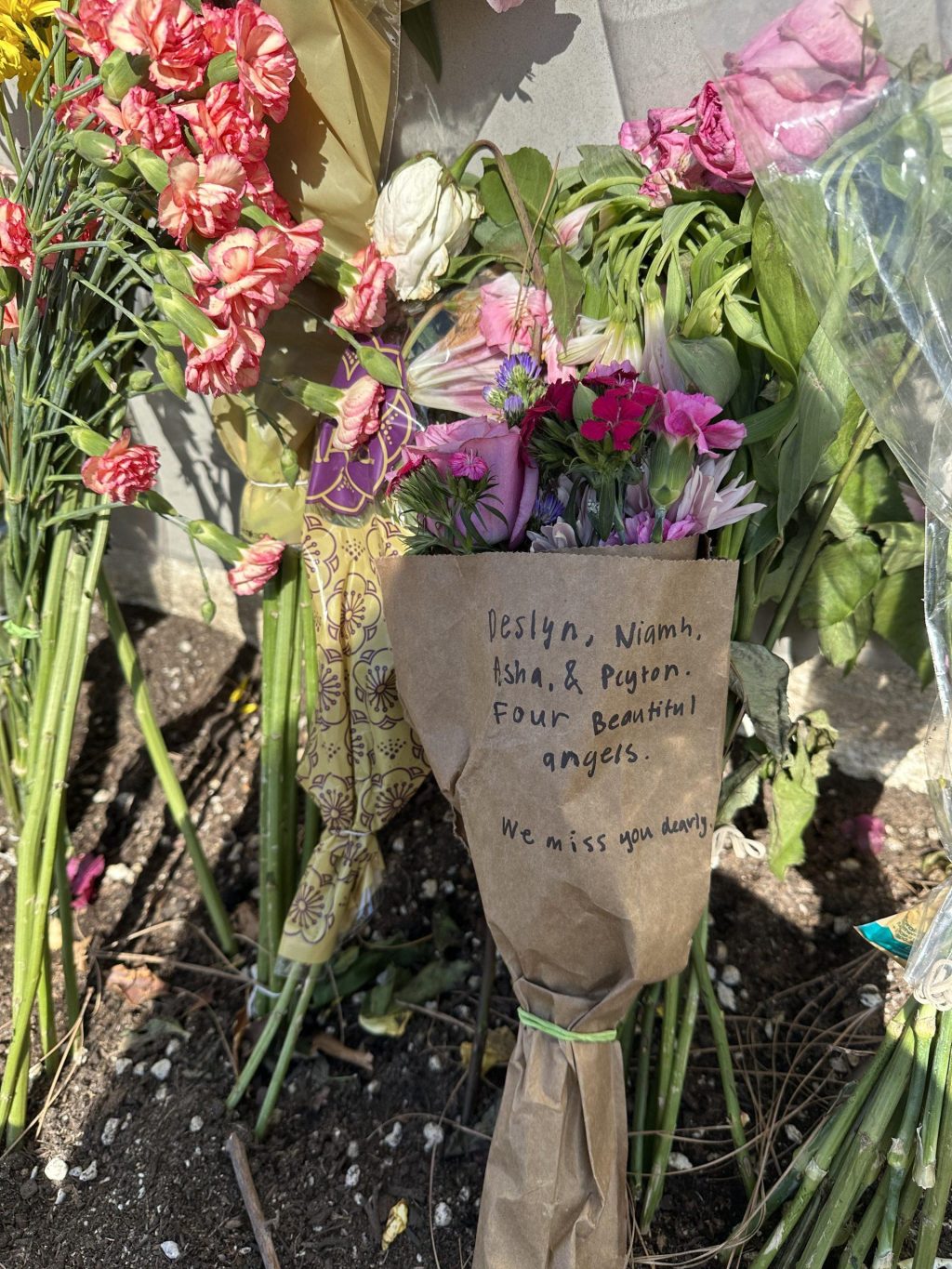 Community members leave flowers and notes.
After the tragic loss of four seniors, the Pepperdine community is coming together to honor Niamh Rolston, Peyton Stewart, Deslyn Williams and Asha Weir.
Pepperdine community members said they are leaning on each other to heal together and grow together through their grief.
"Healing together is a lot better than healing by yourself," said Tim Spivey, associate vice president of Spiritual Life.
Spivey has been part of the Emergency Response Team, helped to plan the memorial service at Pepperdine and spoke at the vigils that have taken place for the girls. He said he has seen the community come together through this in ways he hasn't seen before.
"I've watched people hanging out in the Lighthouse just sitting there literally waiting for somebody who looks sad to sit down next to him," Spivey said. "And they can minister to them."
While the culture at Pepperdine has always been tight-knit, Spivey said it is in moments of tragedy when people can see others' values truly coming out.
On a day-to-day basis, Spivey said it is sometimes hard to realize the importance of the culture, but now, he said he sees how special Pepperdine truly is.
Brittany Skinner, associate dean of Student Affairs has also been working closely with students and Deslyn, Niamh, Peyton and Asha's families since the crash. She said she has heard students sharing memories of the girls with each other and with their families, which has helped with the healing process.
"It's important for their families to know this community was special," Skinner said. "Their daughters love this community, and their daughters were so loved by this community."
A specific moment Spivey said stood out to him was seeing how the community came together Oct. 18, at The Well, one day after the accident.
Almost 2,000 people attended The Well and held each other through tears as the community dealt with the initial shock of the tragedy, Spivey said.
"You've got all the Pepperdine community that I was just describing from the faculty, the clergy, the other leaders on the campus all over there praying with students," Spivey said.
He said students packed the Amphitheatre and held each other close
"It was students praying with students and hugging each other and consoling each other," Spivey said.
Students who are in deep grief are also stepping up and serving, Spivey said, whether through leading worship or leading prayers.
"I found, sometimes, being able to serve and honor somehow while you're in immense pain helps heal," Spivey said. "It's kind of counterintuitive. A lot of people think, 'Oh no, you need to sit there and just grieve.'"
Skinner also said she has seen people stepping up and has seen the best qualities in the community coming out.
"Even amidst tragedy and grief, I just see the best of who we are and the best of people," Skinner said.
After spending lots of time with the girls' family and friends, Skinner said she thinks their loved ones are growing closer to each other and leaning on each other and their faith to get through each day.
"There are tears, and there is laughter," Skinner said. "To get to see that — in some ways, I feel like it was healing."
Everyone is checking in on each other — whether through a simple text, a meal, a hug, a coffee or a shoulder to cry on, Skinner said.
"I've just seen so many people come together and offer a hand and offer a comforting word or give a hug and check in on other people," Skinner said.
Moving forward, Spivey said he thinks the community will continue to heal together — and grow together as a community.
"Just because this particular incident feels crippling right now emotionally to the campus, that doesn't mean it has to stay that way," Spivey said.
_________________________________
Follow the Graphic on Twitter: @PeppGraphic
Contact Abby Wilt via Twitter (@abby_wilt) or by email: abby.wilt@pepperdine.edu