Photos by Sam Finnegan
The School of Law recently unveiled its completed renovation project. The intentionality behind every change made to the atrium and auditorium ultimately contributes to the creation of an environment that will not only encourage academic growth but also the growth of lifelong relationships, said Austin Oakes, executive director of Planning Operations and Construction.
"It has made law students and our community more close, more interactive with each other, and I think it brought us all back together and made us stronger," said Ava Jahanvash, a third-year law student and president of the Student Bar Association.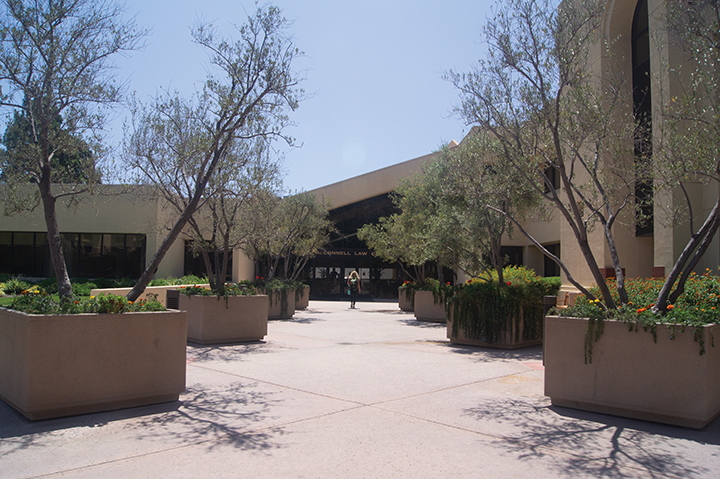 Determining a design
This $11 million enterprise, which began on May 22, 2017 and lasted for 16 months, is part of the Pepperdine Campus Life Project — an initiative to invest in the 21st century student over the next few years.
Prior to the construction, School of Law students had the opportunity to participate in a survey in which they expressed the need for a cohesive space functional for both studying and socializing, Oakes said.
In addition to upgrading the infrastructure of the Lon V. Smith Atrium, the main entrance and hall also underwent cosmetic upgrades that will promote student interaction, Oakes said. The addition of the Hugh and Hazel Darling Foundation Grand Staircase connects the first and second floors, contributing to the project's overall goal of creating a cohesive space for students that is conducive to both personal and professional growth.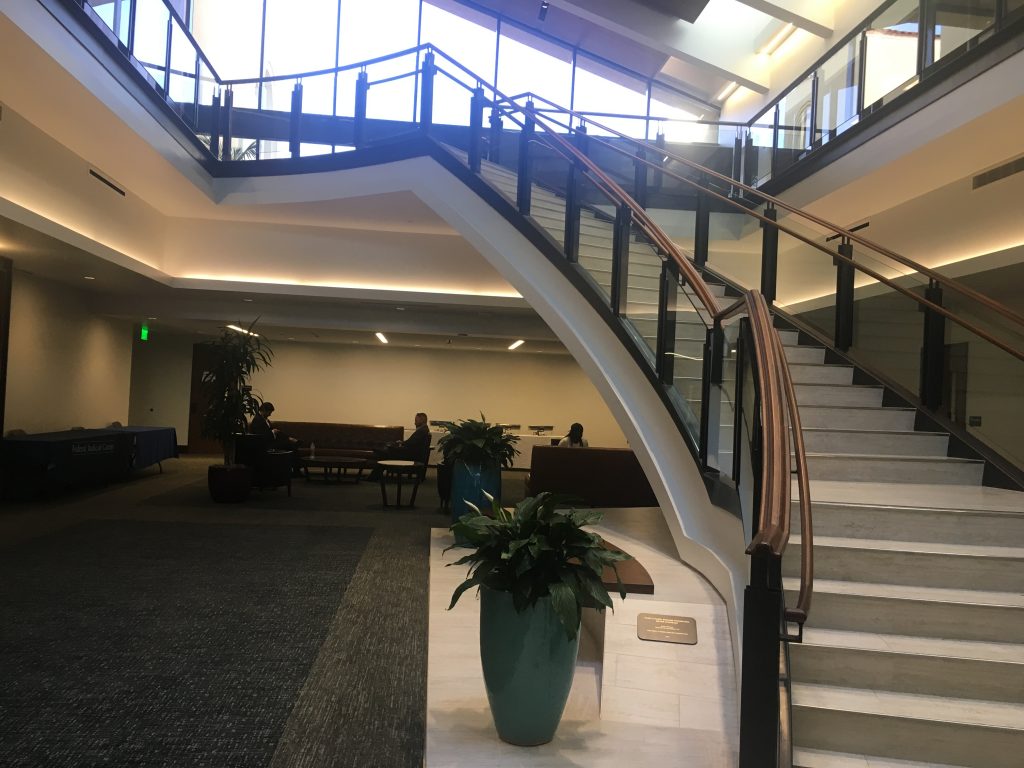 Photo by Makena Huey
The Henry J. and Gloria Caruso Auditorium now includes new furniture, advanced audio-visual systems, numerous Wi-Fi access points, video equipment to record lectures, and power and USB outlets for each student, all of which improves the quality of teaching and learning, Oakes said.
"Every campus is very unique, so when we respond with a design, we need to keep in mind the school's mission and goals," said Martha Baal, the principal studio leader in national higher education design at Harley Ellis Devereaux. "We really enjoyed working with Pepperdine because … they emphasize the mentor relationship between students and faculty, and that really resonated with us as architects."
Since Pepperdine's goal was to create a sense of community and promote student success, it was important that the design was as flexible as possible, Ball said. As a result, none of the furnishings are fixed to the floor, so the multi-purpose space can be easily transformed for different occasions. Additionally, the implementation of new movable partitions makes it possible to divide some classrooms into three smaller sections. This mobility enables students to be more focused during lectures, Marisa Martin, a first-year law student, said.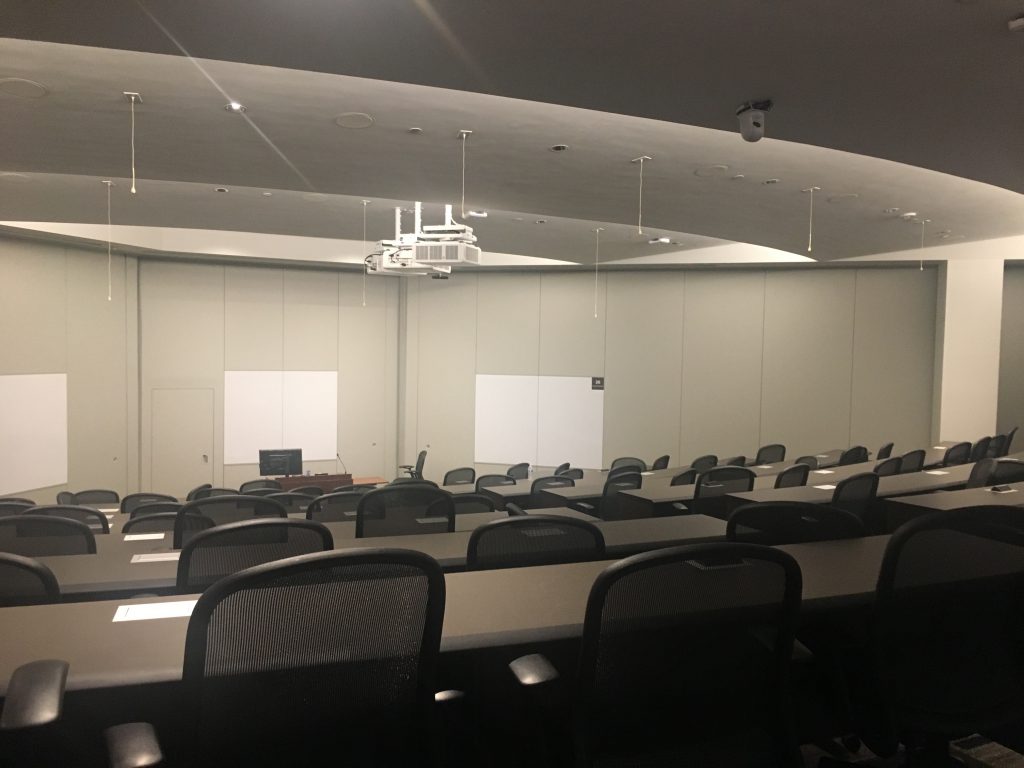 Photo by Makena Huey
Creating a community
Students believe that this is so much more than just a renovation. Having an updated, open space where students can comfortably socialize together has truly enhanced the campus' sense of community, Jahanvash and Martin said.
"Pepperdine is a home for me, my family and this team, and for us as graduates and staff that care about this space," Oakes said. "There is nothing more fun than giving back to this community."
The most frequently-heard feedback from students is that the building feels alive again and feels like home, Oakes said. Students are now spending much more time on campus, allowing students the opportunity to foster lifelong relationships that serve them both personally and professionally.
"It's been beneficial for getting people to mingle more and not feel like the atrium is just a pass-through. It's actually a place we want to go and plan to go," Martin said.
The most significant impact of the renovation has been the improvement of student organizations, Jahanvash said. Before the renovation, there was not a suitable space dedicated specifically to community events.
Since the school year started, however, clubs and organizations are thriving, Jahanvash and Martin said. There are now meetings, luncheons, forums, panel discussions and other events in the atrium almost every day, and the number of guest speakers presenting on campus has increased since the renovation.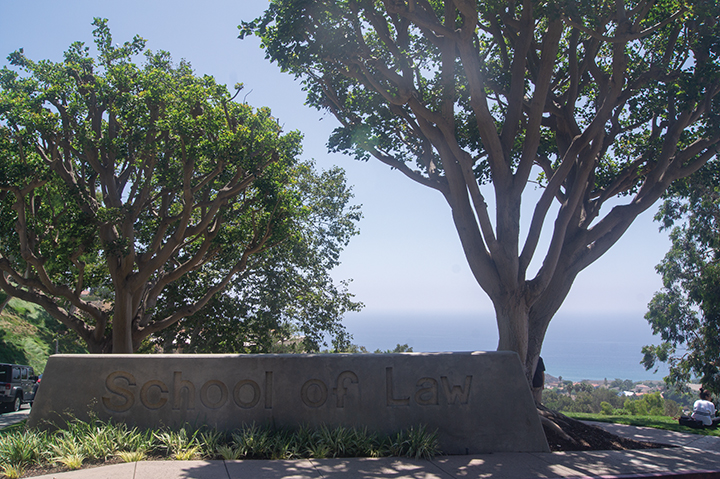 Law students agree that what makes Pepperdine unique is that it cares about its students as individuals and is constantly striving to improve their environment and experience.
"I really appreciate that the school cared, that we had donors who were willing to give and that we had people to support students," Jahanvash said.
______________________________
Follow Makena Huey on Twitter: @MakenaHuey