Photos by Sofia Telch
Over a million selfies are posted on social media daily. Whether you believe they're the greatest thing ever or the low point of modern-day culture, selfies have a significant place in our society. They also root back to the most ancient and central aspects of human life. That seems worthy of a museum, no?
The Museum of Selfies pop-up museum opened in LA on Sunday, April 1, and will keep its doors open until Thursday, May 31. After being open for only a week, the museum had already attracted some famous guests including Canadian Instagram star Travis "Beach Boy" DesLaurier, model Lindsey Pelas and twin actors Bianca and Chiara D'ambrosio. The museum had a VIP opening Thursday, March 29 for influencers and press, Office Manager Olga Benina said.
"I think it's fun and interactive and super informative," Ashley Williams from Downtown LA said. Her friend Tiffany Minor agreed. "We were surprised that it's more of a history lesson. Usually, pop-up [museums] are just fun, so that was a good surprise," Minor said.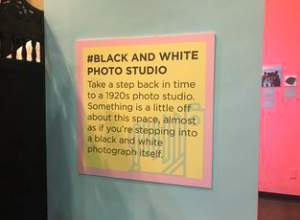 The Museum of Selfies is a didactic museum that explores the history and cultural phenomenon of the selfie — an image of oneself taken by oneself — which roots back 40,000 years, according to the museum. Not only will visitors learn about the aspects of art, history and culture that lead to selfies becoming a trend, but they can also take photos in the interactive exhibits that delve into the various types of selfies and their significant meanings.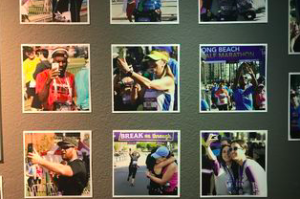 "It has a history of selfies — of how they started back to when [humans] were writing on stones," Floor Host Patrick Lamoreaux said. "There's a lot of different [historical] facts and a lot of interactive things [and] different rooms to see."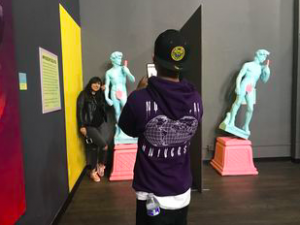 The Museum of Selfies is the creation of two escape-room designers, Tair Mamedov and Tommy Honton, both of whom wanted to showcase the history of the selfie and why people feel compelled to take and replicate images of themselves. Lamoreaux said the museum has been well-received so far.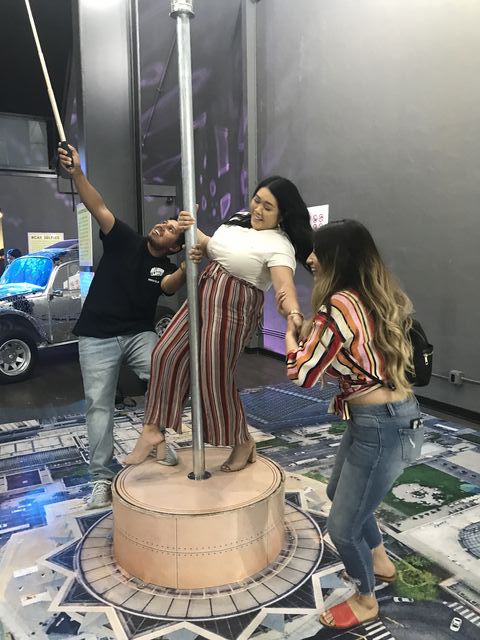 "So far I think we've had over 2,000 people come," Lamoreaux said. "It's been on the news. People have come all the way from San Diego today. So yeah, it's been a lot of people." Lamoreaux said the "skyscraper" attraction is one of the most popular so far. "And also the bathroom [selfie attraction]," he said.
Visitors at the museum stopped to take selfies with the supersized objects on display, including a giant broccoli and burger and a disco-themed car. Other rooms included the "bathroom selfie," "workout selfie" and "mirror selfie" rooms.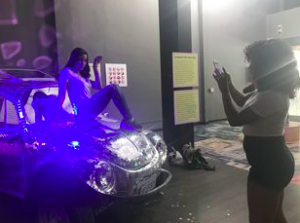 "Oh my God, the museum is so cool," Maria Basualdo from Mexico City said. "I loved taking pictures here. I have so many pictures for my Instagram. It has been a fun experience overall."
Basualdo said the #FoodSelfie was her favorite part but said she thinks the museum is a little bit on the expensive side.
"It was super fun to carry giant food and take a picture," Basualdo said. "It was a little bit too expensive, but it was cool."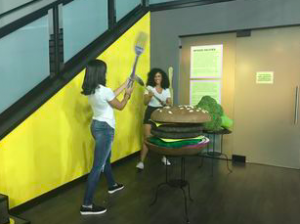 Kanny Fu from Shenzhen, China, agreed.
"[The museum] is great, but it's too small," Fu said, adding that he liked the kaleidoscope installation best. "You can see many different faces of you." He said he would recommend the museum, but also thinks the entrance fee is a little high.
Carolyn Randolph — pop-up museum fan from Fullerton, California — said she also visited Candytopia, The Museum of Ice Cream, The Museum of Illusions and Happy Place prior to The Museum of Selfies and recommends Candytopia best.
"[The Museum of Selfies] is more based on like, the history and not so much the actual interactions inside the experience," Randolph said. "To me, [Candytopia] was the best blend of art and experience — which is kind of what defines a pop-up museum."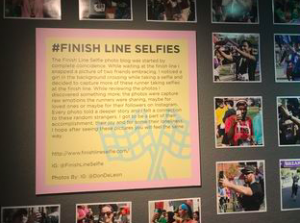 The museum also included variations of classical art pieces from artists like Vincent Van Gogh such as "Bedroom in Arles" and walls dedicated to #FinishLineSelfies and #DisasterSelfies. Visitors can bring their own selfie sticks, but they are encouraged to rent one for free as well.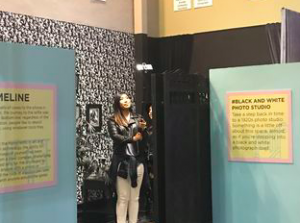 "You can use our complementary selfie sticks," Lamoreaux said. "You can be at the top of a skyscraper looking over Downtown … [There's] different interactive things you can take pictures with and lots of fun things for all ages."
Lamoreaux said he would encourage Pepperdine photography students to come check out the museum.
"Come interact, have fun and learn about the history of the never-ending selfies," Lamoreaux said. "Come take your picture with a hamburger or our optical illusion bathroom, black and white room, hall of mirrors, statues, fitness rooms; there's something for everybody. You can even get a cookie with your face on it."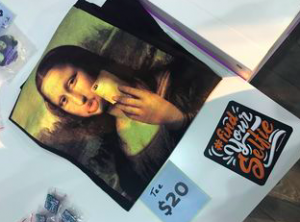 The Museum of Selfies promises to share the unseen depths and history of this cultural phenomenon. Love them or hate them, visitors won't see selfies the same way again.
Admission costs $25 and kids up to age four can get in for free. The museum is located at 211 N. Brand Boulevard in Glendale, and it opens at noon from Tuesday to Sunday. The museum is open until 10 p.m. on Friday and Saturday and 8 p.m. the rest of the week. Tickets can be bought are available online.
___________
Follow the Pepperdine Graphic on Twitter: @PeppGraphic