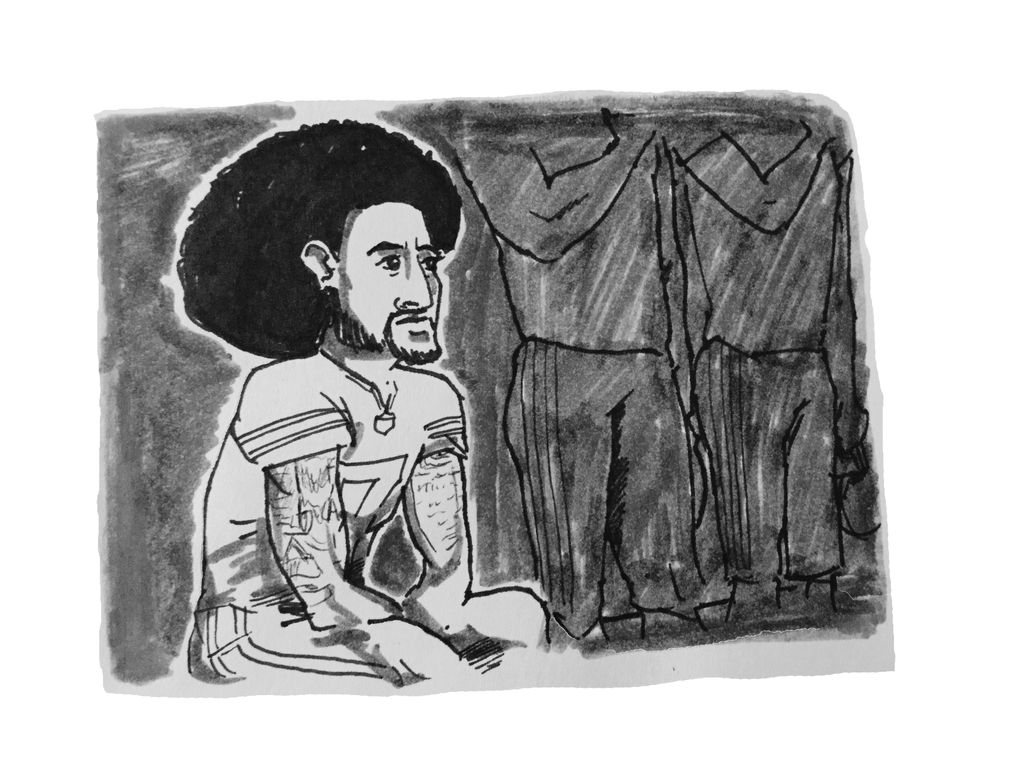 Art by Peau Porotesano
To sit or not to sit? That has been the question for professional athletes since Colin Kaepernick sat during the national anthem on Aug. 25. Since then, Kansas City cornerback Marcus Peters raised his fist (a la Tommie Smith and John Carlos) on 9/11, a quartet of Miami Dolphins knelt behind a Marine color guard, and the Seattle Seahawks announced a team-wide protest. This is just the tip of the iceberg.
Although AnthemGate hot takes and opinion pieces (like this one) continue flying around public forums, it seems like the sporting world is bracing for the next wave of protests. Personally, I want more professional athletes to embrace the spotlight and start conversations about meaningful societal issues.
In the meantime, what should Kaepernick do now that he and other professional athletes have the nation's attention? He should continue to sit and protest during the national anthem, of course.
But I want Kaepernick to take sitting a step further. I want him to sit lower than anyone (or anything) on the football field. I want him to lie on his back and watch a squadron of Air Force fighter jets fly overhead. I'd like him to army crawl over to the pylon camera and wave to the camera operators in the editing bay. I'd like him to make snow angels on the turf.
Perhaps Kaepernick can take a nap. Maybe before the national anthem starts, he can stream an episode of "Atlanta" on a Microsoft Surface tablet, the official tablet of the NFL. But I definitely want the FOX Sports cameras to give an uninterrupted still of Kaepernick reading the never-ending stream of 140-character Twitter vitriol, all while ignoring the national anthem.
I'd like the Make-A-Wish Foundation to bring a child with a life-threatening illness onto the field to keep Kaepernick company while he's ignoring the national anthem. I'd love to see the child's ear-to-ear grin as he or she waddles out of the tunnel, toward the tall guy with poofy hair on the 49ers sideline. I'd like to watch Kaepernick and an ecstatic little 8-year-old girl play Connect Four or Candy Land while the "Star Spangled Banner" blares from the stadium speakers.
I'd like to see them point out shapes in the clouds overhead, wondering whether a cumulus cloud looks like a brontosaurus, or the Loch Ness Monster? –– all while "strict Constitutionalists" and "free speech activists" boo them as they exercise their First Amendment right. I want him to be so focused on making the child's day that Chip Kelly needs to take a costly delay-of-game penalty when Kaepernick forgets to sub in for Blaine Gabbert (admit it: Gabbert isn't the Niners' long-term quarterback).
Let's dream a little bigger. Let's say the Seattle Seahawks enact their proposed team-wide protest and join Kaepernick on the 49ers sideline when they square off on Sept. 25. Scratch that; maybe Kaepernick could link arms with the Seahawks on their sideline. I'd love to hear the raucous crowd at CenturyLink Stadium roar as Kaepernick and cornerback Richard Sherman nod to each other during the "land of the free" line.
This might sound ridiculous, but this hypothetical seems rather tame compared to the backlash Kaepernick has received from the media.
I wonder if the AnthemGate hot takes can get any hotter. We've already heard Sean Hannity's "Kaepernick is a Muslim" take, Iowa Governor Steve King's "Kaepernick is a member of ISIS" take and Kate Upton's (!?!) "protest on social media instead" take. Even a descendant of Francis Scott Key contributed a predictable "I Can't Believe an Overpaid Quarterback Like Colin Kaepernick Is Dissing My Great Great Great Grandfather's Contribution to American Society" take.
This AnthemGate saga reminds me of Evelyn Beatrice Hall's oft-misattributed quote: "I disapprove of what you say, but I will defend to the death your right to say it." Similarly, we must realize we shouldn't silence people with differing opinions. We can politely disagree, but let's be sensible about it.
_______________________
Follow Kyle Cajero on Twitter: @kylecajero