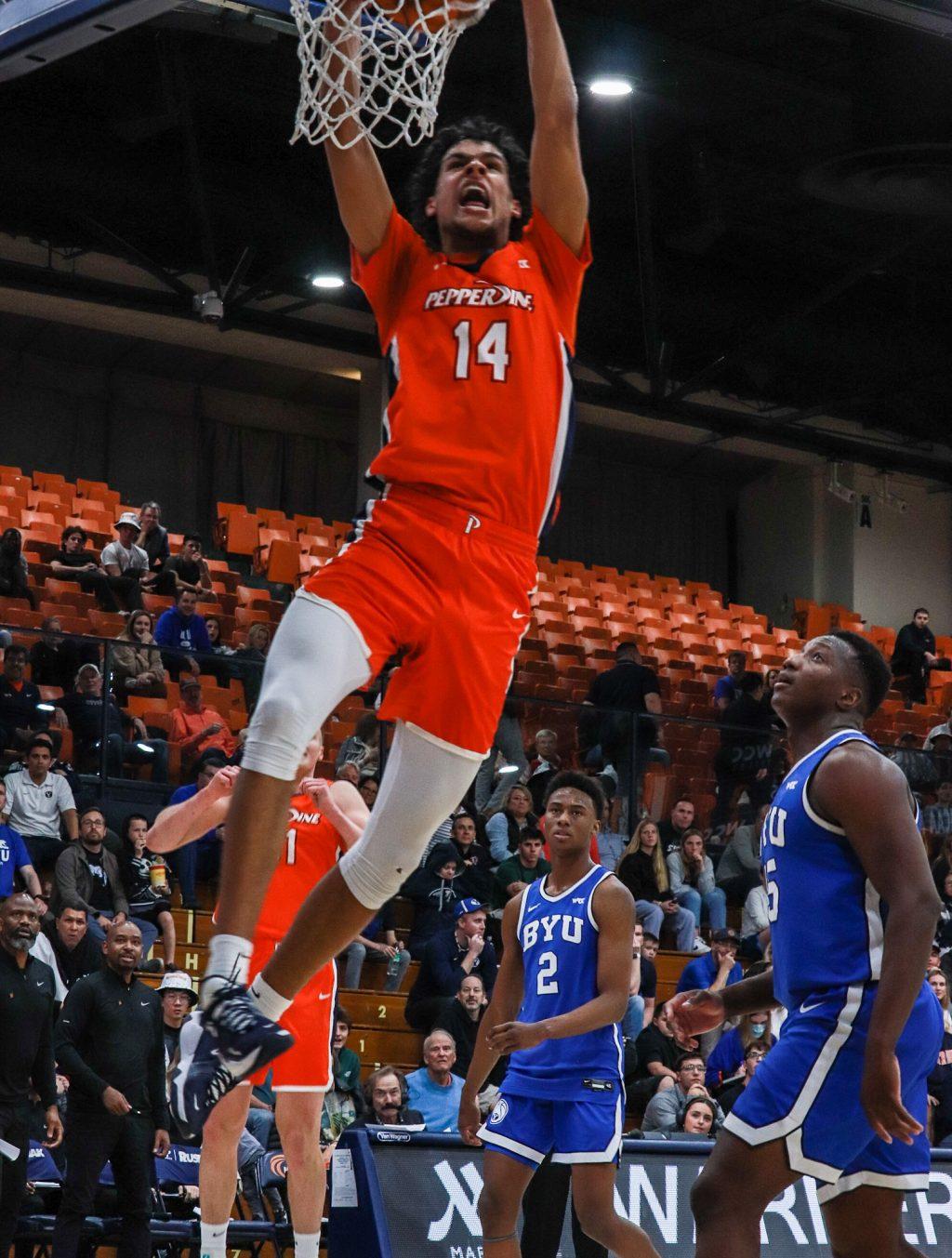 Freshman forward Jevon Porter rises up for a dunk versus Brigham Young University on Feb. 9, at Firestone Fieldhouse. Porter scored a career-high of 30 points versus the Cougars. Photo by Denver Patterson
Among the freshman class on the Pepperdine Men's Basketball team, freshman forward Jevon Porter has stood out with his performances in the month of February.
A game-winner in a double-overtime win versus Portland on Feb. 4 and a career-high 30-point double-double in a win over Brigham Young University on Feb. 9 earned him the Freshman of the Week award in the West Coast Conference.
Porter is also the only freshman to record a double-double in the WCC and has seven on the season, according to Pepperdine Athletics.
"I honestly probably wasn't that versatile or really even that good at basketball until my first two years of high school," Jevon said. "That's when I really started to realize how good I could be. That's when I really started to love basketball a lot."
The Porter Family Tree
When Men's Basketball faced No. 13 Gonzaga on Feb. 18 at Firestone Fieldhouse, two of Jevon's brothers were hunched over by the basket near the entrance.
Denver Nuggets forward Michael Porter Jr. and Wisconsin Herd forward Jontay Porter were watching Jevon drop 20 points under the bright lights.
Jevon's family tree starts with his father — Michael Porter Sr. — who is the director of Player Development at Missouri University.
His mother — Lisa Becker — was Miss Iowa Basketball and once averaged 58.7 points in her senior year, according to the Gazette.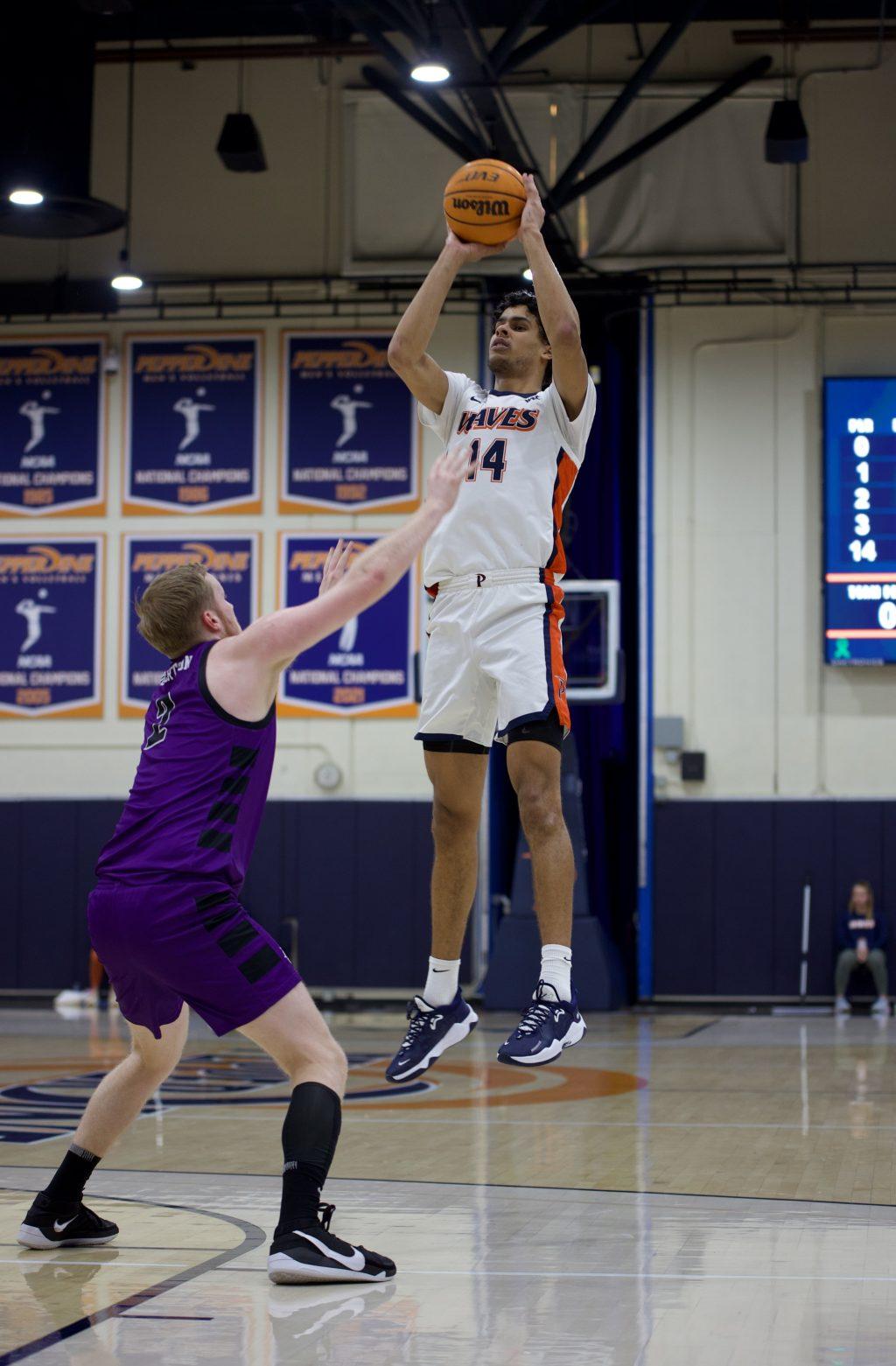 Freshman forward Jevon Porter rises for a jump shot versus Portland on Feb. 4, at Firestone Fieldhouse. Porter earned Freshman of the Week on Feb. 13, according to Pepperdine Athletics. Photo by Colton Rubsamen

Besides Michael, Jontay also played in the NBA with the Memphis Grizzlies. Bri and Cierra are seniors playing for Missouri, Coban is a sophomore at Denver University, and Jayda and Izaak are in high school.
Growing up in an athletic family also meant the competitive backyard battles would go until it was pitch black outside, Jevon said.
"I used to make light work of [Jevon] but now he's getting a little older, a little taller, bigger and stronger," Jontay said. "It gets a lot harder to play against him, so it's only a matter of time before he beats me one-on-one, and I'm not necessarily looking forward to that day."
Jontay said his siblings were homeschooled until high school and are very close-knit.
"We're all super close," Jevon said. "We all talk to each other about whatever; we're always talking. We're kind of all in pairs, so I talk to Cobin [Porter] the most."
Growing up, Jevon played in an AAU club Michael founded called Michael Porter Jr. Elite, in the Nike EYBL Circuit. Though Jevon has a brother in the NBA, he said it doesn't necessarily make things easier.
"It does [help] certain in terms of knowing what you got to do and how to prepare, but it's not like it's a free handout because he's in the NBA," Jevon said. "But, he definitely helps with him giving me advice."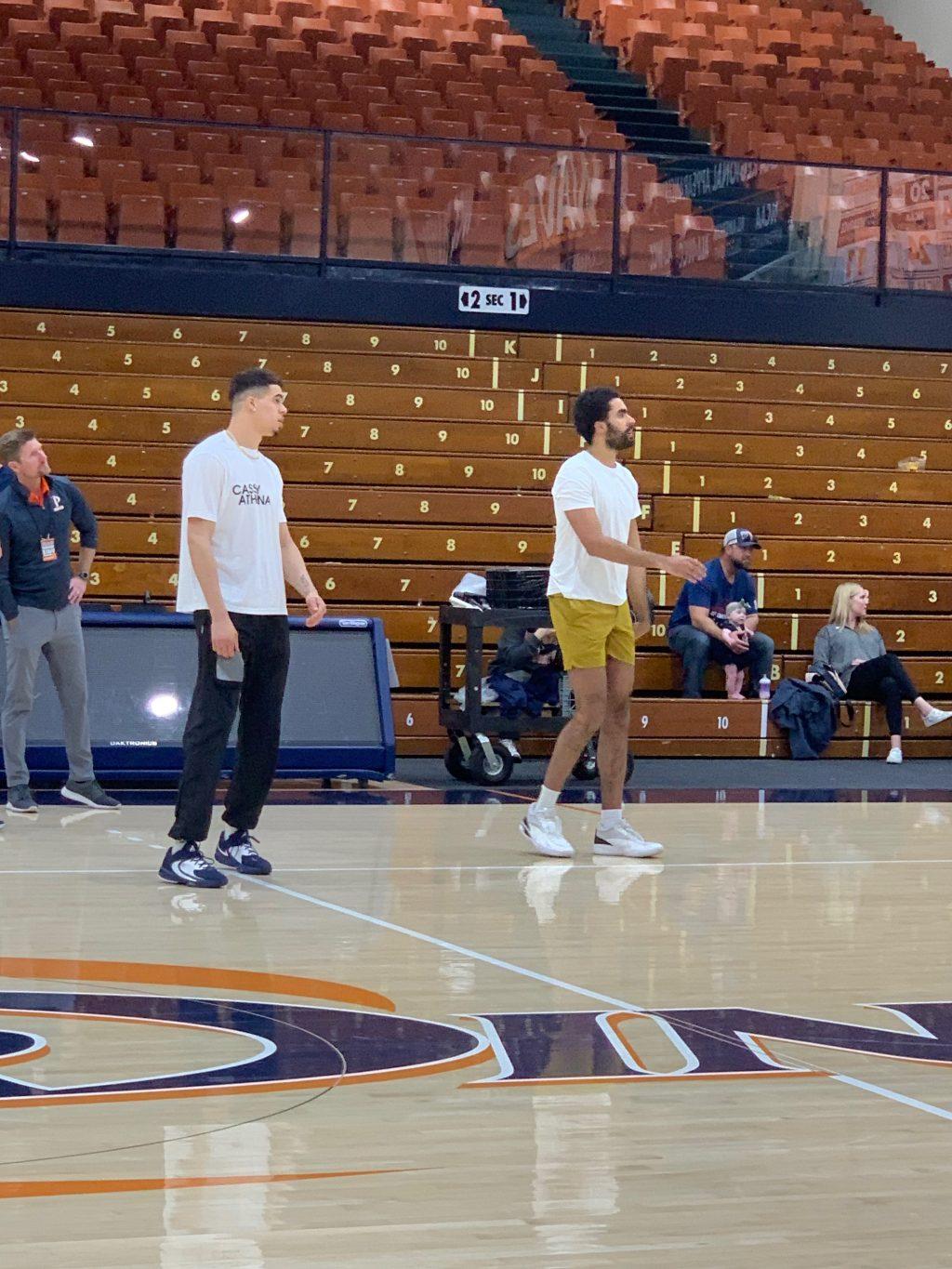 Michael Porter Jr. and Jontay Porter shoot around at Firestone Fieldhouse after Pepperdine Men's Basketball played Gonzaga on Feb. 18. ontay said his family is very close-knit and were homeschooled together up until high school. Photo by Jerry Jiang
Jevon said everybody runs into their own challenges, and growing up in a basketball family means sometimes he gets overlooked, but he said he doesn't view that as a challenge.
The Romar Connection
Jevon signed with Pepperdine in September 2020. As a top 100 player in his class, Men's Basketball Head Coach Lorenzo Romar said it was very important to sign Jevon early in the recruiting process.
"We knew of his skill set, we knew of his potential," Romar said. "And I mean, he fits. He fits in every way in how we play in every way. So, he's a very valuable recruit for us."
Romar said when it comes to recruiting, there needs to be some type of connection or the recruits aren't going to come and play for the school. It just so happened with Romar and the Porter family that it went a little deeper than getting to know someone in high school, Romar said.
Romar knew Jevon's parents from playing with them in a program called Athletes in Action, Romar said.
Athletes in Action was a Christian faith group that used basketball as a platform around the country and around the world to share the gospel. He recruited Michael Porter Sr. to play with them, and that's how they met, Romar said.
Romar got to know Michael Porter Sr. on a deeper level — so much so that he became Michael Porter Jr.'s godfather, Romar said.
"When we were at Washington, the two older brothers [Michael and Jontay] committed to play at Washington before we were fired," Romar said.
Although Romar said both of Jevon's brothers ended up elsewhere, Jevon chose to play for Pepperdine.
"It means a lot," Jevon said of playing for Romar. "[I'm] going halfway across the country for college and being away from my family. It's nice to have a familiar face. But, on the core, he gives me confidence. He lets me play my way, the way I know I can play."
Jontay said the connection with Romar means everything.
"He's the nicest man I've ever met," Jontay said. "I consider him a role model and basically a family relative, even though we're not blood [related]."
Though Jontay said it was unfortunate that he and Michael weren't able to play for Romar in Washington, Jontay said it's been really rewarding to see one of his relatives play for Romar and to see it come full circle.
Following Christ
Jevon said God has blessed him with a lot, so he wants to do the best with what He's blessed him with.
"Maybe further down the road shine some light on what He's blessed me with and how great He is," Jevon said.
Jevon said his family are all Christians and they're just trying to be the best they could be.
"I'm really proud to be his big brother," Jontay said. "Not only just because of basketball, but because of the kid he is, how he treats others, how he cares for others. I'm just really proud to say I'm a relative to him."
Though Jevon said he has the spotlight with him due to his family name, Jevon said there hasn't been one certain time when he felt like he needed to make his own path.
"I've just always been my own person," Jevon said. "I just tried to do my own thing — do what I think God put me here to do."
As a Christian, Jevon said he wants to be known as somebody who loves everybody andlooks out for everybody else.
Looking Ahead
Jevon recently had a stretch of games that has put his name in the NBA draft circles.
Jontay said the biggest advice he gave Jevon was to keep his head down and to stay focused.
"I know he's dedicated his whole life up to this point to the game of basketball," Jontay said. "Coming to Malibu for college in particular can come with a lot of distractions and a lot of allures, whether that's going out or different hobbies. I know he came out here for a reason, and his next goal is to get to the NBA."
Though he's only a freshman, Jevon said he wants to leave a reputation of trying his hardest and being a team player.
_________
Follow the Graphic on Twitter @PeppGraphic
Contact Jerry Jiang via Twitter ( @j_jiang30 ) or via email: jerry.jiang@pepperdine.edu