Photos by Gabrielle Norte
The "Jesus in the Barrio" convo on Thursday, Oct. 4, challenged students to explore the parallels between the plight of modern-day Mexican-Americans and that of Jesus. Divisional Dean of Religion and Philosophy Dan Rodriguez compared seemingly undesirable, impoverished neighborhoods where many Mexican-Americans live such as Compton, Elysian Park and Chinatown to the land of Galilee, where Jesus was raised and conducted his ministry.
"Galilee was a horrible place to be from," Rodriguez said. "It was also a symbol of rejection. The name Kabul, or 'good for nothing,' was the name attributed to this land. If you were from that region, by the time Jesus comes along, you've had a thousand years of hearing that you're from the land of Kabul, that your land is not worth anything and neither are you."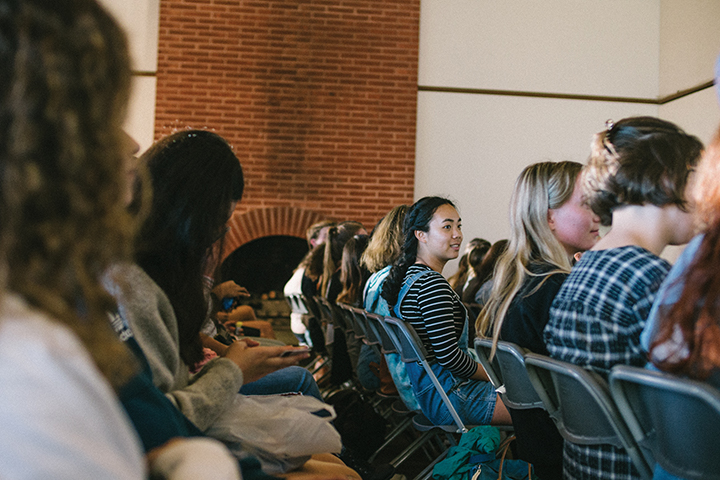 But this is where Jesus grew up and made a name for himself, Rodriguez said.
"Why did Jesus spend a vast majority of his public years in ministry up in this area called Galilee and not in Jerusalem, where all the power and action was?" Rodriguez said. "Why did he spend most of his time in this obscure region? The answer is: there's something important going on there."
Jesus was raised and held his ministry where he was most needed, not where it was the most comfortable, Rodriguez said.
It was a refreshing change of perspective from viewing underprivileged communities as victims to sources of strong faith, Genesis Trejo, co-president of Latino Student Association, said.
"I really resonated with the message because I come from an underserved community," Trejo said. "Rather than Jesus being like a white figure that comes into underserved, underprivileged communities, he comes from within those communities."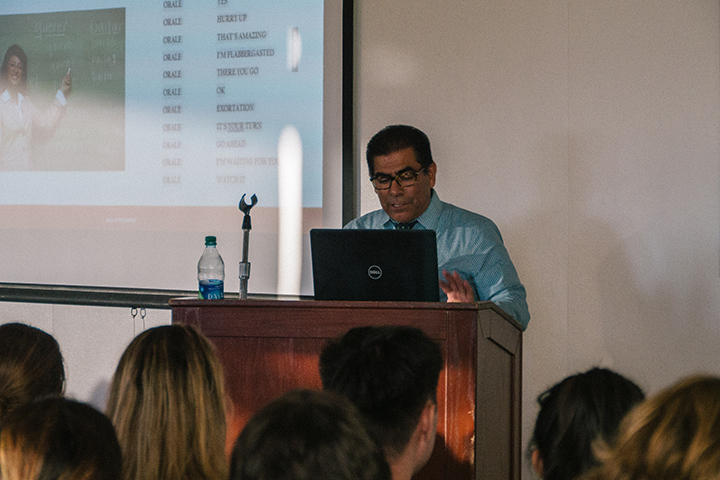 Likewise, one who is not from a "Galilee" can equally benefit from understanding the nature of these places, Rodriguez said. By exposing themselves to "Galileans" they can experience a more raw faith, one that is supported not by prosperity but by gratitude even in times of distress.
"[Rodriguez] really tied it all together and I got a new perspective on Jesus and getting closer to God," freshman Moises Vargas said.
Jesus belongs wherever his light is needed, Rodriguez said.
"Clearly our spiritual history does not trace back to Jerusalem, but to Galilee, where people were living in the shadow of darkness and death," Rodriguez said.
In a modern context, this implies that Jesus would want to return to places that are considered unsavory, Rodriguez said. Because that is where his ministry is the most needed, just as it was needed in the land of Galilee.
"He would probably bypass Malibu, he would probably bypass Wall Street, Madison Ave, Rodeo Drive, and even 1600 Pennsylvania Ave," Rodriguez said. "He would probably live with people from Flint, or Detroit, or Oakland, or St. Louis, Memphis or the Southside of Chicago – and if you and I want to see him, we're going to have to leave the safe respectable confines of Malibu."
One is closer to God when one experiences these places precisely because they are closer to the darkness, Rodriguez said. Experiencing adversity and maintaining faith is more telling of devotion than remaining faithful in prosperity. For this reason, all people should at least witness faith at work in the midst of poverty.
"I would like to challenge you to go with Jesus from Galilee into Galilee, befriend Galileans," Rodriguez said. "They will bless your life and you just might encounter Jesus incognito."
In this case, Jesus is not an outsider to adversity here to save the impoverished, he himself was impoverished and seeks to lift his fellow man from within.
"It was really great to hear [Rodriguez] give a different perspective than what we usually hear at Pepperdine," Jose Alcazar, vice president of internal affairs of the Latino Student Association, said. "We usually hear kind of a white savior perspective and it was really interesting to hear [Rodriguez] say that Jesus comes from an underserved community."
________________________
Follow the Graphic on Twitter: @PeppGraphic