Photo by Olivia Belda
Worship and tradition are tightly bound by the passing of time.
Generations have recited the same prayers, sang from the same hymnals and celebrated the same holidays. Tradition, in many ways, is a sacred part of faith and community.
But when people spill out of their churches, synagogues and mosques, how can they continue to worship in their day-to-day lives? People across Pepperdine's campus have found ways to connect to their spiritual side through their passions, their geography and simply their way of being.
Surfing | Sierra Perry
Photo courtesy of Sierra Perry
Sandy feet, saltwater hair and sleepy sunrises are part of senior Sierra Perry's daily life and faith. Perry, manager of the Pepperdine Surf Team, said her passion for surfing intersects with her faith.
"It's truly an experience," Perry said. "It's like walking on water, which I think is something that God wants us to be able to experience here on Earth. Maybe that's why he brought surfing to us because it's the closest we can get to that story."
Perry's face is painted with freckles, souvenirs from her time spent under the sun – and she spends a lot of her time under the sun. For Perry, surfing isn't just a sport. It's a way of worship.
"I think worship is just kind of a sense of surrendering everything and all of who you are in that moment to who God is," Perry said.
Perry, who began surfing at the age of 3, said the ocean is where she can surrender.
"The water is essentially one of the most forgiving elements because you can just fall completely into it, which is kind of how I started to really stress myself into falling in love with faith too," Perry said. "When I'm out in the water, that's the place where I can just be with God and it's a place where I'm not allowed to think about anything else."
Born and raised in Rancho Cucamonga, California, Perry said her family would travel to San Diego on the weekends to surf.
"My dad took me out on the nose of his board when I was 3 years old and I was wearing a life vest," Perry said. "He just kind of tugged the strap and said, 'Stand up.' That was kind of it. You just get the bug."
Once she was old enough, Perry graduated to her own board.
"[I] kind of fell in love with it in a different way because when my dad wasn't right behind me and pulling my life vest strap up, it was very much like, 'OK, this is me and he's not going to be there to catch me when I fall this time,'" Perry said.
Surfing became spiritual for Perry after she struggled with anxiety following Bethany Hamilton's infamous 2003 shark attack. Perry said the event led her to fear the dangers that come with surfing.
"I was like, 'OK, God, is this something that you want me to struggle with?' And I was like, 'No, probably not. You just want me to believe that you're going to keep me safe and it's going to be OK,'" Perry said.
Since then, Perry's time with God is time spent in the water.
"Some people may just call it surfing," Perry said. "But for me it's that moment like, OK, I'm getting up in the morning at 6:00 a.m. to go be with God to take that time. And sometimes it's going to be cold."
Sometimes the water is rough and the waves are uncertain but Perry said this is when she feels most reminded of God's strength.
"It's on those days when you kind of have to go like, 'Wow, Scripture literally tells us God's love for us is mightier than the waves of the sea. But what does that feel like?'" Perry said. "When you feel a wave that heavy, you know."
The early hours and cold mornings can be grueling but Perry said it's worth it.
"You just get this moment where you're on top of – you're floating on – creation," Perry said. "It's just like you're walking on water."

Nature | Annabelle Childers and Jake Nichols
Freshmen Annabelle Childers and Jake Nichols both feel God's presence when in nature.
The two friends met this year at Basecamp, an annual Pepperdine getaway designed to help freshmen settle in, unplug and meet their peers.
"It's basically a time to decide the trajectory of your four years and create community with Campus Ministry and University Church," Childers said.
Basecamp consists of all the normal camping things: sleeping bags, campfires and mosquitoes. Camping isn't for everyone but it's perfect for both Nichols and Childers.
"There have been several times [when] we've been out at the beach and able to see the sunset," Childers said. "I've had moments where it's like, 'Wow, this is pretty crazy,' and I've seen God in the ocean and the sunset."
Nichols, who recently left Stillwater, Oklahoma to begin his time at Pepperdine, recalled feeling close to God through the scenery of his hometown.
"I can remember driving down just next to one of those grass pastures and the sun coming down," Nichols said. "The sunset in that moment was probably one of the more incredible sunsets I've ever seen. It was actually kind of during a rougher time in my life and that was one of the more focusing moments, I guess. It brought me back down to reality."
Childers, originally from Little Rock, Arkansas, recalled a moment of private worship during a backpacking trip in Colorado.
"There was a time where we all just separated and went on our ways," Childers said. "Just sitting down and being completely unplugged and being able to look at everything was really, really cool because there was nothing to distract. It was just like creation was embellishing my view of God."
Childers and Nichols both said they've had multiple experiences in nature that felt like worship. Nichols said he believes to worship is to admire.
"When I think of the word worship, I guess I think of the word glorify," Nichols said. "So it's a time when I'm lifting up or glorifying God through whatever action it is."
For Childers, worship is attention.
"It's a time where I'm completely focused on God," Childers said. "So I guess, in terms of nature, when I'm hiking and get to the top, just sitting in silence and focusing on … God's creation."
Nichols said that since college started, his relationship with God has transformed.
"I would say it's changing, definitely. Especially since I came here because I thought it was pretty set in stone in high school," Nichols said. "What I thought I knew about the Bible or about my faith, I now have questions about but that's only a good thing, I would say."
Nichols said he feels centered in his faith when he is surrounded by nature.
"That moment, every morning, I walk out and just see the ocean and it may only be five seconds but that'd be worship for me," Nichols said.

Dance | Jasmine Croom and Bella Alabi
Photo by Milan Loiacono
Arms stretching wide, legs extending into the air, fingers reaching toward the sky. For juniors Jasmine Croom and Bella Alabi, dance isn't just beats and rhythm. It's time with God.
Both Croom and Alabi are members of Dance In Flight and both said movement allows them to connect with themselves and with God in a way that words can't.
"I can use my body and my movements to mimic my emotions and so I use it as an outlet to express how I'm feeling or what I want to say," Alabi said.
Croom often starts her sentences and then stops, unable to settle on the right words. When she pauses, she smiles. Her vibrant purple curls bounce with her laughter.
"I just use [dance] – to express anything that I can't express through words because my words fail me a lot," Croom said. "I have a lot of things going on in my head and nothing comes out in sentences that ever make sense, and so the only way for me to feel settled is to move my body."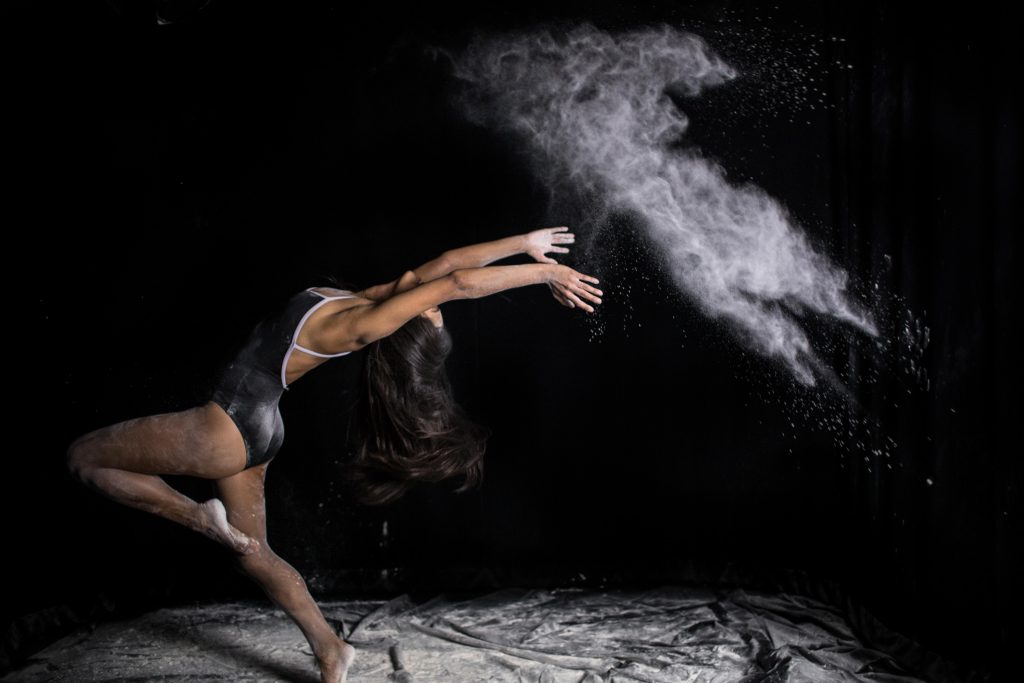 Photo by Milan Loiacono
Alabi started dancing when she was 4 years old. She hasn't stopped since. Croom started a little later – the summer before sixth grade. Describing herself as an "extremely shy child," Croom surprised her mom when she asked to attend a summer dance camp.
"I honestly think it was God pulling me, just telling me, 'Hey, this is what you should do,'" Croom said.
Alabi said for her, dance is a way of worship. She describes worship as a way of expressing gratitude.
"To me, worship is being able to express praise and thanks to God," Alabi said. "For me, dance has been a really powerful outlet."
Alabi previously worked with The Well by performing with a group during service, showing how dance can be spiritual.
"When I was dancing, I really just let the music run through my body and let the words carry me and let my expressions reflect how I was feeling and how the words of the song, because it was a worship song, made me feel," Alabi said.

Trail Blazer | Economics Professor Ron Batchelder
Photo by Olivia Belda

For Economics Professor Ron Batchelder, maintaining Pepperdine's trail to the cross started as something he did for his dog, Freddy.
"My initial motivation was not to help other people," Batchelder said. "It was to walk my dog."
Photos of Freddy are pinned to the walls of Batchelder's office and fill the frames on his desk. The beloved rat terrier – who tried to chase every airplane that flew by – survived a rattlesnake bite, a coyote attack and a mountain lion encounter. He was Batchelder's friend and companion for 15 years. Batchelder described him as a "feisty character."
"Freddy was kind of a rebel," Batchelder said. "The dog was an incredibly sweet dog but he was a hunter, so we used to go up there and he was always very active, and if I had him off the leash, then he would often run away from me."
Soon, Batchelder began cleaning up the trail for Freddy.
"I've maintained that trail in the sense that every time it gets overgrown, I'm up there cleaning it up, fixing it," Batchelder said. "I've worked recently on bypassing difficult places where people could get hurt."
Maintaining the trail to the cross started as a safety precaution but Batchelder said it soon became a spiritual experience.
"Let's put it this way. I wasn't initially working on the trail because I was pursuing some spiritual end," Batchelder said. "I did it because I got a certain amount of satisfaction and accomplishment out of working on the trail and making it better because I could look back at it and feel good about it. But in the process of pursuing that, I think I did get this sort of spiritual uplift from the solitude, beauty and accomplishment."
Batchelder wouldn't describe himself as particularly religious. He said he doesn't belong to a congregation and he doesn't sit down to pray intentionally.
"I think my view of Christianity is less about whether you believe in your God or not, per se, but how do you treat other people, animals and the environment?" Batchelder said. "To me that is critical and I think that's what the teachings of Jesus were about."
Batchelder and his three brothers didn't grow up going to church. His parents had Christian backgrounds but decided to let their children choose for themselves if and when they would approach religion.
"I guess if you go back to the 12 apostles, I'm kind of a doubting Thomas," Batchelder said. "I'm not somebody who just accepts what people say. I want it to make sense. I want to see the evidence."
Batchelder describes worship as moments of unconscious reflection.
"I can't say I consciously go through this act," Batchelder said. "There are times I guess I would call it reflection. I think to some degree it's probably the same kind of thing [as worship] but it's not a formal process I engage in."
Maintaining the trail to the cross offers him moments of spiritual reflection.
"I think there is something about the process of physical labor and the beauty of the campus and the different views you get from sunrises to sunsets," Batchelder said.
Batchelder now has a new dog, Elle. He fears, at 14 years old, she is too old to walk the trail regularly. But Batchelder continues to maintain it. He said he keeps going back because it's a great way to take a break from the office, think about his work and reflect.
"I was driven by other factors. The fact that I realized what a beautiful place this was and how it could disappear into this world and you could focus on something at the same time," Batchelder said. "… It was just a nice release for me to leave my office so I spend most of my time here."

Art | Bethany Wilson
Photo by Milan Loiacono
Oil, watercolor or acrylic; art is just a way of being for junior Bethany Wilson.
"I've been doing art since as long as I can remember," Wilson said. "Some of my first memories are doing art. I don't want to say I haven't felt passionately about it but it's not like something I would have considered myself very dedicated to. It's just something that I did all the time, sort of like writing or breathing."
Wilson, an art and psychology major, carries a couple of sketch books at all times. She paints, draws and sculpts. Wilson said she also enjoys performing arts like dance.
"It is essential to me to communicate through art as a form of expression," Wilson said.
Wilson considers art to be her primary form of worship.
"When I do paint or draw, I feel very at ease and peaceful and more connected to God, I guess," Wilson said. "And it puts me in a certain state of mind that I don't think anything else really puts me in."
It wasn't until recently that Wilson started recognizing art as a way of worship. Looking back, however, Wilson said it has always helped her feel connected to God.
"When I was in middle school, during worship I would … sit in a corner and draw and sing at the same time," Wilson said. "It just puts me in a certain state of mind that I feel, for me, connects me to God a little bit more."
Wilson describes worship, whether it's Christian or nonreligious, as a display of adoration.
"Worship doesn't even have to be related to God necessarily," Wilson said. "It is just whatever you're adoring but feeling connected to it in whatever way. For me, it's feeling like I'm understanding whatever it is a little bit more or feeling its presence very strongly."
Wilson, who once worked 13 consecutive hours on a painting, said it is art that gives her the space and the time to connect with and adore God.
"If I'm painting or drawing and thinking in general, I feel God's presence a little bit more and I feel like I'm kind of getting to know Him and spending time with Him," Wilson said.
Worship looks different for everyone. For Wilson, it's more of an inward experience.
"I don't really get worked up about most things," Wilson said. "And so I think that worship and feeling connected as it relates to art, for me, is more of a meditative experience."
In general, she likes to paint or draw abstractions of people and places. The medium depends on the day. Wilson said she gets the same meditative experience from all art forms but turns to different skill sets depending on her mood.
"They have a similar effect. It brings me back to the same place, but depending on where I am in the moment, I need different outlets for things," Wilson said. "So if I am feeling very focused and more steady, then I'll want to do something detailed and then I'll draw. But if I'm … feeling something more fluid or messy, then I like to paint."
Wilson said she wants to pursue a career in social work but she also sees art in her future.
"I've just always done it naturally and never stopped and thought about what it would be like to not do it," Wilson said.

________________________________________
Follow the Pepperdine Graphic on Twitter: @PeppGraphic