Photos courtesy of International Program
Pepperdine's Class of 2021, the largest ever, has departed for their year abroad.
For students attending the Heidelberg program, Pepperdine's oldest international program, a large class size meant challenges along the way, because of the limited space in the Heidelberg house.
All students accepted to the Heidelberg program have spent their first week in Germany, despite the uncertainty they may have felt of being able to do so, after receiving several emails from the International Programs office asking them to stay in Malibu for one semester or switch to another abroad program.
"When I first received the emails I was concerned that the program was trying to kick me out and it was only after discussing my friends who are attending the same program that I discovered everyone received the email," sophomore Kyla Lucey said.
Program Assistant of the Heidelberg Program Martina Dregs said that there are normally 56 students who attend, but this year was an exception, and the total number of students in the program is 58.
Sophomore Ally Richards, who is also going to Heidelberg, said receiving an email made her question how prepared IP was to send students abroad.
"It made me feel really unsure about how prepared IP was for us to go abroad no matter how prepared we were," Richards said.
Richards said many students took snapshots of the emails they received and posted them on their GroupMe chat. This started conversation between students because nearly everyone in the program had received at least one email.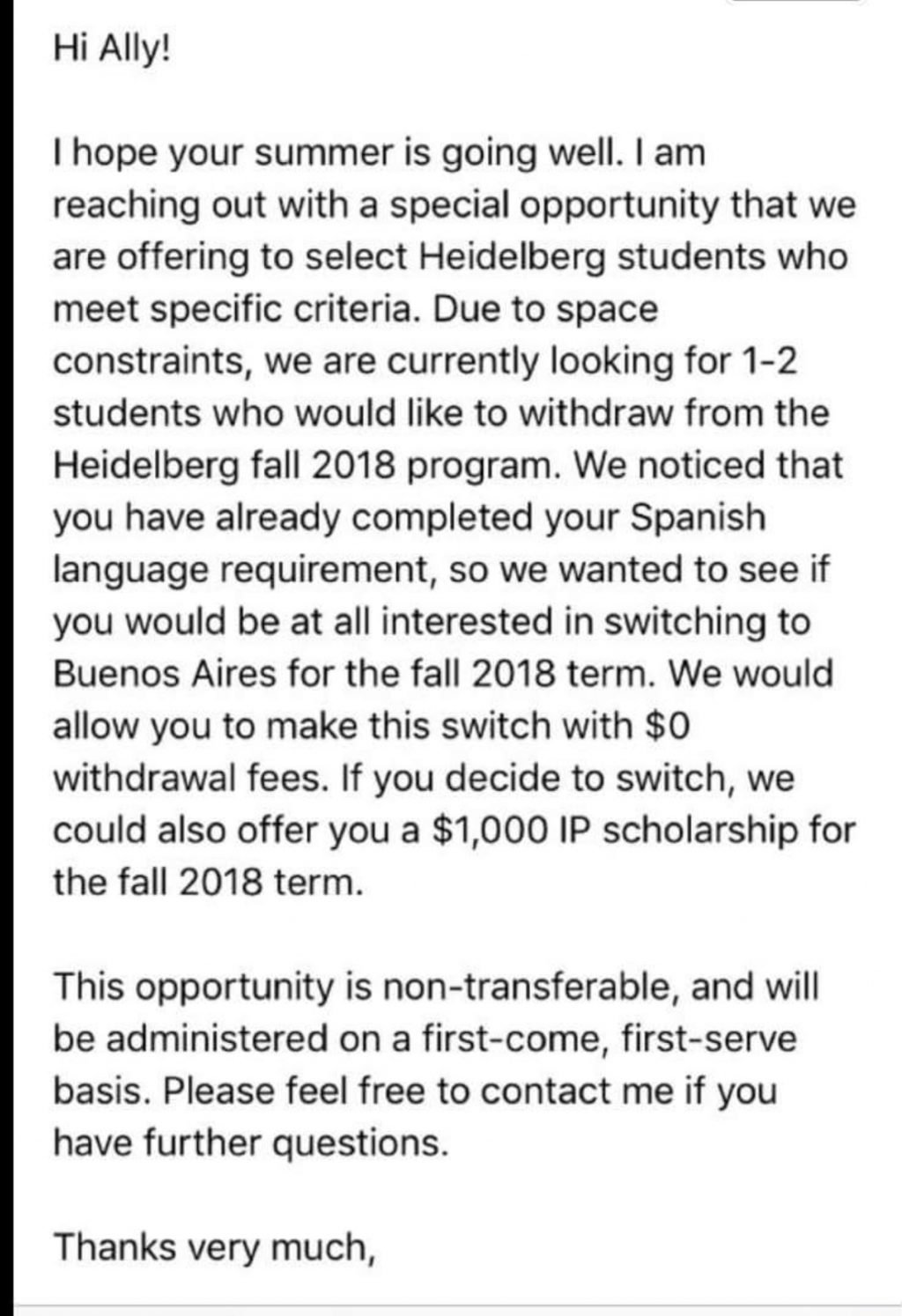 Richards said she received four emails over the course of the summer, each progressively offering more scholarship money. The first email had a $1,000 scholarship offer if she decided to move to the Buenos Aires program, and by the last email the offer had increased to $4,000.
Resident Advisor for this year's Heidelberg program Jensen Myers said despite the surprise she felt after receiving an email, she enjoyed seeing the response from the group.
"It was cool getting to see how students were getting excited and how they were willing to make anything work to go to the Heidelberg program," Myers said.
Sophomore Logan Wood, who worked with GNews in the past, also received several emails. Wood said he was initially confused and felt the timeframe was not conducive for people to take the offer seriously.
"I think most people who sign up to go live a year abroad are very dedicated to the idea," Wood said. "My parents had already booked a trip to visit me, and I was not going to stay [in Malibu] because I had a lot of things planned already."
Wood also said he was unsure why IP failed to plan adequately for what they advertised.
"Because abroad is pushed so heavily, seeing the business side of how they would normally overbook programs and then wait for people to drop out was kind of a little bit frustrating," Wood said. "Because they plan for that and [going abroad] is so heavily advertised, and then someone signs up for a year and they say, 'Oh wait, can you not do that?'"
Sophomore Roy Ng, also attending the Heidelberg program, said he received multiple emails, but did not take them seriously because they were sent so late in the summer. The dates emails were sent out differ between students.
"I didn't pay attention to the numbers, but I did receive multiple emails," Ng said. "In addition, they also tried to call me, but I was overseas so I didn't receive the call. But they left a voice message saying to call them back and update them. Overall, I felt it was very pushy."
Ng also said his upperclassmen friends did not seem surprised when he told them about the situation.
"I heard from other people in the past that they have had problems with Heidelberg before with the application process," Ng said. "So when I told my upperclassmen friends, they were like, 'Oh, that's nothing new. It's always Heidelberg.'"
Director of International Programs Greg Muger said that although it is rare, there have been instances over the years when this has happened.
"We normally see a certain percentage of attrition and in Heidelberg's case, there was less attrition than expected," Muger wrote in an email. "We started to communicate with students in the Heidelberg program in the summer to offer alternative fall experiences. We are able to accommodate the number of students in Heidelberg whether or not there was a reduction in students."
Offers sent to students going to Heidelberg were available until the add/drop deadline for the Malibu campus (August 31).
Despite the complications, Muger said by no means did they [International Programs] mean to pressure students.
"We are happy to have all students attend the Heidelberg program," Muger said.
__________________________
Follow Araceli Crescencio on Twitter: @aratells