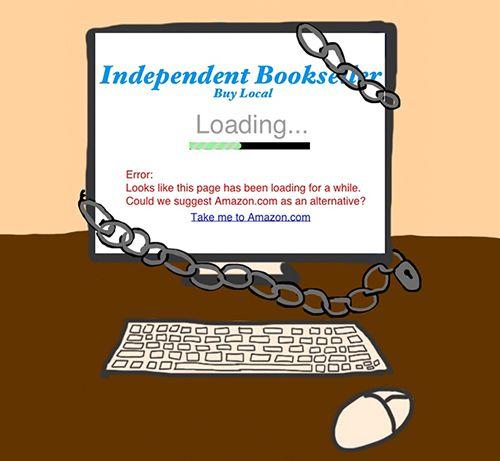 Art by Brooke Muschott

Somewhere between completing the latest Buzzfeed quiz and watching a 13th lip-dubbed NFL clip, you may have missed out on the net neutrality issue. I almost missed it too; I was so distracted with llamafont.com. If you are just as perplexed by the phrase "llamafont.com" as you are about "net neutrality," then you should check the site out as soon as you finish this article. In fact, that's probably exactly how Internet service providers want it. They have been working on this issue for years now, and their wishes seem to be coming true.
Net neutrality is a term coined by Tim Wu of Columbia University back in 2003, describing the ideology that Internet services should remain impartial. In other words, every Internet page should be treated the same way: You don't have to pay for extra Internet juice if your site is extremely popular, you don't get extra fees tacked on to your website's bill just because the owner of Comcast is mad at you and you definitely don't get your website blocked just because the Internet Service Provider doesn't like your product.
Although this sounds like a basic idea, it has caused quite a conflict, specifically between the Federal Communication Commission and the ISPs (the companies that own the 'infrastructure' of the Internet). In 2009, the FCC proposed legislation that formed the Open Internet Order, which was basically an embodiment of net neutrality concepts. The order was finally published in 2011 but was overturned by a D.C. Circuit court ruling on Jan. 14 of this year.
It was overturned based on rules concerning what type of service category into which Internet provision is filed. If ISPs were put in the "telecommunications" box instead of the "information" box, there would be no barriers standing between the FCC and its free Internet ideal. The FCC has clear authority to regulate phone provisions, which means that phone companies must provide service to everyone equally, regardless of biases. Since, however, the FCC considers ISPs as information services, and they aren't allowed to apply telecommunication rules to them. If the FCC changes its mind about which box to keep ISPs in, then they'll be able to impose net neutrality rules on the Internet providers. In the meantime, however, it's just an ambiguous world of waiting and watching to see where the line will be drawn.
The FCC is the powerless substitute teacher in a classroom of power-hungry Internet giants. It's common knowledge that companies like Comcast and AT&T; have already used their potential to block sites and services. It's hard to believe Verizon's representative Randal Milch's assurances that, "Verizon has been and remains committed to the open Internet."
All of this may seem like completely superfluous information, but the consequences will be anything but arbitrary. While no one can yet say how far ISPs will go with their redefined powers, they have the potential to block sites, prioritize what content is available and to sort content into "fast" and "slow" lanes of service. What they choose to do will, assuredly, be driven by profit, which means that there is a good chance that bandwidth-hog companies like Netflix will pay a premium for service (a premium that would eventually be passed along to consumers).
To envision what this new Internet could look like, it's best to imagine a clone of cable TV. Providers can choose what packages of webpages they'll offer you, and they can choose what content gets fast or slow service. You can choose the basic package of email and a few hundred popular websites (sites owned by companies who've paid for fast-lane access), or you can choose a more pricey option that would give you access to a wider variety of sites.
While large corporations will be able to foot the bill for faster Internet service, start-ups will be unable to compete. Consigned to the snail-speed lane of the web, new companies that otherwise may have innovated and spurred on progress will wither away in the time it takes to load their pages. As digital media expert Aram Sinnreich said, "The beauty of the Internet has been that anybody who has something to say, anybody who has a good idea, or smart piece of software, or funny idea or a beautiful song, can post it, and they can be on an even playing field with the biggest dogs in the world." The beauty to which Sinnreich refers fade fast under the new conditions of the Internet.
Start-up companies aren't the only underdog in this new David and Goliath dynamic — organizations like public libraries will not have the means to pay high premiums involved in a tiered-access model, hurting the people who depend upon public Internet access and hindering education. Nonprofit companies would also have difficulty paying the price tag, resigning them to slow lane slums of the web, where no one really wants to visit.
While innovation, education, service and equality are all excellent reasons to care about net neutrality, you may still not feel personally vested in the issue. After all, you've probably skimmed over half of this article while wondering about how you could find more NFL lip-dubs or whether or not it would be prudent to move to Portland based on an online quiz. These blessings are also a thing of the past, at least as we know them. There's no way llamafont.com will be in whatever Internet package you end up with, and you may end up paying for your YouTube videos and Buzzfeed quizzes too, depending on what deals those sites craft. So, by all means, enjoy it while you can: watch stupid videos until your eyes fall out — but maybe you should remember to check a news website every once in a while, just to track where this whole net neutrality thing is going. After all, who knows how long you'll have the ability to access a buffet of opinions and news sources with your basic Internet package.
_____________________________________________________________________________

Follow the Graphic on Twitter: @PeppGraphic