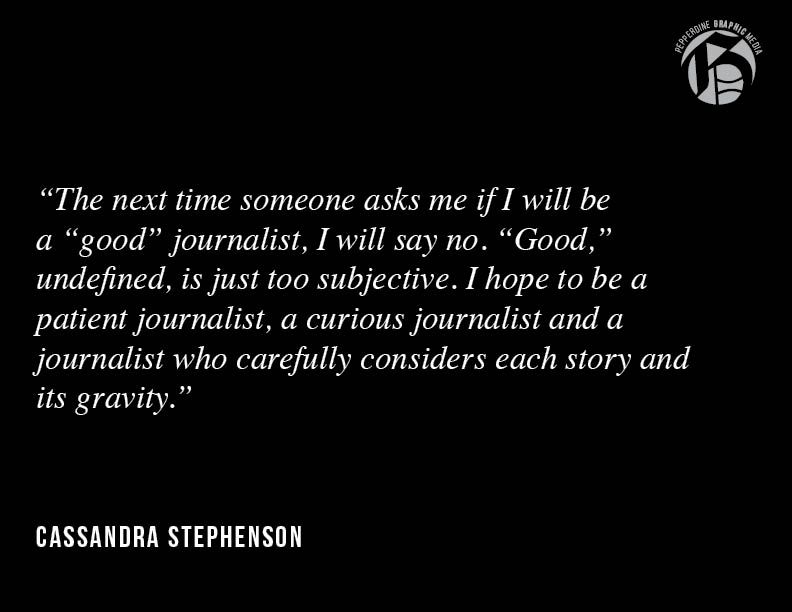 Graphic by Nate Barton
Last week I had the incredible opportunity of interviewing prolific investigative journalist and Washington Post Associate Editor Bob Woodward. You probably know him best for his work in breaking the Watergate scandal with Carl Bernstein in the 1970s.
While sitting on stage with Woodward in front of 1,300 other student journalists at the Associated Collegiate Press National College Media Convention in Washington D.C., I couldn't help but recall the image of a younger version of myself, seated in a classroom during my sophomore year of high school learning how to write my first news article.
Back then, when I first fell in love with journalism, I fell for the story, the people, the humanity and the truth. I still look to the work of journalists like Woodward as examples of a great and noble human service that are often not created without struggle. I believe that it is worth it.
But increasingly over the past years, the terms "journalism" and "media" have been used as dirty words. When I tell strangers I am studying to be a journalist, I am too often met with a seemingly innocuous, "Oh. Well are you going to be a good journalist?"
A Gallup poll from September reported that America's trust in the media is at an all-time low of just 32 percent. For comparison, the all-time high was a whopping 72 percent in 1976 (around the time of Watergate).
So what do you do when you, as a college journalist, are faced with the monumental task of trying to redefine the public's perception of media? You ask Bob Woodward, of course.
He told all 1,300 of us that much of the doubt and criticism is the fault of journalists today, spurred from spin and dramatics evident in some stories, especially in a world of immediacy. He said it's on us to go further and deeper and make a product that is more believable, fair-minded and simply better.
"I think that means digging, I think it means patience – the hardest thing to do – and to realize that the job of journalism is a public trust," he said.
So the next time someone asks me if I will be a "good" journalist, I will say no. "Good," undefined, is just too subjective. I hope to be a patient journalist, a curious journalist and a journalist who carefully considers each story and its gravity.
____________
Follow Cassandra Stephenson on Twitter: @CassieKay27